STICK WITH US: SMALL BUSINESSES HOPE SHOPPER LOYALTY IS NOT JUST FOR LOCKDOWN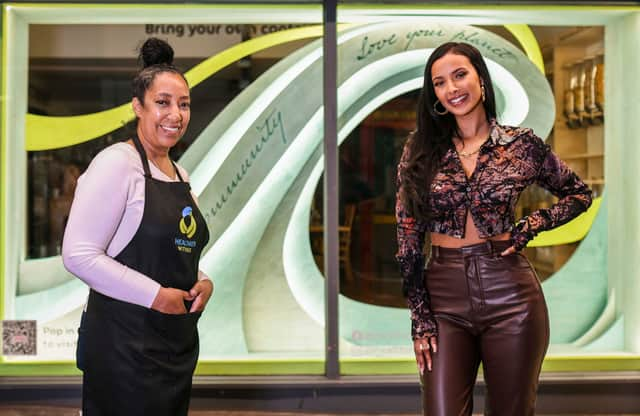 As the country emerges from the final stage of the lockdown roadmap, business owner Maya Jama has teamed up with Facebook and Instagram to launch a nationwide roll out of stunning shop windows. The shopper-stopper displays are to encourage Brits to keep shopping locally and support small businesses, as their daily lives start to return to normal. 
These transformations come as new research reveals that consumers are likely to shift away from shopping on their local high street as restrictions completely lift. Despite 81% of people sharing a passion for supporting the businesses on their doorstep, and over two thirds (68%) citing this passion grew throughout the pandemic, more than half (55%) admit larger chains may creep in as time becomes limited (29%) and they are commuting to and from work again (21%). 
A total of 13 independent shops - stretching from Dunfermline to Llanelli - have been given extraordinary window displays by world-renowned British conceptual designer, Jo Sedley. The captivating new window displays have all been created to showcase each shop's unique business story. 
The windows are digitally shoppable, taking shoppers to Facebook and Instagram via a unique QR code where passersby can browse, shop and support their local stores online. Facebook Shops launched a year ago to make it easier for businesses to pivot from bricks to click and set up a free online store during lockdown. Today, Facebook and Instagram have over 300 million monthly Shops visitors and over 1.2 million monthly active Shops globally. 
Alongside these beautiful new designs, Facebook is also rolling out a 1-1 mentoring programme in 10 towns for 50 small enterprises. In addition, Facebook is running a national Boost programme with the goal of training over 300,000 UK businesses in digital skills by the end of the year. 
Facebook and Instagram teamed up with Maya Jama, who launched her own skincare business MIJ Masks last year, to unveil the new designs.  
57-year-old environmentally-conscious entrepreneur, Marjorie Watts, wanted to raise awareness around sustainability within the South London community so in 2019 launched, Healthier Without, a zero waste store. Coming from Caribbean, South American, Jamaican, and Guyanese descent, Marjorie wanted to combine traditionally available household refillables with produce catered to the diverse community based in Streatham. 
Using pine wood found in and around Streatham, Jo has created a wave using the material to symbolise a sea of change. The window also incorporates the blue and green of nature to further emphasise Marjorie's love for the earth. 
Marjorie Watts, owner of Healthier Without in Streatham, London, said: "I am delighted to have the opportunity to take part in a campaign which will allow me to share my eco-friendly values even further with my community. Since launching Healthier Without, I've been in a position to reach a wide range of individuals, spanning across various ages and social backgrounds, informing the importance of caring for our environment.  
"I hope this exceptional window kindly created by Facebook will draw attention to even more passers-by. It has been amazing to see all my customers post-Covid and  I'm excited for the foreseeable future to watch our small business grow, highlighting the benefits of zero waste living." 
Maya Jama said: "I'm really excited to be working with Facebook and Instagram on this campaign. As a business owner myself I'm immensely aware of the challenges so many of us have had to face and the headwinds that are still ahead of us as lockdown restrictions ease. We've seen a big shift in people's shopping habits but one of the things I really hope will continue to grow is people's support and willingness to help small local businesses. I think the shopper-stopper window displays will go a long way to help attract attention from local customers and encourage them to keep supporting small businesses across the UK." 
Steve Hatch, Vice-President for Northern Europe, at Facebook, said: "We believe that small businesses deserve to be found, both on the high street and online through our free tools and personalised advertising. The past 16 months have been tough for small firms and many had to pivot to digital shops quickly so they could reach customers locally and further afield. These stunning window creations celebrate strong and resilient bricks and mortar shops who have used our technology to build their community. Our hope is that these transformations encourage people across the UK to continue supporting small businesses as things start to return to normal."