Scottish actor Izuka Hoyle is back at Boiling Point in the role that brought her a BAFTA
Something's cooking in the kitchen as the hit film is served up in a BBC TV series
You don't need to have worked in hospitality to feel your blood pressure rise watching Boiling Point, the sizzling 2021 low-budget hit film led by Stephen Graham set in the hell's kitchen of a fictional Michelin restaurant on the busiest night of the year. To feel that frisson of fear as the chef loses it over a mix up of sauces that lands an unlucky diner in hospital and the hapless Camille, played by Scottish actor Izuka Hoyle on the receiving end of a roasting.
Stress chef? Just a bit, but the tense drama is so more-ish you'll be salivating at the prospect of settling down to further helpings as the cast return in the form of a TV series starting on BBC One this week [1 Oct].
Returning to the restaurant six months after Philip Barantini's film, which was famously filmed in one take, climaxed in a heart-stopping catastrophe, the cast are back on the boil with a new set of dishes, disputes and dramas. With staff shortages and newbie chefs as well as financial and personal meltdowns behind the scenes as well as a fresh sitting of entitled, rude and picky diners, the scene is set for tensions both back and front of house.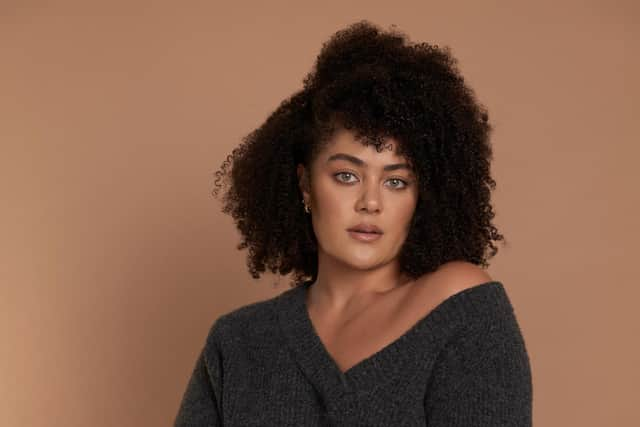 Reprising the role which won her a Scottish BAFTA as best female actor in a film, Hoyle is back as Camille, star of starters and garnishes, who with her French accent and savoir faire appears to be straight off the Eurostar from Gare du Nord. In real life Hoyle hails from Edinburgh - she took French lessons for Boiling Point - and while she has a tasty CV on stage and screen including Mary Queen of Scots with Saoirse Ronan and Margot Robbie, The Wheel of Time with Rosamund Pike, BBC's Jerk, Netflix's Persuasion, Channel 4's Big Boys and the role of Catherine Parr in the multi- award winning play Six, the nearest the 27 year-old has come to serving up starry scran is a stint in a chicken shop near her flat in London.
"I worked in a chicken shop and had a whale of a time there in 2019, before I shot a film called Villain which is where I was introduced to Philip Barantini. It wasn't like the kitchen in Boiling Point, definitely not as stressful as a Michelin starred restaurant where there are certain standards to be upheld and a certain type of people coming to eat. You know when you work in a chicken shop you're pretty sound in terms of the demographic of human you're going to get coming in. It was good, more of a relaxed vibe because people wouldn't ask to switch stuff up with the chefs, so I feel like I got it easier there."
As well as winning the BAFTA for Hoyle, Boiling Point picked up a feast of nominations and awards so it makes sense that it's been transformed into a four episode series but Hoyle is surprised and delighted at the turn of events.
"None of us thought that there was going to be anything after the film because it has a definitive ending and we weren't ever told there was a potential future for it. We all went into it like it's this intense, experimental, crazy idea, we're all friends and here to make this fun piece of work. We did it and it had such an insane reception and then we found out about the series and were all overjoyed because it didn't feel done. This gives us opportunities to scratch the surface of Boiling Point."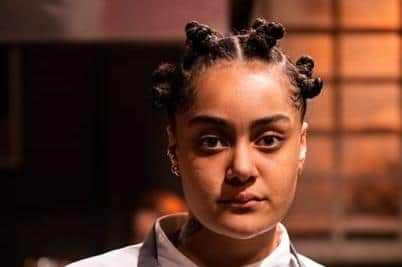 So can she give us a taster of what's in Boiling Point, the series?
"In the film you get a few glimpses of Camille because it's a very character ensemble led film and it's Stephen (Graham) and Vinette (Robinson) as Andy and Carly and the rest of us are almost there to service them and bring the vibe of the kitchen, and we still follow that formula to an extent within the series, but I'm able to kind of sink my teeth into Camille more and let the audience understand what type of woman she is.
"You get to understand her morals, the way she cooks. She's quite introverted at times and challenged by people and situations and through that finds her voice and uses it.
"And also Camille is a representation of diversity within hospitality because it's such a diverse place. You're able to see what it would be like for an immigrant working within these environments and having to deal with all the stresses of the kitchen, being so far from home and the language barriers. Point North is a restaurant paying homage to the North of England and a lot of the chefs are people with northern dialects and accents so not only is she trying to keep up with the pace of the way English people speak but also you've got thick Scouse, Mancunian and London accents that she's had to learn. I doubt she'll have a Scouse accent by the end of it but she'll certainly be able to understand it better."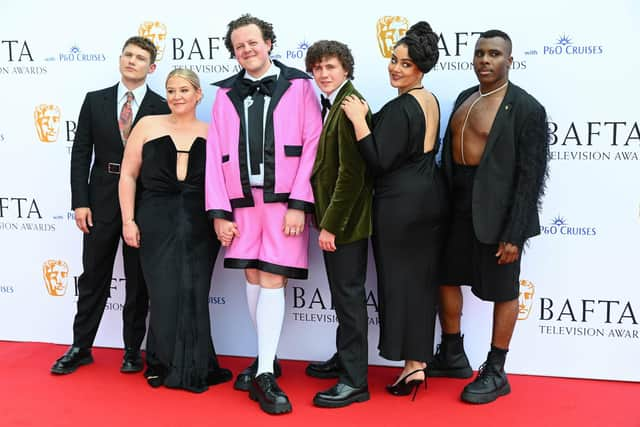 As well as enjoying the character of Camille, Hoyle was drawn to Boiling Point because of the one long shot technique, where the camera simply kept rolling and actors were required to improvise as the action unfolded throughout its hour and a half screen time.
"That was my first time working like that," she says. "Obviously I've done theatre so was familiar with live work but the extra challenge on top of a 90-minute long shot was although we had a script, most of the dialogue in the film was improvisation. I guess some people would run away but the cast was selected and built with that in mind, with actors that thrive in that environment. So I actually enjoyed it. Don't get me wrong, it was incredibly stressful and the most challenging thing that I've done and Boiling Point continues to be a challenging piece of work, but that's also why I'm quite addicted to it and love coming back. Because you're asked to improvise or learn new languages or do accents that don't come easy to you. And also to interact with absolute titans like Stephen Graham and Vinette Robinson."
The long shot technique was in part born out of Covid, because filming was shut down early when lockdown closed film and television sets.
"We were supposed to film over five days but got shut down after the second," says Hoyle. "The film you see is the third take and some of us weren't able to make rehearsals so really it felt like a whirlwind of an experience. We arrived, did the thing, then left. But we were like a big family and have each other's backs so there was never really the option of failure. People say did you ever just cut or did anyone make a mistake and the answer is no. There was no such thing as a mistake in that environment, no right or wrong way to go about it. Hit the beats, know when you're supposed to bring something to a close or motivate the camera to move on, but aside from that everyone kind of had each other and was able to jump in and motivate the scene back to where it was supposed to be if someone went off topic."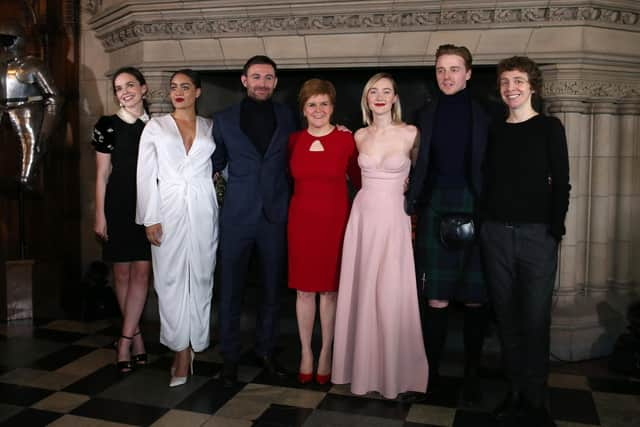 As well as improvising and hitting the ground running for a one-take performance, the actors had to know how their jus from their julienne and had Michelin chefs on set to advise.
"We got to spend time with a guy called Tom Brown who is the owner of a restaurant called Cornerstone in Hackney Wick and he did bits and bobs with us on the film and then through the series we had Ellis Barrie as a Michelin star restaurant owner on set with us. Not only would he help with the things like how to hold a knife, how to cut, but I would go to him and explain my character more and the French tendencies that I would like her to have and he would help me differentiate how to hold my knife or pick a herb in a way that would separate me from people that had trained in England or Scotland. He also helped us with things like how to stir, just the little mannerisms, because that was the real sell, to chefs and people in hospitality."
Hoyle might not have worked on stage or screen with food before but at home she's an avid cook.
"But it's Izuka cooking, not Michelin-starred stuff," she stresses and laughs. "Although my cooking skills have got a lot better. Camille is on the garnish, cold section so I might make her starter for someone, but I think my friends would find it incredibly pretentious. They'd be like 'what's this? Salmon and mint and some weird coleslaw? Keep it simple hen, and crack on with the main.'"
So what would be her signature dish if she was cooking for friends?
"I like to cook Italian food and make some good pastas and risotto. I've also recently started cooking Nigerian food, because my mother's Nigerian and that's not something we had a lot of at home. We ate more like British/Scottish food so I've been paying homage to that side of myself recently and eating a lot of that and really enjoying it. So if someone was to come round and ask me to whip them up something, I'd probably go down an Italian route to keep it safe, but if we were feeling spicy I might chuck in a little Nigerian dish."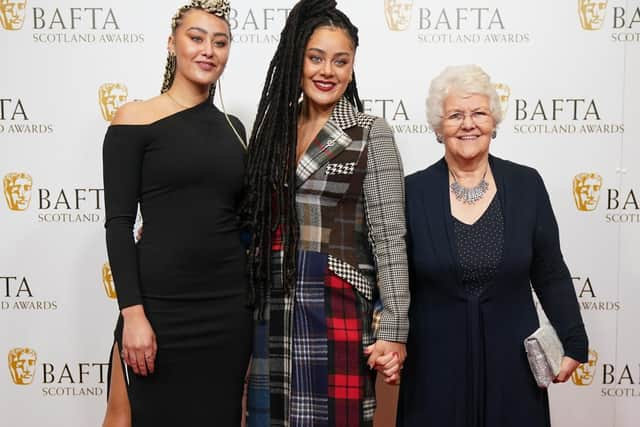 "Well, you can't have Nigerian food without some jollof rice. And I love spice so I would be having some asun spicy goat meat, I absolutely love that. And there's this root vegetable called yam that you can have as porridge, pounded or fried - I would go for porridge yam. And also fried plantain is a must. See, ask me about a Nigerian dish and you get four," she laughs. "I would get told as a kid 'little pickers have big knickers' and I feel like tapas is made for me, I just want everything on everyone's plate. That's why I love big hook ups with people and if we go to a restaurant I'll be really manipulative and force someone's hand, saying 'you should really get that', just so I know that I've got a chance to taste it off their plate."
Hoyle has plenty on her own plate workwise and devoid of her French accent slips back into her native accent for season two of Big Boys, the popular Channel 4 comedy following the lives of freshers now heading into second year at a fictional university, putting in a winning performance as no-nonsense Scottish student Corinne who keeps it together while the men around her fall apart. She's also slated to appear in Dinner With the Parents, Amazon's re-working of the popular Channel 4 sitcom Friday Night Dinner, alongside Michaela Watkins, Dan Bakkedahl and Carol Kane.
After growing up in Edinburgh Hoyle won a scholarship to train at ArtsEd in London, graduating in 2017 and landing a role as Mary Seton in the 2018 film Mary Queen of Scots alongside Saoirse Ronan and Jack Lowden.
"Yes, and the whole gang," says Hoyle, "James McCardle, Ian Hart, Martin Compston, David Tennant, Margot Robbie - it was nuts. I had trained in musical theatre and was so out of my depth. I shared my first frame with Saoirse who was playing the queen and I remember just being stood there - and she had a mountain in terms of what she had to execute in that role and I was just playing one of her ladies in waiting - and I will never forget the generosity from her. She must have seen the fear in me and cluelessness of what to do and took the time out of her process to guide me and catch me up to speed. Because of that I ended up forming a great relationship with her. There were three other girls that were part of our quintet, Saoirse playing the lead and four different Marys, and we've all remained incredibly close friends.
"It kind of kick started me in my career and helped me understand how to navigate in a world that I hadn't necessarily trained in. Musical theatre is a very different beast to straight acting so Mary Queen of Scots definitely gave me leverage in the sense that casting directors were willing to take a chance on me and also I worked with titans, people I didn't think I'd get to meet for years and years. I was just like a sponge on set, asking people questions, other actors, crew. I'd never had a camera that big put in my face and didn't understand the logistics and techniques and the technical side so it was like a training ground for three, four months so I was incredibly grateful for that job."
Hoyle has also just finished working with Saoirse Ronan and Jack Lowden again on their film, The Outrun, the adaptation of Amy Liptrot's 2016 memoir about her return to the Islands after rehab, filmed in London and Orkney and directed by Nora Fingscheidt.
"Again we filmed that in a loose way in terms of improv and that was an experience, and also to work with them was another honour because they're the best. I play a character called Gloria who is one of Amy's [played by Ronan] friends when she moves to London and my character isn't in Orkney but I travelled there when they were filming, to meet up with them, but also I wanted to do the journey myself. I stayed at my parents' in Edinburgh, then got the train up to Thurso then the ferry over and spent some time in Orkney, visiting the set but also getting to know the island because I've never been there. What a magical place. I'm fascinated by all the folklore that's around Orkney, the Shetland and Faroe Islands. And we got good weather, because it was summer, and the water was very swimmable, because there are a lot of us in the cast that are avid wild swimmers, so it was a dream."
With no release date for The Outrun as yet, Hoyle is highly recommending Boiling Point from the autumn TV schedule menu.
"It's a stellar piece of television and one that offers a real eye-opening experience for what goes on in the world of hospitality. And we really do cover a whole plethora of characters and diversity from class to gender to race and a platform to see what everyone is battling. You know, not every battle is visible that people are going through and I think if you work in hospitality, and even if you don't, there is one character within our show that you will connect to.
"You will feel seen, you will be entertained, you will be moved, you will be shocked, you will be stressed. And yeah, you can have that kind of multi-sensory experience from the comfort of your own home. I'd say, give it a watch."
Boiling Point will be on BBC One on 1st Oct at 9pm and then on BBC IPlayer from 1st October.