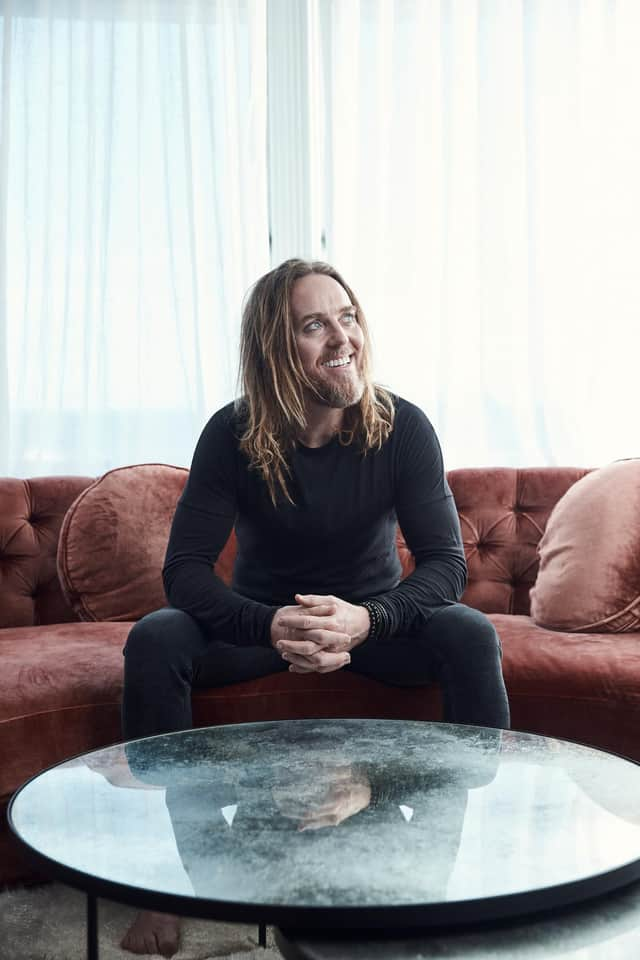 Arriving in the UK fresh from success at the 2005 Melbourne International Comedy Festival with a piano and a bunch of songs, he carried off the Perrier Comedy Award at the Edinburgh Festival and launched a trail-blazing rocket of a career that exploded in years of live shows, including the Sydney Opera House and the Royal Albert Hall, DVDs, seven albums and blockbuster stage musicals - Matilda and Groundhog Day - playing the lead in Andrew Lloyd Webber's Jesus Christ Superstar and TV shows from Californication to Buzzcocks.
He and his family - Sarah, his wife and children Violet, 13, and Caspar, 11, moved from their native Perth to London then in 2014 to LA to work on Larrikins, a multi-million dollar animation for DreamWorks. When this was cancelled in 2017 they returned home to Australia and Minchin bounced back with a live tour, called Back, currently interrupted by Covid, and a hit TV show, Upright. The eight part comedy road trip which he co-wrote with The Chase's Chris Taylor, Kate Mulvany and Leon Ford and in which he stars, arrives on DVD and digital in the UK on Monday [23 November].
"When I look back I think holy shit that was a ride! Especially the distance between my first Edinburgh and an orchestra at the Royal Albert Hall. It felt like a reasonable time but it was very short. And we had two babies in that time too. I guess I'm proud of that guy but it feels like a different guy. It was a bit intense. And it's weird that I stopped doing comedy, but also I just never thought of myself as a comedian. I'm a muso who knows how to be on stage. And I'm really glad I got back into acting, did musicals, and I really miss live performing now. It is making me think Jesus, I probably stepped off tour a bit early. But I'm kind of conservative as a person. I've always sort of gone 'oh what's good for my kids?' I'm a bit boring really.
"But I think I make good choices; I'm fit and married and not addicted to anything. I haven't made as much money as I could have and I haven't got as famous as I could have, and I think that's a good sign."
The new album, Apart Together, live streamed from Sydney on its launch last night is here and Minchin's songs about the beauty and humour in the meaninglessness of existence couldn't have arrived at a better time.
Zooming me from Sydney, where he has been working from the home he shares with wife Sarah, and daughter and son, Violet 13 and Caspar, 11, he's excited about Apart Together.
About loving for a long time, monogamy and messing up, being middle aged, distances, journeys and going home, he couldn't have written it when he was 25.
"I am incredibly pleased about that because the diversion, the paths less trodden I took that kept me away from writing songs for my own diversion for 15 years gave me literally the best career I could have imagined. I get to write and act and make telly and make live shows and sing and play piano for god's sake. At 20 the idea that I could just play the piano for money was almost orgasmic… I couldn't believe people would pay me money to play piano given that I'm self taught and stuff. So yeah I'm stoked.
"I don't mind that this album has taken me so long to release. I wouldn't want people to think this is the cumulative songs of 20 years, it's not - there are a couple from Melbourne days and Summer Romance is from London but the rest, I thought let's write some songs while I'm feeling a bit moody and old.
"I hope my next studio album takes - well, I've got to tour and write another musical and a TV show or two first so it's a couple of years away - but six months, not two years. This was a bit of a gear shift and I wanted to rediscover who I am as a songwriter. The next one I'll just write a bunch of songs, record it and stick it out, make less of a fuss."
As well as giving him time to become as he puts it "a better songwriter" because he's written so many, "If This Plane Goes Down and I Can't Save You and I'll Take Lonely Tonight, whether you like them or not, they've got a cracking structure and a few really good f***ing lines"- he's also had a wealth of life experience. Married to Sarah for 20 years - they've been together for 26, he writes about their life together and apart in songs like I'll take Lonely Tonight and If This Plane Goes Down, "if my youth was wasted I don't mind cos I wasted it with you my love" and Carry You, 'we cannot be together but I will carry you wherever I go'.
"We're lucky, 'cos we've been through HUGE changes. We've lived in Perth and Melbourne and London and LA and Sydney, we've had kids, and I've gone from being a sort of pudgy cabaret accompanist to doing all this stuff, and we've just never stopped quite liking each other really. I mean we're not wildly, passionately in love - we've been together our whole adult lives - we're just… I like it when she walks in the room and she likes it when I walk in the room. Over and over again, for f***ing quarter of a century. We're boring."
Apart Together, tracks for our times
Written pre-Covid, Apart Together's title and titular song, have turned out to be of the moment for a world in lockdown.
"Yeah, the title of the album makes it kind of spooky," he says, "and given them more resonance. Wordy honesty about the horrid nature of existence," he says.
"It's not going to necessarily cheer you up, but I think there are certainly some uplifting areas. It's being released into a world that sort of suits it, even though it was written before the world became this."
"In hindsight the songs are introspective, perhaps self-indulgent stories, but they're meant to be reflecting on universal themes. It's whimsical and has moments of wit, and the songs I've released from it so far, some people relate to. I don't suppose it's going to get much radio play because the songs are too long and a bit unusual in form, but it's an offer of something to sit down for an hour and listen to and drink a glass of wine. It is deliberately a series of stories that I'm just sharing. I don't have intent."
In describing the album Minchin once more discusses the comedy/not comedy categorisation that is a legacy of first making his name in comedy.
"It's sort of a false binary," he says. "All the way back to the start my songs - Not Perfect, You Grew On Me Like a Tumour - sat right on the edge of comedy and tragedy, so I've always peddled this shit.
"I'm not interested in punchlines without an audience and I've always wanted to do a studio album. So it's not a comedy album because punchlines without laughter are like having sex without a camera, what's the f***ing point?" He laughs.
But seriously, he was a singer songwriter before he was a comedian. It's just that some of his songs are funny.
"The album is a reflection of who I am as a songwriter which predates comedy by 15, 20 years. Comedy remains a very small part of my life but is a huge part of my profile. Matilda alone obviously has had audiences far outstripping the sum total of my comedy audience but in Britain I'm on Dave every now and then on Buzzcocks, so I'll always be in that category. I've let my songs be infused with the wordiness and the whimsy my songs are always infused with, but it's very much a storytelling singer songwriter record.
"It's f***ing epic as well, I mean bordering on ostentatious, but that's part of my theatricality and the fact that I was a 90s kid and a massive Beatles and Queen fan, and obviously if you got an orchestra use the orchestra, so all that's in there as well."
Because Minchin's songs are both universal in theme but personal and idiosyncratic, the album's 11 tracks, which range from rock-pop to intimate ballads, reveal his journey and what makes him Minchin. Viewed through the lens of Covid and the restrictions that entails, for him that makes them even more powerful.
Real world romance resonance
"The song Apart Together has become incredibly resonant because in the last few months my mum has got really sick [his 71- year old mother was diagnosed in the summer with a blood cancer] and I've had to struggle to get to her. Then because of my kids' school and family obligations I've had to leave her, still sick, without knowing when I'll get to see her, or what her illness will do.
"So that song resonated really hard with my dad in the middle of this real crisis because it is emotional whilst staring the truth of stuff in the face. My parents just celebrated their 50th wedding anniversary so this song about the fact that part and parcel of a lifelong commitment to someone is an understanding that it's not going to get better, you're not going to get healthier, you're going to watch each other fall apart, he found it quite beautiful I think, which I do too. But some people find it bleak, which is the difference between people like me who find romance in a material world view and people who find despair."
Written in a different world, the songs would alway have hit their mark, but now they're even more loaded.
"Even Summer Romance, which is very much about London and living in the Northern Hemisphere, in that city I just I adore, yet those short fleeting summers make you grieve as the winter rolls in and the larger metaphorical point is having to let seasons go that you loved. For me it's sort of a song about letting go of London, that season of my life, where we had our kids. That was a very sunny eight years. Metaphorically, not literally," he says and laughs.
You can take the boy out of Perth...
Then there's Airport Piano, inspired by pianos that invite travellers to tickle the ivories as they pass, but now all taped up and out of bounds.
"Victims of Covid. There you go, my song is a monument to a bygone era," he says.
Leaving LA and break up songs
If Summer Romance is a love song to London, Leaving LA is a break up song to the city he left in 2017 for Sydney after Larrikins was cancelled. Of the legendary Hollywood sign he sings, 'it's just some fucking letters on a hill'. So was he disillusioned by the whole LA experience?
"Oh yeah. I felt very…. Ah, it was a real... you know, when you're as lucky as I've been, you have a conceptual understanding that shit doesn't always work out, but you have a bias born of your experience and my bias was yeah, I know shit doesn't work out but really, if you just put your my heart and soul into things and if you're really positive and enable other people to be passionate alongside you, you prevail. I have this Pollyanna-ish, Candide quality...
So it was the first time I was like 'nah people are c***s', because it was such a great loss of work and it always this sounds like I'm whining about myself, but I was devastated for my friends who were working on that project as well, especially Harry [Cripps] who wrote it and all those animators who spent endless hours trying to make something beautiful. So yes it made me feel quite cynical in a way I hadn't viscerally experienced for a little while."
"But then I got to write Upright," he says, ever the optimist.
Upright, a road trip TV comedy show
Starring Minchin it follows a down-on-his-luck middle-aged man making the trip across Australia to Perth WA to deliver an old upright piano to his ill mother, whose path crosses with teenage runaway Meg (Milly Alcock) in the desert. Like the bashed, trashed piano - played by three instruments Minchin named Elton, Billy (Joel) and Liberace - it was a homecoming for Perth-boy Minchin that saw him Upright again, shoulders squared and with his mojo back when it became a hit. Now fans are waiting for a second series.
"With Upright I kind of healed myself by making a show about coming home and self-forgiveness, dealing with the fact that life doesn't always work out the way you want it to. I mean f***, as I said in my live show last year, you know you're privileged when you have a big old sad about not getting to make a hundred million dollar cartoon."
Always one to draw on his own life for material, for Minchin the tables were turned when the fictional homecoming road trip turned out to be closer to home than at first appeared.
"Yeah, so life imitated art this year. I made a TV show about a guy struggling to get home for his mum who's got cancer and then this year I found myself struggling, not across a desert, but through border control to get to mine."
"My parents were really shaken up by the diagnosis. They're not 'we're stoics', but they're just being amazing. I love them more than I ever have just watching them."
Looking ahead in the short term there's the possibility of another season of Upright, and Minchin talks of another TV vehicle and another musical.
"But I find it hard to get my brain anywhere at the moment away from this album and I want to get back on tour." When that will be, like the rest of us he has no idea.
"I guess I'll write a book at some stage, and maybe I'll direct a bit more, but I feel like I could be pretty busy for the next 30 years and then die, without having to reinvent myself. I think I've done enough reinventing myself now so I can just write musicals, record albums, tour, act, write direct, maybe pump out a book and then keel over.
"But as I say in Talked Too Much and Stayed Too Long on the album, the two things I'll keep doing is talking and playing the piano."
Credit: Tim Minchin's debut album Apart Together is out now. Upright is coming to DVD & digital on Monday, 23 November.
A message from the Editor:
Thank you for reading this article. We're more reliant on your support than ever as the shift in consumer habits brought about by coronavirus impacts our advertisers.
If you haven't already, please consider supporting our trusted, fact-checked journalism by taking out a digital subscription.