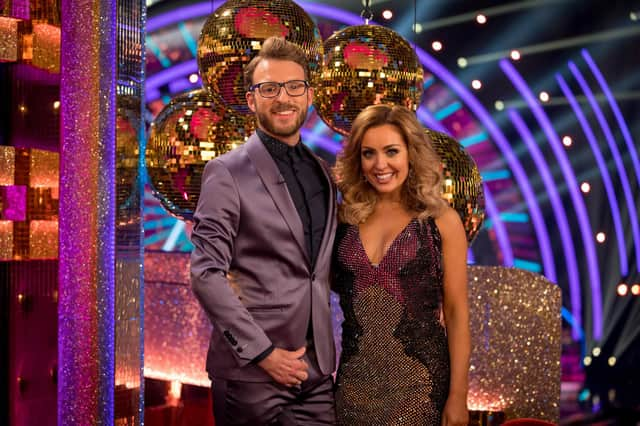 Nine million of us tuned in to watch the launch of this year's show with celebrities bubbled up with professionals to dance us through to December 19 on a wave of fake tan and sparkle. This year's Strictly has embraced covid conditions to bring glitz and glamour to our lives: bubbles, two-metre distancing sticks, perspex screens, a hotel in which the professional dancers and crew isolated and in the middle of the shoogling soap stars, comedians and politicians, dancing his tartan socks off is Scotland's own JJ (John James) Chalmers, paired up with another Celtic Tiger in Wales' Amy Dowden.
Best known as a TV presenter, Invictus Games medal-winning cyclist, and former marine who rebuilt his life after surviving a blast in Afghanistan, the 33-year old is also less well known as a former design and technology teacher from Edinburgh (which means he's got round to finishing all those jobs around the house in lockdown - fitting a utilities room, sorting the garden and turning his garage into a workshop to film for the BBC, as you do).
The son of a church minister, he worked as a teacher in Edinburgh and Balerno, having become a Marine reservist in his teens before signing on full time. Arriving in Afghanistan in 2011, four months in, as he told the Strictly viewers in last week's opening show, "My mate stood on a device and most of that came my way.'
JJ suffered injuries to his legs and arms, lost two fingers and was left with scars on his face and abdomen, where his right arm was temporarily grafted to his body. Months of operations and rehabilitation followed.
'In the earliest part of my recovery I didn't think I'd walk again, never mind dance!'
But watching the 2012 London Olympics was a game changer for Chalmers.
"They changed everybody's perception of disability and even just sport within this country, the pride we had that summer, and that ignited my interest in sport again and led to the Invictus Games."
"My wife said stop talking about it, stop thinking about it and do something about it because I can see this is what you want to do and look how passionate you are just thinking about it, think how good it would feel to actually do it."
Winning medals for cycling with Team GB in Prince Harry's 2014's Invictus Games he became a poster boy for the Games, appearing in interviews with the Prince, then a host for Channel 4's Rio de Janeiro Paralympics coverage, realising a teenage hankering for TV presenting. He has gone on to build a new career, with sports and mainstream presenting gigs under his belt such as BBC's London Marathon and Great North Run coverage, The One Show, The Lord's Mayor Show and Commemorations of D-Day last year.
"I'm really lucky being able to work across a multitude of channels on lots of different programmes. I remember seeing Arthur Williams presenting on Channel 4, a Royal Marine injured in a car crash- somebody like me on television. That's why representation is so important.
And I've fallen in love with dance here and that wouldn't have happened if I didn't turn on my telly and see people like me. "
With his wife Kornelia and children Hayley, four and James one, and his parents watching at home in Dunfermline, JJ is embracing everything Strictly and from the car taking him to his eight to ten hour rehearsal regime in London - and his first ever fake tan session - an enthusiastic JJ gave us the lowdown on Strictly so far.
How do you think the first show went?
From the very first moment when you saw that big professional number - and I'm not a diehard Strictly fan but I am a fan of telly and entertainment and I watch Strictly when it's on - it really hit me how brilliant a show it is, how positive and spectacular, and how it's pulled out all the stops to come back so that people can have a smile back on their face on a Saturday night.
A little glitter ball of happiness?
It's amazing. Yes it's a competition and of course we all want to win or at least get as far as we can because I don't want to leave, I'm having such a good time, but you also realise what you're trying to do is make the best telly show possible. So the pro dancers all say how about doing this or point your toe up, everyone's supportive, because they want the very best for the show and to see we all get as good as we can and that's very lovely.
Funnily enough the military is quite similar cos we're a little bit tribal. We had this healthy competition between cap badges and regiments but at the same time we're actually all on the same side and here we're all part of this Strictly bubble right now and want to make the best show.
So you're in London for the duration?
Yes, home is obviously up in Scotland but I'm down here for, hopefully, the next three months. The family is watching in Dunfermline. Unfortunately my daughter had to go to bed so watched it the next morning and sat with her jaw down for all the dance numbers in particular. She thought it was amazing. And that's before I even got on screen.
My wife has the much harder end of the job - she's got two kids to look after, so it was a little bit of payback that actually I had been away working hard, but I've still got a way to go to make up for some of what she has to put up with.
But she is one tough cookie. I stand here today because of her. I was with her through Afghanistan and it was a challenging thing for her to put up with. She dragged me through hospital, through recovery, did things for me that no one would ever want to ask a loved one to do for them but she did it and she kept my morale going, and she was the one who said go out there and chase your dreams. She put her life on hold essentially so that I could have the opportunities I have and when I get out on the dance floor come Saturday I'm doing it for both of us. That's how it is.
Tell us about your outfits, we've already seen you in a blue shiny suit and a sheer black number...
Yeah, the little Latin number. I'm pleased so far. Everything they've tried me in for the 'just see let's just see where my line is' we haven't come anywhere near my line! Because you've got to embrace this, you can't stand in that ballroom and feel self-conscious.
The thing you learn spending time with all the pro dancers is that dancing is so much more than just a job, it's like being in the military, it's a way of life. You've got to eat, sleep, breathe it and the whole costume and fake tan is part of that because it makes you stand up tall. When you play at being a dancer it's a real privilege to get to go into this world and experience it.
What dance are you practising for this week?
I can't tell you. All I'll say is I'm loving it. I was completely ready to embrace all the sparkle and glitter but there was part of me that thought what if it's just too hard and it ended up being a misery. That's not to say I'm finding it easy, but I am finding it really, really fun.
No, I'm coming into this with zero experience, except for friends' weddings and even at that I'm more of a toddler than a dancer. I'm coming into it with nothing! But at the same time I'm a blank slate and willing to work. I don't have any bad habits to unlearn and I'm ready to soak it all up.
What do you think will be your best dance?
I've no idea. There's so much to think about - where are your feet, where's your posture, where's your frame - so any dance that gives me a little bit more time to think is good. I think it's going to get pretty scary really quickly when they start to ramp it up with those quick numbers.
Are there any similarities between the military and Strictly?
The mindset. You have to embrace the culture and everything that comes with that. Within the military that gives you resilience and adaptability and those skills transfer to most things in life, but it's something which is not just a physical but a mental challenge as well and I'm finding this a really big mental challenge. It's a huge adjustment and a lot to think about and I like to think I'm taking it all in my stride just as I would when you throw me into the unknown in the military essentially.
What is your partner Amy Dowden like to work with?
Amazing. And we are SO similar. She has faced her own hardship - she battles Crohn's Disease and managed to become one of the best dancers in the world in spite of it but also without making anything of it. She went away, just like me, and tried to define herself in terms of her successes rather than the things she struggles with. And now she's using her platform to declassify the stigma around it, so that's exactly how I carry myself. And we're similar in that we're both chatterboxes and love to smile. We couldn't be better suited.
Does disability make any difference to your routines?
Well there are so many different ways you dance, as I'm learning, in style or form, so really it's down to the amazing choreography of Amy to figure out what I can and can't do. She'll find where my weaknesses and strengths lie and build a routine around that. For example the left side of my body is much stronger, and it's obvious because of the damage I sustained I favour that. There will come points where we'll go actually this requires a lift, and we're not able to do that. We're finding it out as we go and that's how the process works; people are being patient and mindful.
What's your outfit for this week's dance?
I don't know yet, I've not seen it. I can imagine it will be beautiful and covered in diamante.
And you'll have had the spray tan by then?
I think I'm scheduled in this week.
Did you ever see yourself doing this in life?
No, I just thought I would be in the Marines or a teacher. I had a bit of a plan A and that went out of the window in Afghanistan, everything went. So getting on Strictly was never in my head when I was 17 or 18 in the Marines as a reservist. But as I've moved into going beyond my injury, my career and sparking up becoming a TV presenter and trying to get as far in that as I can, opportunities like this become realistic. But at the same time telly's a fickle thing and you don't know if the phone will ring the next day and I'm just very lucky that it does at the moment.
Why did you want to do it?
It's an amazing challenge. It's hard work and I love hard work, and it's completely wild and exciting. But also it's an opportunity that not many people get. Not just to take part in the country's biggest telly show, but it's more if someone said take three months and go and learn a new skill, you've got to say yes to that whatever it is. The opportunity to go and be somebody else for three months is amazing. I had to grab it.
Have you always had the gift of the gab?
Absolutely. I was the class clown at school and with my old man being a minister, I grew up thinking it was normal that you stood up in front of group of people and spoke. But I was really dyslexic and struggled in school until I got the correct support. that one day of the year when you did your oral presentations, that was the one day of the year when I suddenly became the best student in the class. Everybody was terrified of standing up in front of people, having to remember all this stuff and string sentences together, and I just longed for it, because I couldn't write, but I could still express myself and that's got me where I am today.
Dyslexia taught me, and my disabilities taught me, about trying to take the thing that's meant to hinder you and find out, well yes, it does lead to deficits in some areas, but actually dyslexia has led me to have strengths in other areas, and my disability's the same. The resilience I've learnt as a result of my injury has made me a better person. If I'd just focused on the negative of it, then of course that's going to bring me down, but actually if I look and find the positives of disability, I realise I'm better off with it sometimes.
If you could relive your life, would you still join the marines?
100%. I'd do more. If I could I'd take it back right now. If I could change it all, I'd have it back in a heartbeat. But you can't change it so why dwell on it? The simple fact is I wouldn't be sat here if it wasn't for the Royal Marines, they gave me all these opportunities, the best friends in the world, unbelievable opportunities and experiences, and the mindset which carries me forward today. So yes, I would, in a heartbeat.
What's next after Strictly?
Well the biggest thing of course is I hope the Tokyo Olympics goes ahead but beyond that I just can't wait to see how we get on in Strictly. At the moment I don't want it to end, it's just amazing.
I've been extremely lucky and will continue to strive forward, get better opportunities, bigger programmes and be known for that and not just JJ Chalmers the injured bloke that's on the telly or JJ Chalmers the disabled guy, to just be me.
Strictly Come Dancing, BBC One, 7.25pm, Saturdays and on iPlayer
A message from the Editor:
Thank you for reading this article. We're more reliant on your support than ever as the shift in consumer habits brought about by coronavirus impacts our advertisers.
If you haven't already, please consider supporting our trusted, fact-checked journalism by taking out a digital subscription.