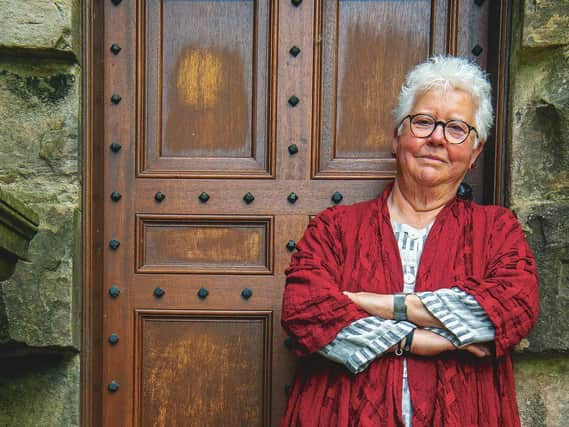 Queen of crime Val McDermid is wearing a bright Buddhist prayer flag T-shirt and sitting in front of a wall of books backdrop, in her case real. After a brush with covid she's back at full strength as she prepares to headline the Bloody Scotland International Crime Writing Festival next month.
"My partner Jo and I had the virus early on we think, relatively mildly, not the lung problems or the cough, but the temperature spike and aches and a couple of weeks of being really brain fogged. So I was less productive and three to four weeks late delivering my new book, Still Life. And every now and then we have an odd day, we call it a covid day, when you just sit in the corner and read a book."
In McDermid's case this has been Ali Smith's latest, Summer. "If I was god I'd give Ali Smith The Booker every year. It's amazing," she says. "Now I've got to catch up on everything I should have been doing while I was reading that."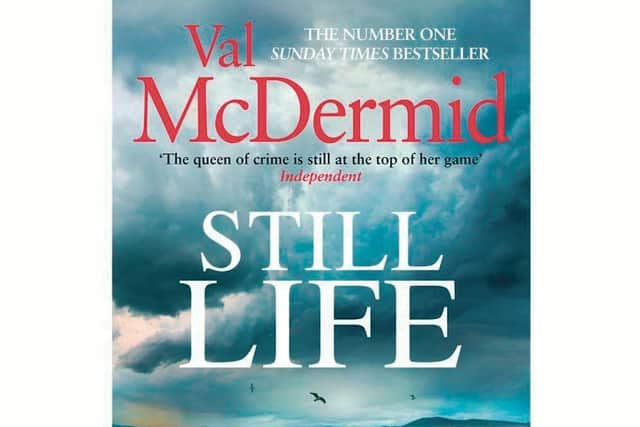 On the to-do list is to prepare for this year's Bloody Scotland Festival, which has moved from Stirling to the internet to run entirely online over the weekend of 17-20 September. This year it's bigger than ever with its largest ever panel with 27 authors from five continents, while other highlights beamed out free to an international audience include two Criminal Masterminds panels featuring McDermid in conversation with Lee Child and Ian Rankin in conversation with Lawrence Block.
As well as headlining the festival, McDermid is longlisted for its McIlvanney Prize, awarded to the best Scottish Crime book of the year, for last year's How The Dead Speak, with finalists revealed on 1 September.
"I'm very proud. It's always a pleasure to be listed because it means you're doing something right," she says. "I feel very honoured that 34 books in I'm still getting on lists and pretty much every book I've published in the last 15 years has been on a list. The point of doing this is to challenge myself to write something different or better than the last time."
Right now, however, she is celebrating the publication of her 34th novel, Still Life, the latest in her cold case detective Karen Pirie series. McDermid writes another three crime series; Wire in the Blood which was adapted for TV, the private eye Kate Brannigan and journalist Lindsay Gordon books. Her stories are heard on stage, screen and radio, last year's primetime TV Traces was a hit and ITV have announced a new series based on the Karen Pirie character.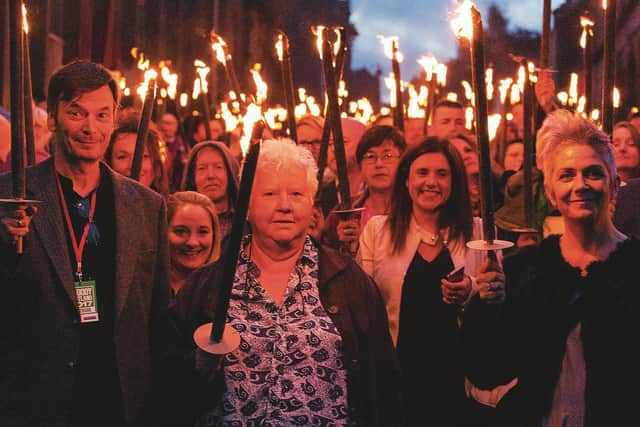 The 65-year-old writer from Kirkcaldy has amassed global sales of 17 million books and is translated into 40 languages, the result of a prodigious work ethic, not to mention talent. An honorary fellow of her old college at Oxford, she plays in a band with fellow crime writers, lives in Edinburgh with geography professor Jo Sharp, her partner of seven years, and has a 19-year-old son.
It's no surprise that a writer as prolific as McDermid should be making her presence felt on the web and embracing everything online in lockdown with gusto. Her first Edinburgh International Book Festival appearance was watched by 5,000 viewers, and she launched Still Life live online from Portobello Bookshop, appearing with fellow crime writer and Fun Lovin' Crime Writers band member Doug Johnstone for an evening of words and music. She's also done an event for Borders Book Festival from her flat, another for the Edinburgh International Book Festival with debut writer Mary Paulson-Ellis from her garden, but most fun of all has been her YouTube cookery slot, Cooking the Books, with Jo from their kitchen.
Tell us about your new lockdown skills.
We've all got used to doing online events so we've developed our techniques for being more than just talking heads. Two handers can be set up with one facing one way and one the other so you look like you're talking to each other, and now we can physically do some events together socially distant in the same geographical space which creates more of a sense of an event.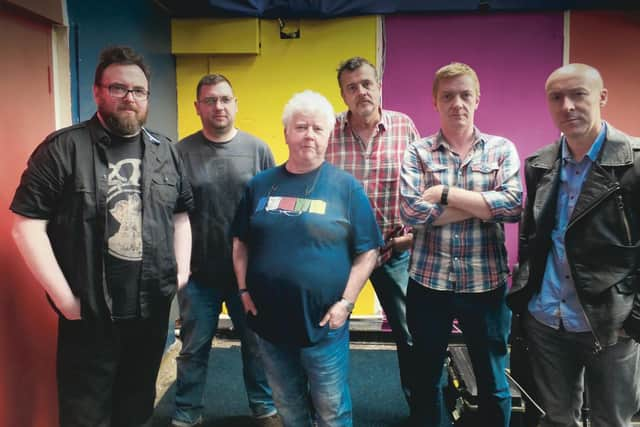 Pre recording for online has been really good, making wee films and Jo got really good at editing and is a very proficient videographer.
But the problem for writers doing a lot of online events is we only have one story – how we got into this, what we do and why we do it and if all of that's out there why turn up to an online event? So to mix it up a bit Jo and I started Cooking the Books, a series of eight daft cooking videos on YouTube, based on recipes or things people eat in the books, and it ended up as comedy really.
Karen Pirie's lentil stovies, we had Hamish's hipster porridge from Still Life and forensic cake because every meeting with forensic scientists involves cake. There was Tony [Hill] and Carol [Jordan's ] chicken and spinach curry, Scotch broth...
Why is there so much food in your writing?
Well, I've written 34 novels. People sit down and eat meals. And at various times readers say how do you make that? Most of my recipes are a handful of this and a couple of those...
Did international readers enjoy the stovies?
Yes, there was a whole Twitter conversation about stovies: America, Canada, Australia, Germany. Bringing stovies to the world, that's my role.
Cooking the Books was so people could see something different but it's not something I'll be replicating on stage in the future, turning up with a portable wok.
Still Life is a contemporary book so how did you deal with covid?
Before covid was even on the horizon this book was always going to be set in February 2020 and it has a compact time frame. When I started writing there were a few cases of this strange new virus in China, then it got bigger, then lockdown. So I had to write the book with knowledge of what was coming, but not put that in.
There is some foreshadowing – lab technicians are off work because they went to some football match in Italy and got a bug, but there's no sense of impending doom, just little nuggets. That was a difficult balancing act, knowing what I knew by the time I was writing in lockdown.
How do you see the corona crisis unfolding?
The catastrophe is yet to come. When the government stops propping up wages and paying us to eat at McDonald's, we start dealing with the consequences which are going to be catastrophic and for an awful lot of people whose lives were precarious to start with, and that precarity is going to be a whole new reality. There will be huge job losses, people will lose their homes, families will be destroyed. And almost certainly a second wave; covid hasn't gone away.
How will that affect you as a writer? Will you have different material?
Well I don't think writing in the present day is possible at the moment. My novels have a contemporary setting, are very much of the real world and its events impinge on my characters. It's impossible to write something that's still going to have the same meaning when the book's published.
So my next book is going to be set in 1979. With a new character. Karen Pirie wasn't even born in 1979. We're back in 1979. This is a live case. Dead people. Forget all the technology, we're back to 'is that a fingerprint?' It's a fascinating year '79, so it's been really interesting to go back and look at that.
How old were you in 1979?
24. It was 'the winter of discontent'. My grandfathers were miners. Dad worked in the shipyard in Burntisland, mum worked in shops and offices and my grandparents lived in East Wemyss which was a mining village until the pit closed in 1967 after the Michael pit disaster. So I saw at first hand what happens to a pit village when the pit dies and I knew what was coming down the turnpike for these guys in the 1980s.
You wanted to be a writer from childhood, why?
Because it seemed to be a pretty cool thing to do, to spend your life making stuff up.
What did you read as a child?
Everything in Kirkcaldy library. Luckily when I was six we moved to live opposite the library and that was my home from home. The books that oddly enough had the biggest impact were the Chalet School books [by Elinor M Brent-Dyer] set in Switzerland and Austria. From those I learnt some key things that had a profound influence. One was that writers got paid for writing a book, because one of the characters grows up and becomes a writer and gets a cheque from a publisher. It was a paragraph on the right hand page. That was a dawning moment, 'oh my god, you get paid for this. I can do that. I can tell lies'.
And I learned how serious fiction worked because in those books there is progress. Each book is a term or year, people grow up, things have consequences if you break your leg in one book you're still limping three books later. In a lot of early detective fiction there is no sense of that – it doesn't matter in what order you read Poirot or Miss Marple or The Famous Five – and there is no sense of reflection: 'We'd better not go into the dark cave because last time we did that something terrible happened!'
So from Chalet School books I learned the valuable lesson that if you're writing a series you have to make what happens to characters, not just events, interesting.
Do you ever put people who have annoyed you in your books and bump them off?
Not directly but there are characteristics of people who have annoyed me that find their way onto victims.
It's good to be able to let your feelings out rather than bottle them up. To read a crime novel and say yeah, I wish that would happen to so and so.
What are you most proud of about your career?
I'm very proud of my honorary fellowship at St Hilda's, my old Oxford college. That was an indication of not just being successful and selling lots of books but having something substantial to offer. PD James also was an honorary fellow at Hilda's before me so that felt like an honorable succession.
What about financial success?
It's never been about money. Nobody becomes a writer to make money! I got very lucky and I'm very conscious of that. There are three things that make a writer's career happen: you've got to have some talent, you've got to work really hard at what talent you have and you have to get lucky – the right book or the right place at the right time or the right person who can take your book and make a TV programme. The TV [Wire in the Blood with Robson Green and Hermione Norris] series brought a lot of people to the books. That's the only reason why you would agree to an adaptation.
Another turning point was Jane Gregory, who is still my agent 30 years on, and who is an absolute tiger for her writers. Because when I gave up my day job it was a moment of madness and Jane's attitude was 'well, we have to make it work'.
Were you scared when you gave up your day job?
Terrified. I was the northern bureau chief of a national Sunday newspaper, The People. I had a substantial salary, expense account, company car, pension. It was the mink-lined cage. I looked at the people around me and thought I don't want to be you when I'm 50. I had been front line on both Lockerbie and Hillsborough and found both those very traumatic. Superficially I appeared to have just breezed through it but I didn't. At those times there was no sense of post-traumatic effects and you just battled on. I knew I didn't want to continue doing that for the rest of my working life. I wanted to make a living writing fiction.
Would you ever write something else, say a romance?
No, I like the adrenalin buzz of what I do. But I did manage to rework Northanger Abbey without murdering anybody. I'm always open to doing things that are challenging and different. I've just edited a digital anthology, Home Fixtures, in support of the Homeless World Cup. And Jo and I just edited a book of essays called Imagine A Country, I've got a play with the Lyceum and a short film for the National Theatre of Scotland. Next spring I've got a graphic novel version of Resistance, a series of radio plays I did for Radio 4 about a pandemic, coming out. It's really gripping. My son said 'that'll give you a whole new demographic'.
If you weren't a writer, what would you be?
I would like to think I could be a musician.
How's your band Fun Lovin' Crime Writers going?
Well, we can't do anything in a band sort of way, apart from a couple of numbers with Doug Johnstone at our joint book launch event in Portobello.
It's a great thing. I love singing with the guys, standing up and opening up my lungs. And we've become really good friends. A lot of bands break up because they write their own songs and someone says 'that's sh*te we're no' doing that', or there's a rivalry between different songwriters, but because we're only doing cover versions there's none of that.
We all knew each other before but a real bond has developed and brought a closeness I really value. And I love making the music, it's fun… I mean we played Glastonbury last year for god's sake. It was amazing. Standing in a food queue being fangirled by Marti Pellow... being there as artists with our own fridge and dressing room area, well I say dressing room area... but it was a fantastic experience. The crowds were incredible and it was a heatwave, so there was no tramping about in mud.
Do you have any message for us in lockdown?
No, it's hard enough to run my own life without telling other folk how to run theirs!
Val McDermid, in conversation with Lee Child, is headlining Bloody Scotland International Crime Writing Festival on Sunday 20 September. The festival is free online, 18-20 September, see bloodyscotland.com/events
McDermid is longlisted for The McIlvanney Prize, Bloody Scotland's annual prize awarded to the
best Scottish crime book of the year for her previous book, How The Dead Speak.
Her latest, Still Life is out now, Little, Brown, £20, also available as ebook and audio
A message from the Editor:
Thank you for reading this story on our website. While I have your attention, I also have an important request to make of you.
With the coronavirus lockdown having a major impact on many of our advertisers - and consequently the revenue we receive - we are more reliant than ever on you taking out a digital subscription.
Subscribe to scotsman.com and enjoy unlimited access to Scottish news and information online and on our app. With a digital subscription, you can read more than 5 articles, see fewer ads, enjoy faster load times, and get access to exclusive newsletters and content. Visit https://www.scotsman.com/subscriptions now to sign up.
Our journalism costs money and we rely on advertising, print and digital revenues to help to support them. By supporting us, we are able to support you in providing trusted, fact-checked content for this website.