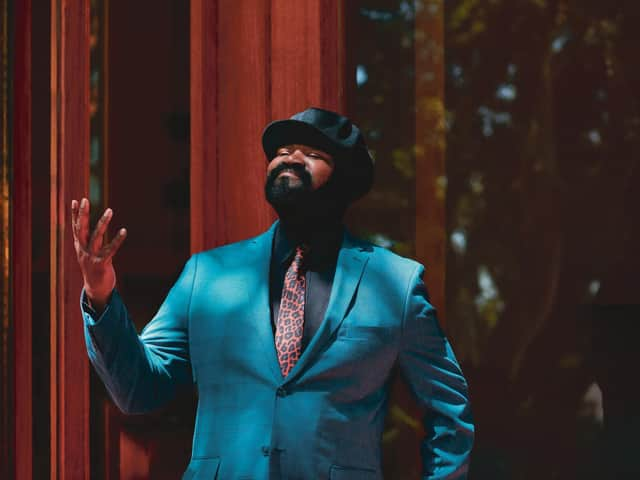 Coronavirus postponed the launch of Gregory Porter's new album and tour, but the Grammy-winning jazz singer was enjoying some downtime with his family in lockdown in California. Then his brother Lloyd died in New York of complications arising from Covid-19. The album is now released, but everything has changed, he tells Janet Christie
I first interviewed Gregory Porter, pre-lockdown back in February. He was preparing for the release of his new album, All Rise, in April and the tour in May, which was coming to Scotland as well as spending four nights at the Royal Albert Hall in London. He was excited and relaxed, his famous easy-on-the ear molten sugar voice bubbling into laughter down the phone from his home in Bakersfield, California. The singles from the album, Revival Song, written in memory of Freddie Gray who died in police custody in Baltimore in 2015, and featuring Scottish singer Emeli Sandé, and a second, Concorde, were hits. Then Covid happened.
It's been a long six months for Porter – he lost his brother Lloyd to the virus, and his album and tour were postponed. This week the album is finally released and there will be a tour down the line when Porter thinks it's safe for everyone. When he greets me this time, it's a more subdued but thankful Porter who comes on the line.
The man in the hat that covers his ears and chin is famous for bringing his jazz, soul, blues, and gospel mix to the masses, through his eight albums from 2013 debut Liquid Spirit which won him his first Grammy, collaborating with Brit electronic duo Disclosure on Holding On and dance hit Liquid Spirit – Claptone Remix to his second Grammy for the album Take Me To the Alley in 2016 and taking to the Glastonbury stage the same year.
He's taken his at times gentle, at times exuberant, baritone on mainstream TV with Gregory Porter's Popular Voices on BBC4, lullabied on CBeebies Bedtime Stories, revisited the Nat King Cole songbook with his previous album, and last year's podcast The Hang saw him chat and sing with friends such as Jeff Goldblum, Annie Lennox and Stones producer Don Was. He's sung in Carnegie Hall, the Royal Albert Hall and earlier this summer was due to head to Scotland to sing at the SEC Hydro in Glasgow.
Born in 1971 in Sacramento and raised in Bakersfield, California, the seventh of eight children, Porter's mother died of cancer when he was 21. Her last words to him urged him to pursue his music and predicted he would one day sing in the Royal Albert Hall. Now aged 48 he still lives in Bakersfield in California with his wife Victoria and young son Demyan.
First interview, pre lockdown.
Is the new album, All Rise, on which you've written and co-written all the songs, a departure or a continuation?
I think it's a continuation. It's stronger. I don't often use choirs and we had some beautiful voices in the studio. My producer Troy Miller (he was in Amy Winehouse's band, works with Laura Mvula, Emeli Sandé) is from London and we had an extraordinary time combining the music of my band with the London Symphony Orchestra backing some of the songs.
The songs are originals, stories of love, stories that radiate and connect to many people other than myself... a couple of social songs, ultimately love.
I'm very proud of this record with its sound from start to finish. It's a really diverse, cool, you know, my gospel roots and then the environment of soul and blues that I was immersed in, all of that is coming out in there. I'm proud to find myself not running from my childhood. Some of my songs are so far removed from a gospel sound, but you put a gospel hand clap in….
You know the best music was borrowed from gospel music, dance music, ballads, up tempo songs.
You've credited your father with giving you your voice…
My father had a grand charisma but an inability to show much attention to me. But I'm so thankful he taught me how to sing. The irony of this man – he didn't give me anything in life except the very thing that's made my life easy.
What did he teach you to sing?
He didn't teach me to sing anything. But he gave me the voice. At his funeral I learned many things about him, but person after person got up and said 'boy, when your daddy sang', 'oh my goodness your daddy was such a beautiful singer' and I never knew that. I never heard him sing.
It sounds crazy but it was really a watershed moment for me. I had been saying all these years he gave me nothing, but he gave me the thing that made sense of my life.
Did your mother fall in love with his voice?
Yes. But she wouldn't give a lot of information about their life together and so, I've had to piece together who he was, paper clippings you know.
How do you go about that?
From everybody who knew him. He was a poet, a wordsmith, a preacher. So all these people who really knew him were a grand resource for me. I saw him on several occasions in my life, never lived in the same house as him, but had a few moments with him.
Do you sing with your son?
Yes and he sings the final notes of the song on the new album, that's cool.
Where did you meet your wife Victoria?
We first met at a club in Moscow and she fell in love with my voice. We stayed friends over the years, not plotting and scheming to be together... it just happened.
Is it true your mother predicted your fame?
Yes, she said you'll perform in the Royal Albert Hall, at Carnegie Hall, we didn't even know what Carnegie Hall was when we were kids. And she said your gift will make room for you with the children of royalty And we were like, Mom...
Now I've performed for quite a bit of royalty. She was a prophet. We didn't know we lived with a prophet.
She was a minster, and did real estate and was a nurse. A very busy woman. Eight kids, I'm the seventh.
We sang as a family, and I also sang with my sister Lawanda. And my brother Lloyd. We sang as kids, but myself and my sister Lawanda are the only ones who took it any further. My sister Lawanda [Porter Maxwell] is working on a record now. She was raising her children but now they're out of the house, she's working on that.
You used to be a chef and are famous for your turkey chilli soup. Do you still make it?
I do. I'm kind of a soup nut. I make a lot of soup. The idea of blending eight, nine, ingredients into something beautiful is something I enjoy doing. It's a bit like music.
Tell us about your trademark hats, the Kangol Summer Spitfires.
I wear them summer, winter, spring and fall.
Do they give you them free now.
You know they should, but they don't. Ha, ha
Dozens. They're everywhere. I have different colours as well, but on stage I always wear black.
Is it true you started to wear it for a skin condition?
Well, some people say that, you know. One never knows does one? It's one of those stories. It's become kind of my signature look now.
It NEVER had a necessity, but it just it felt so cosy on my head. I'm not mentally ill or anything. I don't think in the last ten years I've sung in public without it. So there you go. Nobody would recognise me when I take it off!
Do you have any Scottish connection apart from working and performing here?
That, and Laura in the song Hey Laura [from Liquid Spirit], was actually from Edinburgh, so there you go. It's been a long time and we're still friends.
Who was Laura from Edinburgh?
That was Laura. I couldn't give you her last name. Yeah.
She actually moved to the United States, she's working, with a man, has a life. She's still a friend, you know. But I rang her doorbell too late… ha ha. There you go.
Well I'm 48 but the official answer is ageless and timeless.
Second interview, Tuesday August 11 2020
How do you feel about the album release?
It's a relief to get it out there.
How are you coping with lockdown?
I'm coping with lockdown. You know, I'm not going to lie, it's been very difficult. In a whole bunch of ways it's difficult. To stay on lockdown when you're used to travelling all over the world most of the time.
I have enjoyed being with my family. At the beginning of this thing it was probably something that I really needed because I keep a really busy schedule.
But the consequences of the effect it had on my brother's life, it changed everything. So the kind of relief or break that it had been, turned into a nightmare when he caught the virus. Yeah, my brother passed away from Covid.
We're sorry to hear that.
It changed everything in terms of how I'm willing to go out on tour. I'm definitely going to tour this record, but I want to make sure I don't contribute to anyone else getting sick. I'll only do concerts that we're sure of, or go online. I don't see live performances happening for a while
Can you tell us a bit about your brother?
He was a year older so we were very close. Lloyd Cornelius Porter. He wasn't a singer, he was an actor, but he was a good singer too. He owned a coffee shop in New York.
You said last time I spoke to you the only thing your dad every gave you was the voice, so he obviously gave it to your brother as well.
Yeah, but Lloyd had my father's charisma and humour and gift with words too. He was a very special, big personality. The neighbourhood gave him an enormous send off when they found out he'd passed.
It was a remarkable sight. Now his wife and daughter have joined us in California. It was very painful to be in New York where they lived.
[Porter's brother ran a bakery and coffee shop in Brooklyn with his wife Hillary, a place that welcomed and employed artists and became a creative hub and community space. Like his brother, he wore hats, in his case boaters, which he liked to team with a bow-tie].
Does his passing make you want to mark his life through music?
It does. And it highlights the moments where I am singing about him. If I had a lyric that had to be polished, it would be by him. And he produced all of my music videos.
When we were younger we would go into a room and he'd scream, 'my brother can sing! My brother can sing!' And I was quite shy. He was the one that was loud and braggadocious, and he would let everybody know. He let me know, before I knew I was a singer.
He'd say 'Gregory, you are one of the best singers in the world. You could do big things. Big things... Yeah.'
Gregory Porter's new album All Rise is out now on Decca Records/Blue Note, www.gregoryporter.com
A message from the Editor:
Thank you for reading this story on our website. While I have your attention, I also have an important request to make of you.
With the coronavirus lockdown having a major impact on many of our advertisers - and consequently the revenue we receive - we are more reliant than ever on you taking out a digital subscription.
Subscribe to scotsman.com and enjoy unlimited access to Scottish news and information online and on our app. With a digital subscription, you can read more than 5 articles, see fewer ads, enjoy faster load times, and get access to exclusive newsletters and content. Visit https://www.scotsman.com/subscriptions now to sign up.
Our journalism costs money and we rely on advertising, print and digital revenues to help to support them. By supporting us, we are able to support you in providing trusted, fact-checked content for this website.