Interview: Erasure's Andy Bell talks to Janet Christie about his new album with Vince Clarke, life and lockdown
Why The Neon is a heady dance-friendly celebration of life and music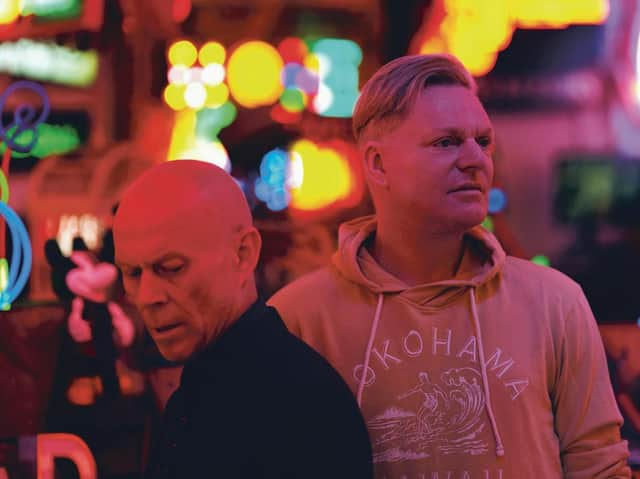 Vince Clarke and Andy Bell. Erasure's new album, The Neon, celebrates their synth sound and left-field love of pop. Picture: Phil Sharp
'Head for the city, feelin' kinda lonely', 'Walk through the city singin' hallelujah, Wish for a lover's touch.' Erasure's Andy Bell couldn't have known when he wrote these lyrics for Hey Now (I Got a Feeling), the first single off the new album, The Neon, that it was what he would be doing right now in lockdown.
With his husband Stephen in Florida with their dog, he hasn't been able to leave his London flat to join them and with his flight to the US being repeatedly postponed he's learning to enjoy his own company for the first time. Speaking on the phone from his flat in London's Limehouse he sounds cheerful and excited about the new album with musical partner Vince Clarke, their 18th studio album, which launches this week.
"I'm just so glad I've got this music to occupy myself with," he says. "I woke up in a bad mood this morning, really grumpy, 'cos my flight was cancelled again, which means I'm not going to get to see my husband and my dog which is really frustrating. I know it's happening to lots of people. But I'm a bit better now."
Andy Bell with Vince Clarke at a shoot for The Neon album cover in Gods Own Junkyard in Stratford, London. Picture: Phil Sharp
For someone in a bad mood – he also has avascular necrosis, a wasting of bone tissue which causes joint pain and has had hip and knee replacements, and HIV to contend with – he's good fun, with a slightly surreal sense of humour. There's a crackle of optimism in the air and if ever there was an album to give us something to dance to in lockdown, Erasure's latest pop-synth concoction is it.
Formed in 1985, when former Depeche Mode and Yazoo member Clarke advertised for a new singer, between then and 2007, Erasure achieved 24 consecutive Top 40 hits in the UK, including Sometimes, Chains of Love and A Little Respect, winning a Brit Award and selling more than 25 million records.
Last year when Bell was loved up with Stephen, splitting his time between London and Miami, he visited Clarke in New York. As
usually happens when the pair get together an album followed, and with both being in a happy place, The Neon is infused with a shimmering feel good vibe.
Bell performing in Hollywood in 2005. Picture: Getty Images
Clarke used some of his favourite synths from way back while Bell's lyrics capture the excitement of his discovery of pop, creating an album that's both reminiscent of Erasure's earlier sound and freshly futuristic.
Andy Bell talks to us from lockdown.
The Neon is a very dance-y album which is great for lockdown and those of us labouring away at home...
Yeah, ha! It's good for that isn't it, 'cos dancing's the only form of exercise I don't mind doing.
On the new album, The Neon, Erasure's 18th, Clarke used some of his favourite synths from way back while Bells lyrics capture the excitementof his discovery of pop. Picture: Phil Sharp
How would you describe it?
As going back to the beginning. Being a musician you go through the doldrums, especially after 35 years, because it's like being on a hamster wheel. After a while you have to get off, take stock, then get back on and you have a fresh perspective. This album reminded me of what it felt like being a 15, 16-year-old and going out and being in the record shop and the excitement of waiting for something to come out.
Also I'm lucky to have been born in the Sixties and have a historical perspective on pop. We take art movements for granted, not realising everything only lasts for a certain period. You're so idealistic when you're young and want to be in a band, you think you're gonna change the world and then come to the realisation that actually it's not made a huge difference. So you just have to be in it for the love of the music and being on stage. I know that sounds so corny but … I was just watching this TV show about Agnetha from Abba turning 70 and she said 'the most important thing in my life is to be on stage'. And that's it.
But being open about being gay since the 80s and about having HIV, has contributed to the changed world we live in now.
Bell and Clarke in God's Own Junkyard, which the singer had always wanted to visit. Picture: Phil Sharp
Aw. Sometimes I feel like you get three wishes. Having a purpose was one, so music, and as you say being out and stuff like that, so those wishes have been granted. So I've got one more wish, and I've not quite decided yet, but it's kind of stirring in my soul. You have to manifest it don't you?
Yeah it's sort of like you have to put it out there in the ether.
The album, The Neon, is it a musical interpretation of how neon makes you feel?
I love that neon is a kind of gas that's trapped inside a tube and it flickers and goes at a certain rate. So it kind of is alive, and by mixing it up you get the colours. So it's really like, I don't know, some science fiction sort of thing, and quite ghostly at the same time.
When we were thinking about the album and what we call it, and I love the word 'Neon' as well so it just came out really. When you see a neon sign on an old stone wall it's like time travelling because the wall is so old and the neon is so fantastic and it's kind of like these two colliding time spaces. Neon is a place, in your imagination, but in the real world too. It's a place of possibilities.
Bell had long been a fan of Clarke's music with Depeche Mode and Yazoo when he got the chance to work with him with Erasure in 1985. The duo performing in New York in 2014. Picture: Getty Images
Where did you shoot the album cover with all the vintage neon?
I'd seen this place, God's Own Junkyard in Stratford and had always wanted to go there. It's where Alfred Hitchcock used to live and across the park there are swarms of ravens in the trees and that's where he got the idea for The Birds film. It's worth going there.
Erasure's influences are well documented, from Orchestral Manoeuvres In The Dark and Kraftwerk to Gloria Gaynor and Abba. Any we wouldn't expect?
I do have quite pop-y taste but I also love Nina Hagen, Lena Lovich, Hazel O'Connor, more quirky types. I loved most of the Stiff label artists.
Which tracks from the album are favourites?
I love Kid [Kid You're Not Alone]. I loved The Pretenders song Kid and our version is kind of like a father's discussion with his son about what they want to do with their life and not to be worried about stuff.
Did you have those conversations with your parents?
Yes, I did, especially with my mum, June. She's one of nine or ten children and they're all named after months. Me and my mum were so close, especially when I lived at home; best friends.
New Horizons has a kind of Simon and Garfunkel feel – Vince is a huge fan of them, they've been his favourite band from when they were Tom and Jerry.
And I love the song Diamond Lies – I'm not quite sure what it's about. I think it's about kind of an ex, but I love it because my favourite Eurythmics song is Love Is A Stranger and it really reminds me of that.
When you say you're not sure what Diamond Lies is about, you wrote it, so how come?
Things are kind of auto written and sometimes after a while a meaning will grow out of them and it makes sense and you go 'aw, that's what it was about'. I think you just embrace it in the song. It comes from your subconscious.
You and Vince have a long friendship and every two years or so you get together. does it always result in an album?
Mostly yeah. It's funny how when you're in a duo people analyse the albums so much. Like Loveboat (2000) or the last album World Be Gone (2017) people think you're really living it. It's just really strange.
The last album was quite political, deliberately so?
It was just how we were feeling really but I can't remember how I was feeling! If you ask me about albums I can't remember to explain...
Well you've got 18 studio albums so that's fair enough.
Yeah, there's so much I don't remember. Probably a third of my life.
And what do you put that down to?
Being in the moment and not being in the past too much. I have no idea. It's just my brain. If I concentrate I can remember things, but otherwise...
Did you know when you met Vince that you would be here 18 albums later?
Honestly I don't think about those kind of things. I just get on with it every day. And I loved Vince. I was a huge fan of his music - Depeche Mode, Yazoo. I honestly felt he was like one of the most left-field people in pop that I could work with and then hey presto you work with them. Oh! Hallelujah!
So you usually split your time between London and Miami where Stephen is?
Yeah. The dog's in Miami too. His name's Angel Baby.
Is that what you shout in the park?
No we call him Angel. He looks fierce, but he's not; he's completely soft. He's a Red Doberman and he's getting old. But America's shut down. And it's such a mess there. I can't believe how divided the place is. It's like the only time they come together is when they're at war.
You recorded the album there last autumn and travelling in the car through The South you said with all the anti-abortion signs it was like being back in the Fifties.
Oh yeah, I hate it. No regard for women's rights or black people. In some ways it's so backward...
What's it like where you live in London?
I'm in Limehouse, it's kind of central, and very diverse, mostly Muslim and Hindu. I love it 'cos it's very quiet, people just keep to themselves and get on with it.
How have you been in lockdown?
Fine. I'm not such a fan of this hot weather because my flat faces east and when the sun comes up in the morning it's like a hot house so you have to keep the curtains closed. I'm a bit like one of those old ladies that hides in the house. But I've got a lovely view of the canal boats down there and there's enough going on, corner shops and things. And there's Ian McKellen's pub, The Grapes, and there's a gay pub, The Old Ship on a square that was going to be the original set for EastEnders.
And your parents are in Peterborough?
Yeah, bless them. My mum's in a home, so nobody's been allowed to see her until last week. My dad was over the moon. They were both sitting outside and it was just so great to see this true love and respect. They've been married for 56 years, my age, and it just really touches your heart.
I think it's generational. Stephen's dad was the same with his mum, ga-ga for her. And that's how we want to be. Like our parents but you'd never admit it! My mum and dad met on a bus and he's ginger and mum said she thought he was quite creepy, then she got used to it.
How do you think playing live will be in the future?
I've been wondering how we could do it. Maybe everyone in the audience could be inside zorbing balls. With radios in there. And you could have it in a swimming pool.
Yes, festivals or anywhere with a slope might be tricky.
Yeah. If we played at Edinburgh Castle, you could roll down the hill in the zorbing balls. You can imagine that can't you? But everything's cancelled.
Would you like to come back to Scotland?
Yeah, definitely. I know it sounds clichéd, but we love it.
You're very popular here.
Yeah, that's why we love it! And you like good times, letting your hair down and having a party.
How has lockdown changed your life?
I think it's made me realise I'm not that afraid of my own company. There were six of us children in my family and when I left home, I moved to London with a bunch of social workers, and had my first boyfriend and lived in a co-operative house with other gay people, then I was in a relationship with my Paul, when I met Vince and set up the band, for 25 years. Then Paul passed away and I met Stephen and I've been with him for 10 years so I've never actually been on my own.
But you have to make the best of it and I absolutely don't mind being on my own. I feared I wouldn't be able to manage or cope but I can. I mean I hate all the bills and red tape and all these stupid things that keep breaking down and stupid life niggles, but apart from that it's fine.
Where would you like to be right now?
I would love to be by the sea with my Stephen and my dog, just walking down the road, in Florida. That would be fine.
Finally is it true you once said you turned down sex with an alien 'cos they're all heterosexual'?
Ha. Well… this was one drunken night here in the flat and I was looking out the window and there are so many building works going with all those red lights on top 'cos I'm near to Canary Wharf. And all the lights on top of the skyscrapers look like spaceships in the nighttime and my mind was drifting, and I was thinking all these lights were like a central nervous system, like alien nervous systems, and I suppose I must have been horny as well and wishing that one of the lights might have been an alien or something, yeah...
So it wasn't 'cos they were heterosexual, but because they would metamorphosise constantly, so they're not one thing EVER. They are not heterosexual, they are constantly in flux, so that's why.
Thanks for clearing that up and we look forward to seeing you play live in Scotland.
Yes. But no zorbing balls for me. You know how sensitive you are when you have hip and knee implants – you can predict the weather through them – anyway my right hip has been giving me a bit of jip and I'm thinking 'oh jesus, I hope I don't have to go and get that one done again'. Apart from that, we can't wait…"
The Neon is released on Mute on 21 August, www.erasureinfo.com;
A message from the Editor:
Thank you for reading this story on our website. While I have your attention, I also have an important request to make of you.
With the coronavirus lockdown having a major impact on many of our advertisers - and consequently the revenue we receive - we are more reliant than ever on you taking out a digital subscription.
Subscribe to scotsman.com and enjoy unlimited access to Scottish news and information online and on our app. With a digital subscription, you can read more than 5 articles, see fewer ads, enjoy faster load times, and get access to exclusive newsletters and content. Visit https://www.scotsman.com/subscriptions now to sign up.
Our journalism costs money and we rely on advertising, print and digital revenues to help to support them. By supporting us, we are able to support you in providing trusted, fact-checked content for this website.
Want to join the conversation? Please or to comment on this article.