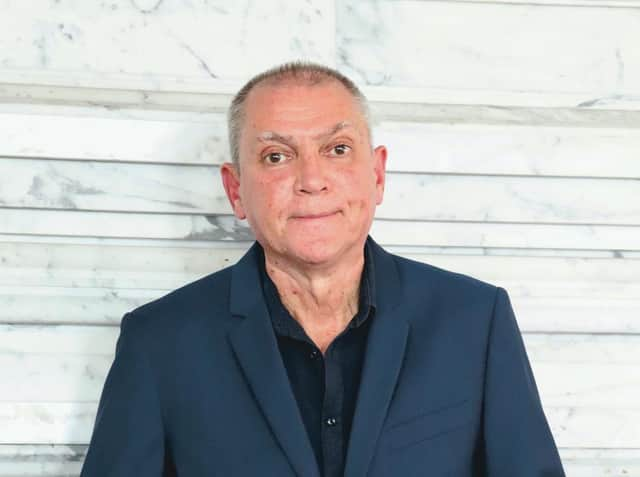 Back in 1980 Dave McLean was a student dreamer from a Dundee scheme who booked Iron Maiden to play the Caird Hall. No one was more shocked than him when they agreed and it actually happened, along with a string of bookings including Simple Minds, XTC, Ultravox and The Skids, set up mostly to "impress lassies", after which the fledgling music promoter left Tayside "to take on the world".
McLean went on to work with Nirvana, Smashing Pumpkins, Pearl Jam and Green Day and The View and today is a music promoter and manager of Placebo, with Kyle Falconer on his record label Riverman Records. Now he has added film writer and producer to his CV, with his first feature, telling the story of the legendary Iron Maiden gig and the beginning of his years in the music business, on UK release.
Schemers starring Edinburgh actor Conor Berry as the young McLean was made in Dundee and took the Audience Award at Edinburgh Film Festival as well as Best Director and Best Actor at the New York Winter Film Awards. With a cracking soundtrack of 70s and 80s music and tracks from Dundee's The View and Kyle Falconer, also managed by McLean, the film also stars Tara Lee (The Fall), Sean Connor (Anna and the Apocalypse), Grant R Keelan (The Devil's Machine), Kit Clark as his dad Wullie and Carolyn Bonnyman as mum Moyra.
Speaking from Bangkok where he now lives with his wife Thian and daughters Billie 14, and Beaw 18, despite lockdown preventing him from travelling back to the UK for the launch, McLean is buzzing about the film's release.
Full of chat, and very funny, McLean, 65, has the gift of the gab and you can see how he managed to persuade household names to visit Tayside as well as talking his way out of difficult situations that would have most people hiding under the duvet. But McLean just laughs. He also sings, whistles and breaks into song, as well as giving great anecdote, some of which will be finding their way into the book about his life, albeit with names changed, which he's working on with a UK journalist now.
He's also working on "about another five films", has made a documentary about a children's charity in Bangkok, and today is bigging up his latest musical protegée, Alissa Janine, whose new album is "off the scale". The Thai/German rapper collaborated with Kyle Falconer on their version of Eminem and Rihanna's Love The Way You Lie. And then there the possibility of a festival he's hoping to promote, at Inverness Caley's stadium next summer.
Despite Schemers' release being delayed by covid, as well as his band Placebo's latest tour postponed, he's still in fine form when we Zoom chat and keen to give us "the word on the pavey".
How did you get into the music business and how did the Iron Maiden gig come about?
I really fancied this girl so I put the first disco on just because I wanted to talk to her and put her on the guest list and she came. She was sitting with her friend and I was looking across at her and Faith Healer by Alex Harvey started, and you know when you get that vibe kind of thing? I thought this is awesome, awesome! I only hope this turns oot well the night. I just loved it, the smokiness and the music, and the whole atmosphere. And I thought this is the business...
So we made a grand, bought football strips – that cost £100 – and we had £900 left and thought that's not bad, we'll keep at it, obviously. So we did that and got right into the discos.
How did you move from arranging a disco to impress a girl to booking bands?
My pals John and Scot, the latter sadly no longer with us, said why don't we put on bands, cos that's cooler. Lassies will think we're really important if we put on bands. So instead of paying £50 to the DJ and making a grand we started paying a grand for bands, thinking aye, it'll look good for the image. We made no money but it was like 'aw yeah, we're putting on Ultravox' and 'we're putting on Simple Minds'.
Then we branched out. We did The Exploited in Edinburgh. That was our first venture out of Dundee. I remember we tried to book the Sex Pistols and the guy said well you cannae get the Sex Pistols, but you can get his [Johnny Rotten's] brother's band, 4" Be 2". They were quite good, so OK.
Then on the day this guy from The Exploited turns up and says 'where's the promoter?' I said 'I'm the promoter.' He said 'I'm Wattie fae The Exploited, we're playing the night'. I said 'no you're no', he said, 'you're no listening to me, we're playing,' I said 'no, you're no' playing'. He says 'listen mate, we're playing. We're on the bill, £50.' OK then.
Then the singer from the headline band comes up to me and says 'huwwo, huw you goin?'. I says 'who are you? 'Am the wingew in wuh band, I've got a bwoken jaw.' So I said to the manager 'I don't mean to be rude, but the singer in the band has got a broken jaw' and he said 'yeah but he's no' singin' opera is he? It's no Nessum Dorma. It'll be fine.' So the whole thing was a shambles and ended up with us being literally chased oot of Edinburgh, me and John back to Dundee in the car.
I got back, negotiated all the usual dross and detritus on the way up the multi, got in, sat down, kicked off the shoes, big cup of tea, beans on toast, put on The Streets of San Francisco, great theme tune, Michael Douglas and Karl Malden, big bulbous nose, solving all the crime, sat back to relax, then the phone goes and I pick it up: 'We ken whaur you live.' The Exploited. Christ! I said 'I'll sort it oot'. They got their £50. Happy Days. It was hilarious.
Did it ever go from funny to frightening?
I suppose really when I got into London and doing it big time, there was a lot of stuff going on there. Mind there was stuff went on in Scotland as well, but I kind of... was always a good talker. If I was going to get into a fight I would say, 'excuse me, before you punch me, I would just like to make you aware of the fact, just for your own good, that I actually have a hole in my heart, and it's quite a medical condition, and one wrong punch could actually kill me, but feel free, feel free. Go ahead, take a shot.'
There was a football player at the time called Asa Hartford who played for Man City and Scotland, and he had a hole in the heart so I used to say 'actually I have the same condition as Asa Hartford. I'm only telling you for your own good.' I said this on many occasions when I was about to get my pus rapped in Dundee.
Do you have a hole in your heart?
What is it like having someone else play you and seeing your life on film?
It was great. Because Conor's great. Since I had this operation five years ago and it all went wrong... I was dead basically, fighting for my life. It was a hernia thing, but they 'nicked' as they said, an artery, and it's like a scene from Casualty and I'm saying 'I'm fine' and laughing, because of the drugs, and they're saying 'you're not fine! Stay with us, stay with us' and slamming the thing on my heart – I thought I'm dying just now, but I'm not really arsed, everything's fine, then I felt that bright light thing, bang! That big explosion thing, when you're going to die or come back. Then nothing else. I woke up about six hours later, and said I'm just going to work with people I like from now on. I'm not going to work with people I don't like. I'm just going to do what I want, when I want, with who I want. Wouldn't matter if I was offered the biggest band in the world, if I didn't like them, wouldn't work with them. No more bad people in my orbit. So when I met Conor, bingo... he's great, really nice lad. He's a Hearts fan funnily enough. We hung out together and it was great. He's just a diamond. My mum loved him.
Were you pleased with how Schemers turned out?
Yeah. Well, you can't have everything, but there's a montage in it and I really wanted the David Narey goal.
The one the Dundee United player scored for Scotland when they were playing Brazil in the 1982 World Cup, the one Jimmy Hill called the 'toe poke'?
Yeah, the toe poke from 25 yards, ha, ha. But that was £16,000, and I was gonna pay it, I really love that goal, you know. And the other thing, because I used to bet heavily on the horses, my favourite horse, everybody's, was Shergar. So we had 'And Shergar's going 10, 15, 20 yards clear, Shergar at the post!' but that was £25,000. Anyhow covid meant we had to make cuts. If Placebo had toured this summer, loads of big arenas and headline festivals, I was actually going to pay it and my business partner was going, 'you're absolutely mad', but it's Davey Narey's goal and it's Shergar winning the Derby.
When I was working in London David Narey was coming on a holiday and my mate knew him. I said tell him if he wants any tickets for West End shows or whatever, so he phoned me up at the office in London and I was ….
Speechless? Something that probably doesn't happen very often?
I've met loads of people, your Bowies and Bonos and Kurt Cobains and that, but I was 'Dave Narey's on the phone, wanting tickets for Chicago or Mamma Mia or something!' Wow!
How would you describe your younger self?
Just like I am now. I dinnae care about anything. I used to drive my mum and dad nuts, cos I left school with about two O'Levels. But then I went to college then university so they were chuffed. I was doing an MA in Social Admin, Politics, History, English, then I left in the third year and used my student grant money, and my mates used their giros, to put on Iron Maiden.
Certainly I was a dreamer, a schemer.
Aw yeah, 100 per cent. The glass is always, never mind half full, it's tipping over! Always. I've just always felt like giving it a go like. I've just always been lucky, with a streak of yeah, let's do it. Every music promoter's like that, and they always make the same mistake. Me, I'd book a venue 2,400 capacity, £10 a ticket, that's £24K, obviously you always think you're going to sell out, the optimism. You don't ever book a venue and think it'll only be half full. I'm like that all the time, even now. It's weird.
Did Iron Maiden sell out?
No, it did a lot though. The Caird Hall held 2,000 and we did 1,300-1,400, but only about 200 in advance and there was a huge walk up, unbelievable. It was literally like God had actually smiled on me and said 'I feel sorry for this guy, let's just produce hundreds of people, fill it up, let's populate the place'. 'Cos I was having nightmares before it. I used to go into the Caird Hall and think imagine this place with only 200 people, the echo, this is going to be terrible. We need to move it to the Marryat Hall or The Pillars bar.
Was Iron Maiden a turning point for you?
It was a good calling card when I went to London in 1984... Iron Maiden and Ultravox and Simple Minds. I thought I'll just go to London, take over the world, no problem. But I couldn't get a job. Then I got one at Walthamstow City Council as an entertainment manager and my first gigs were Keith Harris and Orville the Duck, Rod Hull and Emu, the bingo, chicken in a basket. So I started booking loads of reggae bands, did bhangra discos, and I wanted to bring Sunsplash, the big reggae festival to Walthamstow. I said to my boss 'I need £5,000 to go to Kingston to do research'. He said 'it's only four stops on the Tube!' and I said, 'No, Jamaica'. So I got fired fae that.
What do Iron Maiden think of your film?
The manager phoned and said I don't think Iron Maiden are going to be involved because there's a few things they don't like. I said 'let me read your mind. You do not like the tour manager scene. You do not like the rider scene.' He said 'yeah', so I said 'I'll change it. We'll re-shoot.' He said 'then we've got a deal'.
What are the other films you're working on?
I've got a couple ready with scripts and treatments. One is called The Mill. It's totally different from Schemers which is comical. This isn't. It's seen through the eyes of the 13-year-old me, and it's about my dad. He was a farmer, but the council took the farms with a compulsory purchase to build houses, and we ended up in a multi in Whitfield. It was a bit of a scandal and people went to prison over it. I had a kind of nervous breakdown, it affected me really badly psychologically, OCD, went completely mental. I'm sending it to my mate Ewen Bremner who looks at scripts for me.
Another one is Knitting Smoke, about a big festival I promoted in Bangkok. It's a bit like Hangover 2 meets Trainspotting, a true story about promoting Oasis, Ian Brown, Snow Patrol, Placebo and Franz Ferdinand back in 2006.
I lost 12 kilos in the process – I called it the Oasis Diet – nothing to do with Oasis, they were great. But I came to Bangkok thinking I'll stick on a festival and nobody had ever done that and it p***ed off a few people. Basically me and my wife were leaving the country every weekend, Hong Kong or Singapore, to keep out of the road of people that thought I was too big for my boots. I had been a bit naive, thinking it was a bit of a laugh, but apparently it wasn't. We always had cases packed. Anyhow, the sponsorship didn't come through, so it's a revenge film, The Count of Monte Cristo meets Trainspotting. It's a comedy.
And I've got the documentary about the Mercy Centre for kids in Bangkok called The Goodfather , with music by Kyle Falconer and Mikey McFarlane. The guy who runs it has helped thousands of young people through that. And he had stories about Pol Pot, Ho Chi Minh, Michael Jackson, George Bush… I'm going to put it on YouTube to raise awareness and money for the centre. We also did a documentary about Placebo touring Russia called Alt Russia, along the route of Trans Siberian Express and another about human trafficking called Detour which we filmed with MTV for their EXIT campaign when we played a show at Angkor Wat in Cambodia.
What have you learnt in lockdown?
My family's always been close anyway, but I really appreciate it now. Every morning I walk aross this river and appreciate every single bird, flower, the little canoes with the people selling stuff. The people that stay on the river, live in little huts and the kids come out immaculate, white shirt, blue shorts and white socks, and go to school on the little boats. You look at everything and go this is a great world, awesome. It's a pity it's run by a load of pricks though, sorry, but the general people are great. So I've learned to appreicate every single day, every moment.
What's in the future for you?
I've probably lost money on the tour and audiences are restricted for the movie… but I don't care, it doesn't matter to me. Because I've got my health. People in Thailand who haven't got money, there's no furlough scheme here. I'm lucky. I make money on Placebo streaming and I'm just blessed to be in the way I am. Simple as that, I'm really very lucky.
The last few months, for some obscure reason, I've been saying to anyone who'll listen, I used to think about the afterlife, but I don't care about that now 'cos my life couldn't get any better. I would not swap my life with anybody, even if somebody said you could be Cristiano Ronaldo playing for anybody....
What if you could be David Narey scoring that goal for Scotland?
Oh… maybe for just for a minute. But then I'd swap straight back again.
A message from the Editor:
Thank you for reading this story on our website. While I have your attention, I also have an important request to make of you.
With the coronavirus lockdown having a major impact on many of our advertisers - and consequently the revenue we receive - we are more reliant than ever on you taking out a digital subscription.
Subscribe to scotsman.com and enjoy unlimited access to Scottish news and information online and on our app. With a digital subscription, you can read more than 5 articles, see fewer ads, enjoy faster load times, and get access to exclusive newsletters and content. Visit https://www.scotsman.com/subscriptions now to sign up.
Our journalism costs money and we rely on advertising, print and digital revenues to help to support them. By supporting us, we are able to support you in providing trusted, fact-checked content for this website.