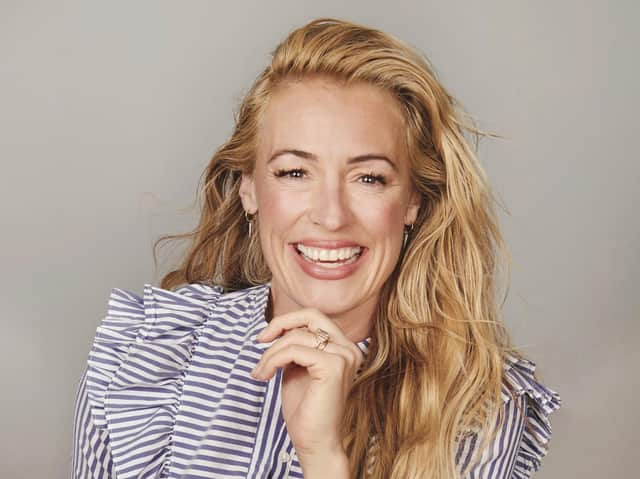 Cat Deeley is home alone in London and the house is as quiet as a mouse. What's going on?
This is the woman whose lively TV persona has made her a household name on both sides of the Pond – we've watched her on Stars in their Eyes, with Ant and Dec on CD:UK Live and SMTV Live, on Comic Relief, The Brits, and Sky's Sing: Ultimate Acapella. In the US she's a regular from Good Morning America to Jay Leno's Tonight Show, and since 2006 has hosted dance reality hit So You Think You Can Dance, which has 17 seasons under its sequined belt. She has a strong social media following with hundreds of thousands on Twitter, Instagram and Facebook. Then on top of her own bouncy personality, throw in husband, cheeky comedian and TV host Patrick Kielty, and their children Milo, four, and James, two, and you'll know that quiet is not something Deeley is used to.
"Paddy has taken them in a camper van to visit his family in Ireland [Patrick Kielty's home town is in County Down] and they're having a whale of a time. It was great the first few days, then it went weird and now I'm kind of getting used to it again," she says.
A lush houseplant waves in the breeze from the French doors through which a sunny garden is on view. Deeley's long blonde hair is shining as are her manicured nails, and she's wearing a cream blouse no mother would wear within a mile of pre-schoolers. Deeley has stayed behind in London as she has a book to launch, which is why we're chatting now on Zoom.
"That's the only problem with a four and a two-year-old. There is no filter and if they know you're at home, they want you, so while I'm doing this, they've all gone away, otherwise it's impossible."
The 43-year-old laughs, which she does often, throwing her head back and squeezing her eyes tight shut as she opens her mouth to reveal Hollywood white teeth. She's animated as she talks, punctuates every word with a gesture and her long fingers fly around, covering her mouth, then her eyes, flicking her hair back, fingers interlocking as her hands meet, then fluttering off again, like doves released from a magician's hat.
Deeley's book, The Joy In You aims to encourage confidence and creativity in children, with big hugs thrown in. British artist Rosie Butcher has taken her words and provided the visuals with a menagerie of animals from koalas to crocs.
Do what you want, dream big, it's OK to be scared, you're not alone, feel every emotion, you can shout! paint! care, whisper, are the messages in the book, things Deeley tells her own children every day. Or would if she wasn't so tired.
"I get to the end of the day and I'm like any other mum, frazzled. They've had their baths, they're all clean and I read them a story. Sometimes I fall asleep before they do; I'm lying there dribbling and Paddy will come in and nudge me and say 'you've fallen asleep again!'.
"I wanted to write something so you have the words when you don't have the words, when you're too tired and you can't form a sentence and you're feeling completely inarticulate. It's nice to have something to fall back on that says everything you want to say. It's a series of moments, that deals with feelings and emotions and thoughts and then tops and tails it with love.
"The idea is to do that for parents because we're all doing our best and we all want them to be happy, to be kind, to know that they're enough as they are. We want them to talk about their emotions and feelings and understand them."
Deeley's children pop up in the book in the form of koalas, something she asked Butcher to include in the drawings, along with a dancing scene including a John Travolta orangutan and Dirty Dancing reference. "My favourite film growing up. Oh and Voguing. I love a bit of Voguing," she says, throwing a pose.
"And also my kids do this thing where they pretend to be rockets and the boosters go off and they go 'jets!' [she throws her arms behind her and lifts her head up]. It's the cutest thing, so the two koalas are James and Milo doing 'jets!'"
Deeley had always wanted to write a book, having loved English Literature at school, but "it was one of those things we never get round to like 'I'd like to play a musical instrument' and 'learn a language'. Then I had the boys and thought the time is right.
After living in California where they pursued their careers, Deeley and Kielty returned to the UK last year and are now living in London's Primrose Hill, closer to family – hers in England and his in Ireland.
"We came back because the boys have grandparents, uncles, there are nieces, nephews and it's really important, and they all want to be in their lives. Everybody's OK and healthy touch wood right now but you just don't know.
"And secondly there was school. Patrick and I don't really understand the American system and it was also very scary going round schools where they said, 'if we've got a live shooter, this is the protocol...' you know, when you're in a nursery."
So what do her children think of their bedtime story now that they've seen it in print?
"Milo loved it and James made every animal noise. Then Milo, being a typical four-year-old said 'Mum you say in this book I can do anything I want and I can't. I'd like to take a koala home from the zoo and make it my pet. I can't do that!' So I said 'no, you can't do that, but what you could do – I know you love animals – if you study hard at school and do all your homework, then perhaps one day you might be able to be a zoologist and look after all the koalas or go to Australia and rescue them.' And he went 'all right'. So you have to be creative and imaginative, open up questions."
If the kids are koalas, which animal is Kielty in the book? "I don't know. He could be the big panda lifting me up, Dirty Dancing style. You know what, he's actually quite good at dancing."
He's also quite good at documentaries. As someone whose life was directly affected by the Troubles with the murder of his father by paramilitaries, his 2018 programme My Dad, the Peace Deal and Me for BBC1, saw him explore the legacy of Northern Ireland's peace deal 20 years on.
"He's going to do another one I think because it's going to be 100 years since the division of Ireland. And I think he's going to do some more stand-up, but he's got to be able to write to do that, and that's almost impossible just now!"
When lockdown started Deeley was in the middle of making a new quiz show with Disney in the US, now on hold, and returned home to London and the family in Primrose Hill. For her, it's been a happy experience, time with her nearest and dearest, as someone whose working life has up till now been hectic, requiring a transatlantic commute. There's been homeschooling Milo and play dates with the children's friends when restrictions ease.
"It's one of those things where even in this weird time, I've really enjoyed being at home with them. I'm lucky because of the ages that they are. I'm homeschooling Milo, and I taught him how to read and I would never usually get the chance to do that."
"So weirdly for me the pandemic has worked in my favour. I get this time where it's undiluted fun, and I don't feel guilty about it. Because so often when you're a working mum, you either feel guilty about going to work or you feel guilty about staying at home. But because of the situation, you can't do anything about any of it anyway."
She throws her hands in the air. As long as her family's healthy and happy, she's happy.
"I always think that's the thing with kids; they can pretty much deal with anything. They're really resilient but it's the unknown they can't deal with. If you lie to kids then they get scared and they don't like that, but pretty much anything you tell them within reason they can deal with. I just wanted to start a conversation. I think it's really important to talk to kids about their emotions but most of all the book is about, you can be anything you want to be."
As well as the Disney quiz show – "I managed to get about five done and then we had to shut it down, so until we know what the protocol is going to be for that…" she was also making a new season of So You Think You Can Dance but that was also paused. "We can't have people dancing together or doing auditions to get on. For Strictly they can isolate the couples, but we can't, so I don't know what's going to happen. But we had 17 seasons and that's a pretty good run."
In the meantime there's her book to publicise and a pile of books by the bed to read when she's not catching up on The Crown on Netflix. There's Normal People, Where the Crawdads Sing by Delia Owens and Tuesdays with Morrie by Mitch Albom.
"They're by the bed but I haven't started them yet. While the boys have been away I've literally been in bed at nine o'clock, catching up on sleep."
No need for a bedtime story, even The Joy In You.
The Joy In You by Cat Deeley is published by Penguin Random House, £12.99 hardback
A message from the Editor:
Thank you for reading this story on our website. While I have your attention, I also have an important request to make of you.
With the coronavirus lockdown having a major impact on many of our advertisers - and consequently the revenue we receive - we are more reliant than ever on you taking out a digital subscription.
Subscribe to scotsman.com and enjoy unlimited access to Scottish news and information online and on our app. With a digital subscription, you can read more than 5 articles, see fewer ads, enjoy faster load times, and get access to exclusive newsletters and content. Visit https://www.scotsman.com/subscriptions now to sign up.
Our journalism costs money and we rely on advertising, print and digital revenues to help to support them. By supporting us, we are able to support you in providing trusted, fact-checked content for this website.