Interview: Biffy Clyro's Simon Neil on lockdown, Nessun Dorma and Elton John
The Scots star speaks to Janet Christie from lockdown as A Celebration of Endings goes worldwide from Glasgow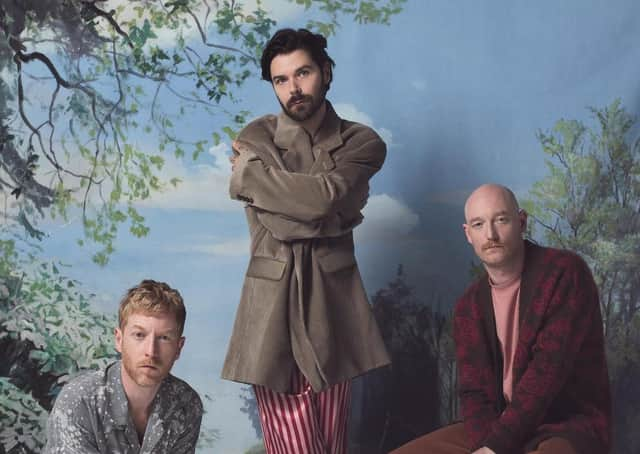 Biffy Clyro stream their performance of new album, A Celebration of Endings, next week from Glasgow. Picture: Warner Brothers
What does a band who live to play live do in lockdown? Famed for their kick-ass performances during their 20-plus year career on the road, Biffy Clyro are bursting out of lockdown by playing their new album at a secret Glasgow venue next Saturday.
With no audience physically present, the band –who are most at home in front of massive festival crowds at the likes of TRNSMT and T in the Park, Leeds, Reading and Glastonbury – will play in the empty venue and livestream the show worldwide to fans.
With the release of three singles from the album over the past few months – Instant History, End Of and Tiny Indoor Fireworks – anticipation for the album, which is released on Friday, has been building after it was delayed from May and their international autumn tour postponed.
Biffy Clyro play MTV Unplugged, 2017. Picture: Getty Images
Now frontman Simon Neil and twin brothers James and Ben Johnston will hit the stage to play A Celebration of Endings, their eighth studio album, in full for the very first time. Time-zoned to specific regions, the show will also include songs from other albums in the soundcheck and will not be available on-demand after it has taken place, so the only way to see it is with a ticket to the livestream broadcast.
Since they formed in Kilmarnock in 1995, and were discovered at T in the Park in 2000 the band, which is known for hits such as Mountains, Many of Horror, That Golden Rule and Wolves of Winter, has clocked up thousands of miles on the tour bus and seen album tracks released as singles become hits and bring them Brits and Mercury award nominations. They also made a soundtrack for the film, Balance, Not Symmetry, which debuted at the Edinburgh Film Festival last year.
Simon Neil talks to us from lockdown at home in Ayr as he prepares to join bassist James and drummer Ben for their first ever streamed album show.
It's time to gather round a screen and adjust to the new normal. 'Mon the Biff!
Simon Neil on the main stage at TRNSMT festival, Glasgow, 2017. Picture: Andy Buchanan/AFP via Getty Images
Hi Simon. How are you in lockdown?
I'm on the West coast in Ayr. The sun is shining. I cannot complain. We're near the beach and when the weather's nice, it's stunning.
Why is the new album called A Celebration of Endings?
It's saying, don't be afraid of enforced changes, about moving forward. If you've been dealt a sh*t hand, you know what, make the most of a bad situation. Just because you lose some aspect of your life, you can grow into something better. Don't be afraid. It's all about embracing growth, embracing change, embracing evolution, society as a whole and all of us. And that feels right for now.
Biffy Clyro, (l-r) drummer Ben Johnston, frontman Simon Neil, bassist James Johnston
How are you feeling about playing the album and streaming it on 15 August?
We're very excited but it's been weird releasing a record without doing what we do. We live our lives on the road so it's really strange playing it with two people in a room, then streaming it. And it's the first time playing the record, so it's unfamiliar territory for us.
We've approached it from a different perspective and I've enjoyed the creativity of that. Normally we're a three-piece rock band and we create a vibe with everyone's singing along – we're all in it together. So trying to recreate a live show to come through a screen is tough. We're taking a bit of a risk. We're figuring out a way if we can do it live, but we'll probably have to pre-record it to make sure nothing happens with the feed or stream 'cos it would just break my heart if something happened to the internet.
Is this the way forward for live music?
We need to find a new way. It's still a little while until there's such a thing as a live show like we're used to. Artists and bands and singers need a way to sustain what we do. It's such an unusual thing, to stream the album live, but we wouldn't be able to make it happen otherwise.
It's quite an emotional feeling. Since lockdown we haven't played together until recently and it's like we've lifted a lid on our emotions. Normally when you're practising you're thinking about the hundred shows you've got coming up. But this is the first time in years when we've just been playing in a room and thinking we don't know when we'll play together again. It's kind of simplified things. There's a real innocence to it. It's been very intense, almost a bit overwhelming, but it kind of makes my soul sing in ways that I didn't expect. I always thought I could give or take the touring aspect as long as I get to write my songs and record them, but actually it's a big part of who I am. We all feel like that.
What have you learnt about yourself in lockdown?
I didn't realise how tactile I was. It turns out I need hugs. I'm like a f***ing puppy! Pats on the head and hugs – I need lots.
Who are you in lockdown with?
My wife Frankie [Francesca]. She travels with us so we're used to spending a lot of time together. But working on a record for so long – we started writing a couple of years ago – I was so ready to let the songs out into the world, then we had to postpone. I actually haven't listened to the record since lockdown began. I just haven't been in the right state of mind. Now we're near the release date, and I know we've got a chance to play together, that will liberate me.
Also at the moment it feels a bit weird talking about a record when there are so much bigger dramas and trauma we're all going through. I'm aware of the Catch 22 of moaning about it when I literally have nothing to moan about, a roof over my head and all of that. We're really lucky, which isn't the case for a lot of people.
If you had to choose two words to describe the album, what would they be?
Confident and chaotic. Maybe because I'm getting slightly older – I just turned 40 – I've grown more comfortable about how I feel about certain things, whether it's society or relationships with friends. We had a really tough end to a 20-year professional relationship a couple of years ago and that shook us to the core as a band.
We had to have a wee kind of reset and remember that as much as we love our team, the only people that really make this band happen are Ben, James and myself, and that's where our truest sense of joy comes from. It got me thinking about how I want our band to be, how I want things to move forward, how I want my personal life to be, what kind of society. I just felt an inner confidence.
So the record is really sure of itself but absolutely... off its head. Yeah confident chaos.
Is your red Fender Stratocaster your favourite guitar?
It is most definitely my favourite. It's a Relic and my absolute beauty that I love to play live. It's the one I've played for the longest and feel comfortable with. There are other guitars I use when recording, maybe a Les Paul, but playing live it has to be my Stratocaster, 'cos it's part of my body.
You hold it quite high up on your chest, how come?
Yeah. I always remember Level 42, that Lessons in Love video, and thinking, who would ever play their guitar that f***ing high. And then 15 years later… I don't know why I put it up high. I think I was just trying to be a bit iconoclastic. Keith Richards, The Ramones, Slash, they all had their guitars really low and I was just being obnoxious and obstinate, "I'm gonna be in a rock band and play my guitar up really high". I can't imagine it lower down, playing it on my knees. This way I'm more mobile on stage.
What new talents have you discovered in lockdown?
You'll laugh at this. I've been trying to learn to sing Nessun Dorma in an actual operatic way. I've just been doing it myself, obviously, not going to lessons.
At the start of lockdown I picked up my violin again. I started playing when I was four then stopped when I discovered guitar at ten or 11. So I've been listening to a lot of classical music and Nessun Dorma is one of my favourite opera songs. Also, at the start of lockdown there was a lot of stuff on about the World Cup, and that reminded me of it.
So I thought, I'm going to try and learn that. I'm trying to build my voice, get that propulsion Pavarotti had, obviously that would never happen, but… I'm kind of impressing myself. I'm not maybe at the stage ready to let anyone else hear it, but I'm really enjoying it. So that's my new skill, I'm afraid, trying opera singing.
I know I've hung myself out to dry talking about this… I wanted initially to make another couple of albums and learn French and German properly, but the creative side of things I haven't really been drawn to. I haven't really felt like writing songs. So by the end of this year I'm aiming to be able to sing Nessun Dorma top to bottom. I'll keep you updated.
What is the venue for the album streaming?
I'm not sure I can give it away, exactly. But we've made it quite clear what our favourite iconic venue in Glasgow is. We've supported some of our favourite bands there, seen all of our favourite bands there. It's a wonderful ballroom in the city…
How many tattoos have you got?
Probably more than 60. I'm struggling to find room now, but it's addictive, one of the most exhilarating feelings ever. I've struggled in lockdown, not getting them. I love them. They help remind me of things about my life. I'm not precious about them. I don't mind getting the odd not-great tattoo because I just want to remember milestones.
My wife and I both got a map of the world tattooed on us at the same time, and she said it might look good in this position, don't say anything! So she got it done first and the guy missed out France! I said 'see, that's what happens when you don't take my help'. So I've got France on my tattoo; hers just goes straight to Spain, it's hilarious. But it's a wee mistake like that that makes her tattoo special.
She bought me a tattoo gun for my Christmas two years ago and at the start of lockdown I was going to tally how many days we'd been stuck inside. I'm so glad I didn't, because I'd have about 156 tags, be looking under my eyelids for space.
Are you going to make any more films like Balance, Not Symmetry?
Yes. I wish I'd been able to get more involved with the movie side of it. I'm really pleased with the project but there are things I would have changed with the movie. I wasn't in Scotland when it was shot and would love to have been more hands-on. We had a really high goal and a wonderful cast and people, but I don't think we quite pulled it together. That's really made me want to do something in future.
That's the one positive about lockdown and having six months off touring – being able to sit and plan. I would like to do the soundtrack first and keep it more in-house. It was a pleasure to work with Jamie [Adams, the director] but I'm probably a bit more of a control freak than I thought. I'd like to be the grand overseer.
You've come up with several crazy reasons for the name Biffy Clyro, can you give us a new one?
Oh yes. There was this wonderful old family that lived in Carradale where Ben and James used to go up to a caravan every summer and they had this dog called Biffy. It was born and bred in a town called Clyro in Wales, so when it came to starting a band we named it after the dog. How's that?
How do you feel about turning 40?
I feel more sure of who I am and of the band. Humans are complex creatures: sometimes happy, sometimes angry, sometimes sad, sometimes joyous and this record is unashamedly like that.
When you live your life partly by how other people judge what you do, your music and live show, sometimes you can have a real crisis of confidence, but as I get older I'm in a positive headspace, even in the middle of all this trauma the world's going through. I feel security in myself and the band, me, Ben and James, and we're in a fantastic place. They've just turned 40 as well. We're really lucky to be in a band and to have been friends for so long. We protect each other. I don't feel 40. I've got the confidence of a 40 year old but I still act and behave like I'm 25. I'm an absolute mess.
Do you see another album coming out of lockdown?
Yes. I wrote about 30 songs for A Celebration of Endings, so we're going straight in to record another album of 12 songs in September, a kind of companion album. Then we'll start the next.
Do you think you'll be out gigging next year?
I hope so. We'll be rescheduling our cancelled dates. Playing live is such an important part of the evolution of the songs. I haven't sung these songs with the band yet. We've written and recorded them… but when I stand on a stage I'll be delivering them in a completely different way than when I wrote them. I think the first gig people go to, when you're finally able to get into a room with your favourite band, it's just going to be a joy, a transcendental moment, after we've been deprived of it.
You said "there are two questions I ask myself every morning: what would Freddie [Mercury] do and what would Greta [Thunberg] do?' What do you think they would do in lockdown?
If you could see me prancing around the house in my Belgium football shorts I probably look like Freddie Mercury. Oh God, I would hate to tell Freddie there had been a lockdown, he'd be heartbroken.
And Greta... The amazing thing is I feel we're all doing what Greta would do. We're all not engaging in the same levels of pollution. We're giving a gift to Mother Nature at the moment and Greta would be proud.
Elton John is going to interview me tomorrow for his Beats radio show. So I've got a right buzz on! It's great talking to you too…
None of us is! He's probably one of the only actual global icons that's ever played a gig in Kilmarnock. At Rugby Park, 20 years ago. Doing a gig in Killie! That blows my mind.
No. I feel very fortunate that we've met all the Stones and people I never imagined we would, but I've never met Elton. We don't move in the same circles. But we will now – he's going to be my new best friend.
What does A Celebration of Endings say about now?
Even though this album was recorded last year, the lyrics seem really apt for now: about shedding things that have been pulling us down as a society and as human beings, and not being afraid of enforced change.
If something is taken away from you it doesn't need to be a negative thing. Obviously there are negative aspects to what we're going through, but we have a chance to re-evaluate who we are and what we do, how we engage and think.
I think people are engaging more in the moment, wanting to savour things that genuinely make them happy. They're thinking, 'I haven't tried this before in my life, why the f*** not? What am I waiting for?' We only get to do this once.
As we slowly crawl back to normality we're all going to feel more liberated in ways we couldn't have imagined. It's inspiring.
Biffy Clyro: A Celebration of Endings Unique Live Performance from Glasgow: Livestream #1 - UK & Ireland 8pm BST/IST – Saturday 15 August. For tickets, £16 for virtual event; livestream and CD £26; livestream and vinyl £32.50, see www.biffyclyro.com
A message from the Editor:
Thank you for reading this story on our website. While I have your attention, I also have an important request to make of you.
With the coronavirus lockdown having a major impact on many of our advertisers - and consequently the revenue we receive - we are more reliant than ever on you taking out a digital subscription.
Subscribe to scotsman.com and enjoy unlimited access to Scottish news and information online and on our app. With a digital subscription, you can read more than 5 articles, see fewer ads, enjoy faster load times, and get access to exclusive newsletters and content. Visit https://www.scotsman.com/subscriptions now to sign up.
Our journalism costs money and we rely on advertising, print and digital revenues to help to support them. By supporting us, we are able to support you in providing trusted, fact-checked content for this website.
Want to join the conversation? Please or to comment on this article.