In search of adventure Elise Downing faced her fears and ran solo around the entire coastline of Britain
A 5,000 mile solo run to a new way of living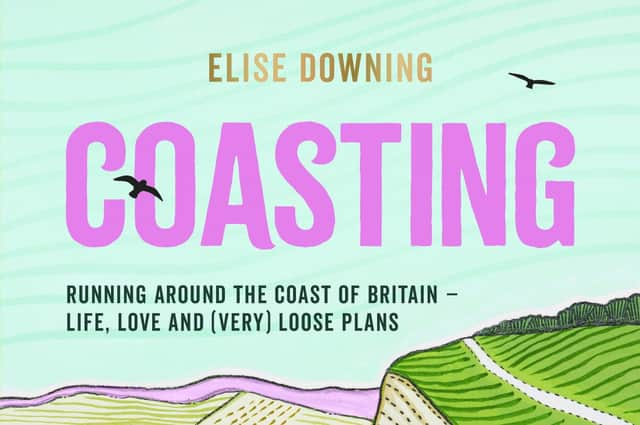 How many of us haven't sat in front of a work screen, fantasising about running away from the daily grind on a great adventure? Very few ever do because of the logistics, the months of planning, the cost, the physical limitations, but 23-year-old Elise Downing didn't really stop to consider those. Instead she escaped her job, dysfunctional relationship and the London commute and hit the ground running on a five thousand mile journey around the coast of Britain, carrying her kit on her back.
In her book Running Around the Coast of Britain – Life, Love and (Very) Loose Plans, Elise describes the highs and lows of an endeavour for which she admits she was extremely badly prepared. She wasn't an ultra runner, or even a good runner - her only attempt at a marathon had ended with her dressed as a crayon, crying by the roadside and giving up. On top of that she couldn't read a map and had never pitched a tent alone.
However, her life was making her miserable and Downing is an optimist so in November 2015 she hit the road in London, headed for the coast and had an adventure, arriving back ten months later at her starting point, having run 301 days through some of Britain's wildest and mildest landscapes. Along the way she failed to consult maps, laughed and cried a lot, met random strangers and fellow adventurers and survived, thanks in large part to the kindness of strangers, cake and macaroni pies.
Averaging 17 miles a day, some shorter, the longest a fortysomething miles from Fraserburgh to Dyce, she also raised money for charity.
"I didn't do the run to raise money specifically for charity, but people really wanted to give to something so I set up a fundraising page for YoungMinds, the children and young people's mental health charity and Beyond Food, which supports people impacted by homelessness because these are the charities I think are great," she says.
On top of the ennui of staring into the work abyss, another factor involved in motivating Elise to run was her then boyfriend, a fellow adventure fan (online and in his head), who told her she wouldn't be able to do it. As Downing admits, she didn't know what she was doing, but she went ahead and did it anyway, becoming the youngest person and first woman to run around the coast of Great Britain.
Her book is endearingly relatable, her honesty and ability to make light of the situations she found herself in making it appeal to those whose biggest skill in PE at school was, like Downing, avoiding it. Written when Covid saw her made redundant and back at her parents in Northampton, her message is that if she could do it, anyone could - although now 29, and working full time in Bristol, she advises taking a little more time to plan.
"Now even if I even go for a 5k run I've got a spreadsheet and a route plotted," she laughs. "I look back and think I could have made it so much easier for myself but I'm not sure I would have done it. Ignorance is bliss. If I'd done as much running as I have now and known running with a pack hurts your back, I think I would have thought it impossiblet. It was not knowing that gave me the confidence to go and do it."
For Downing the Scottish leg of the trip proved to be so much more than she had expected, both in terms of distance and in delivering the adventure experience she had craved. Starting in the south west, she detoured and went island hopping on Arran, Mull and Skye, ran hither and yon around the frilly bits of the West Coast since she didn't have a map, then got into her stride around Sutherland and along the north coast, celebrating a landmark arrival in John O'Groats before the last long leg down the east side home.
"Before I got to Scotland I was really scared," she says. "Because it's huge, and that it'd be a lot more wild and remote than England but actually it was the best place to run around precisely for that reason. Up in the Highlands I wouldn't see many people and those I did were doing similar things like cycling and hiking and the people who live there have a more outdoor lifestyle and understood what I was doing. People showed me their local routes and it started to feel more of an adventure."
"Also it's a lot easier to navigate because you can just put your tent up anywhere, rather than in towns in England where everyone would be like 'What are you doing?' So all of my fears were completely unfounded."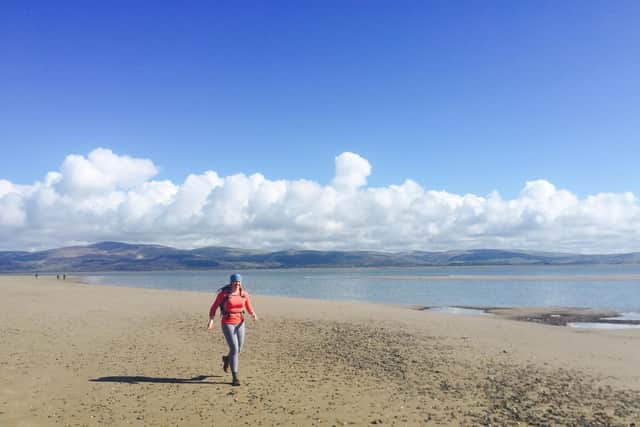 Key to Downing's survival were the people she met en route, through online contacts and those she met in hostels and she ended up with more than 200 strangers offering overnight accommodation. In addition, her dad often visited her en route and she was on the phone to her mum up to five times a day.
"I think fundamentally people are just kind," she says. "The kindness was mindblowing and there was a real domino effect, a friend putting me in touch with another, then another and it was such a privilege to be welcomed into so many homes. I definitely don't take that for granted. Maybe part of it was I was in my early 20s, running around with long hair in plaits, a pretty unthreatening person to let into your home. And maybe some people thought I needed help, which I probably did."
"I met so many fantastic people, especially in Scotland where I kept meeting pockets of communities. I stayed with some of the Mid Argyll Triathlon & Cycle Club and they got their maps out and the next day the whole club ran with me. It was incredible. Another day I was running to Tongue and it was raining and I was tired and wet. Every car stopped and asked if I'd like a lift. I would, but said no. When I got there it was too wet to camp but the site had a hostel attached, one bed left, and when I went in everybody cheered because they were all the people who'd driven past. They said 'we never thought you'd make it!' It was just great. I've never been so happy."
Downing was also very lucky with the weather on the Scottish leg of her journey, which coincided with the summer.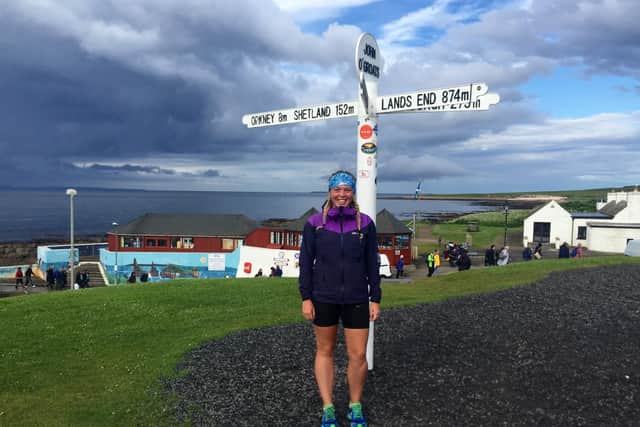 "It was basically a heatwave for three months. The beginning of the journey had been really hard and I had wet feet all the time and felt horrible, then I got to Scotland and I just felt like everything got better. I was camping, it was sunny, I went island hopping and I was just blown away by how beautiful it all was."
Although she had reached her journey's half point in Dumfries and Galloway, getting to John o'Groats felt symbolic.
"I'd done a few long days across the North coast and it was raining but as I arrived the sun came out. I still had another 1,000 miles to run but it felt like a home straight from there, like 'yeah, I've done all this and as long as I don't break a leg, I'm going to finish'. It was all downhill from there," she jokes.
Back in London with the physical challenge complete, had she outrun her other issues?
"I'd say my bid to escape my problems by running around the country largely didn't work. I had this vision that on the first step of this adventure I would become a different person, a brave adventurer, a really happy person, putting my tent up anywhere. Then you start and obviously you're exactly the same person you were 30 seconds before. So I'm not sure it works or was the best strategy, but on the flipside I'm really glad I went and did this big thing because it created a lot of other stuff in my life."
As well as further smaller adventures, new friends, a book and a whole community of outdoorsy types and adventurers, increased confidence and new career options as a writer and speaker, what did Downing learn along the way apart from the need for maps, torches and tick removal cards?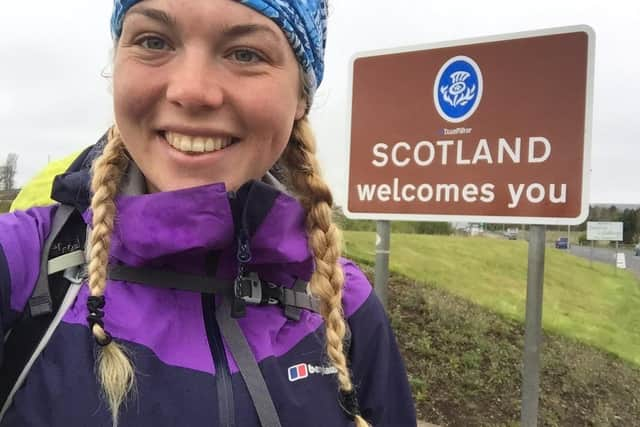 "Yeah, a tick removal card I really should have taken with me," she says, although help arrived in the form of a man she met outside his house at the top of a hill near Little Loch Broom in Ross and Cromarty, armed with a pen knife.
"I feel like the whole book is how NOT to go on a long run," she says. "Don't take my advice. I did all the wrong things. But I learned it's all right to have a go at something that seems ridiculous. It doesn't matter if people think you can do it or not. When you're making a rogue decision, that's part and parcel of it and shouldn't be a reason not to do something.
"Also, you don't have to be good at it. If you're going to break a record or do something over the course of a day you need to be at your absolute best, but doing something for 10 months, it has to be sustainable and you don't have to be really great at it. I strongly believe that if I can run around the country then pretty much anyone can. You don't have to be the best. It's the doing it that counts.
Downing is adamant that, occasional tears by the side of the road notwithstanding, adventures should be fun. After all, she set off because she was miserable.
"You can do things that are really challenging, but it's meant to be enjoyable and you should do it in a way that is. Otherwise what's the point, really?"
Cue plenty of stops for cake, macaroni pies in Scotland, chats with strangers and their animals, evenings spent with friends of friends of friends and strangers.
"It was the encounters, some surreal, like the man who removed the tick and quietly mentioned he had sailed around the entire UK coastline once, or the woman who had travelled in Bhutan and Nepal for months at a time before mobile phones in the 1980s, that make a trip. People living quiet lives but also going on adventures. They had all done amazing things while I was just running around the coast of Britain and phoning my mum five times a day, at any time just a train ride from home."
As Downing ran, her expectations and those she thought others had of her fell away. She quickly realised it wasn't possible to run along the exact coastline and that it was OK to detour, stop and enjoy the view, cry, laugh, because the further she went, she was actually doing what she had set out to do.
As it turned out, the physical side of things weren't the issue for Downing, it was the mental challenge that saw her struggle.
"The thing I found hardest, especially near the beginning, was the neverendingness of it. I'd think 'I've done two weeks, a month, two months, and it felt quite hard, and I've got another EIGHT months to go. How am I ever going to get to the end?' So I tried really hard to not let myself think about that and tell myself: 'I've just got to do this one day or this one week. If you can do day one, you can probably do day two, three, four and 300."
Along the way Downing got over her bad break up, acknowledging that her ex-boyfriend had played a part in her journey albeit negative, but was she able to own that it was her idea and that she had accomplished it.
"I'm sure I would have got over it eventually if I hadn't gone for a long run, but I think it definitely helped. Now it's not something I think about at all. The run helped me realise I wasn't the person he told me I was, the one who couldn't do it. I was the person who did this thing. It was my idea and I did it."
There are many studies cataloguing the health benefits of getting out into the landscape and for Downing this was definitely true. As she writes in the book:
"The more time I spent outside and the more I moved the more the world made sense to me."
As Covid raged, many reached the same conclusion as we became a nation of walkers, runners, cyclists and mini adventurers, exploring our own beautiful backyard. Downing thinks we're hard-wired to do this.
"Just being in nature and seeing the color green apparently has huge impact on our mental health. Being outside and moving all day is when I'm at my happiest and best, even when it's raining and it's hard. We're not meant to sit inside all day looking at computer screens. When we're outside moving and doing things under our own steam, it meets an innate need. That's how we were once upon a time."
"Also when you're outside, camping and running, you don't look in the mirror, you barely look at your phone, and all those things that normally really get you down, don't."
As for the questions everyone wants to know, the kids she met when she was invited into classrooms on her way around the UK were most direct:
"Did you lose your toenails, what did you do if you ran out of food, where did you go to the toilet and how did you fund it all?
The answers are: No, I cried, in bushes, and with difficulty.
For Downing finances caused the most stress as she had her cash card declined when her student credit card habit caught up with her en route. She spent many nights dining on packets of oatmeal and cold water and faced having to give up.
"There is a stereotype of people who go on adventures being wealthy," she says, "but that wasn't true for me - my dad runs a gardening business and my mum works in a cafe. I used my savings from work, was given money by The Next Challenge Grant and cash for food by my employer, but I really couldn't afford it and ran out of money. I was so lucky that my dad was able to bail me out. Shout out for DJ Downing Gardening Services!" she says.
Having completed the journey and gone back to full time work, with smaller adventures now fitted in to holidays, weekends and evenings - she still runs and hikes - repeating the coast trip doesn't appeal. She has plans to revisit bits and has since spent three days running the West Highland Way, but for her it's always about the road ahead.
"In September I'm running the Great Glen Run in Scotland with my dad and also Hadrian's Wall, doing a five-day race in Mexico in November if it goes ahead, then next May I'm running the Cape Wrath Ultra Race 400k from Fort William to Cape Wrath. I'm really excited about all that."
Sounds impressive, but Downing insists she's still not the best at running, and that's just how she likes it.
"It doesn't matter how good you are, you can just go outside and get all the benefits. It's irrelevant how fast you're going, you're still pushing yourself. You don't have to be good at it. You just have to do it."
Running Around the Coast of Britain – Life, Love and (Very) Loose Plans, Elise Downing Published in Paperback 8 July 2021, priced £9.99, Summersdale Publishers Ltd
https://www.elisedowning.com/
Read More
A message from the Editor:
Thank you for reading this article. We're more reliant on your support than ever as the shift in consumer habits brought about by coronavirus impacts our advertisers.
If you haven't already, please consider supporting our trusted, fact-checked journalism by taking out a digital subscription.