Exclusive:

Ian Rankin: John Rebus creator on his Edinburgh 'man cave' and new stand-alone mystery The Rise

The author talks ebooks, high rises and the TV version of Rebus
Ian Rankin is sitting in his high rise flat overlooking Edinburgh talking exclusively to The Scotsman about his new standalone mystery crime thriller, The Rise, his first in ebook and audiobook form. Set in contemporary London with a new cast of characters that is a departure from his long-running Rebus crime series, it's an exciting new venture for the Scottish author who has sold 30 million books and counting.
He's invited me to his 'office', the flat where he writes, in a shiny high rise block in Edinburgh's Quartermile a short walk along the road from the home he shares with wife Miranda. Through the floor to ceiling wall of windows of the open plan lounge/kitchen we survey the city below, where daytime dog walkers, runners and cyclists move along the paths criss-crossing The Meadows, one of Edinburgh's parks.
"Yeah, there is a bit of Hitchcock's Rear Window about it because there are a lot of windows. If you were a voyeur you could have a field day here," he says.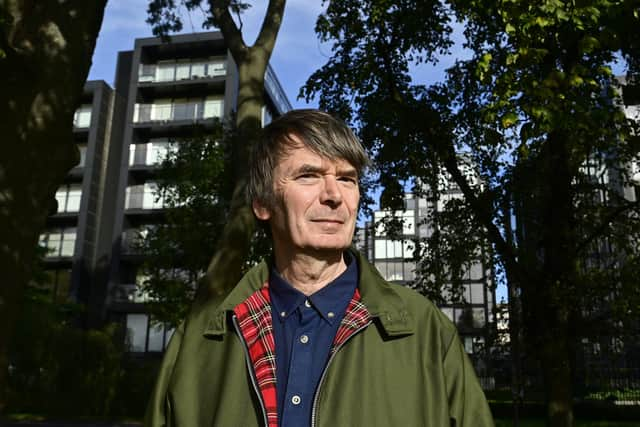 All that's missing is a telescope. Does he have one?
"No. But Ger Cafferty does," says Rankin, referencing John Rebus' nemesis, the gangster whose life of crime has been intertwined with the former policeman's for decades in his Inspector Rebus novels. "He lives in one of the penthouses with the big terraces," he says and and I look up as if to catch a glimpse of the ageing heavy, patrolling his terrace and surveying his domain.
It's intimidating interviewing the 63-year-old, multi-award winning, recently knighted writer, but Rankin is welcoming, with offers of coffee or tea, and obliging with the process of being interviewed and having his photograph taken. A former journalist - he reminds me "years and years and years ago when Scotland on Sunday was very young, for four weeks I was a restaurant correspondent, but you're not enjoying a meal when you're having to write about it. And I just thought 'hmmm…" . He also worked for a hifi magazine and instinctively spells out names and homophones - 'that's rein, r-e-i-n. He's comfortable with curiosity, inviting me to have a nosey around while the photographer takes pictures of him in the lounge as he apologises about the flat and wonders if he should have had his biannual haircut.
"It's a man cave," he calls as I breenge into the room where he does the writing, where there's a down to business arrangement of a desk against one wall and sofa on the other, neither facing the window with its distracting view.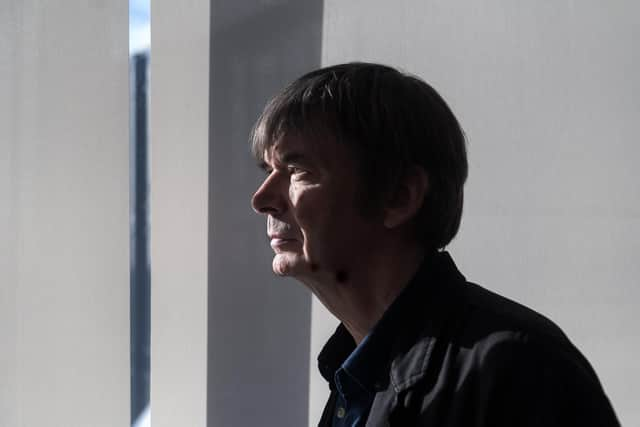 As man caves go, this one's a cut above, several in fact as it sits on one of the upper floors and the main open plan lounge/kitchen has awesome views of the city's south side and volcanic skyline, while inside it's all clean lines and space. The walls are covered in artwork, including an Alasdair Gray print, and photographs, one of him with his hero and subject of his Phd, Edinburgh author Muriel Spark, another of him with Stones legend Keith Richards, and lined with units filled with records and CDs.
"Yeah, that's me meeting Keith Richards. And Muriel Spark, I'm cheesing there, doing the fan thing. It was the last time Muriel Spark came to the Edinburgh book festival and there was a wee party for her afterwards and I got invited and went along with two big shopping bags of first editions. But she was tired and wasn't 100% so I just pulled out Miss Jean Brodie and got her to sign it."
"There are literally three chairs in here," he says looking round, "cos I've got two friends, right. No genuinely, I've got two friends who like listening to records, old school friends, so when I was furnishing this place I thought I just need three chairs, one for me and two for my mates. So if they've come for a listening night we put the three chairs in a row and listen to records and then we turn the chairs round and listen to the streaming, because I've got two music systems in here so we can stream music or listen to records and CDs."
I think he protests too much. It's the nicest man cave I've ever been in and Cafferty can keep his penthouse.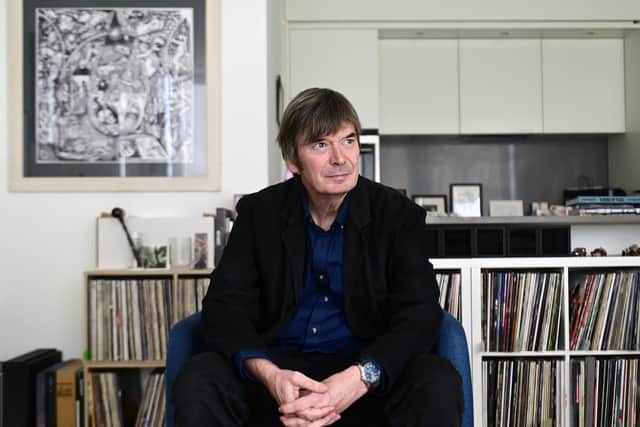 But we're not here to talk about Rebus for Rankin has a new project in his first ebook, The Rise, and is the first UK author to be published by Amazon Original Stories, a series where writers such as Margaret Atwood, Chimamanda Ngozi Adichie and David Sedaris try out new genres and formats.
Despite this being his sabbatical year, in which the plan was he would take time off writing and travel with his wife, he was committed to writing a novella, and intrigued by the chance to do something new.
With fresh characters, female lead DS Gish and sidekick older male detective Milton, The Rise, is designed to be read in a single sitting and a luxury high rise development in London is the setting for a fast-paced race to find a killer.
"They wanted something that could be read very quickly. It didn't have to be a Rebus, it didn't have to be set in Edinburgh and I've had this idea for quite a few years of this little stand alone story that would be set in London amongst the super wealthy. This gave me a chance to write that and work at a length that is interesting, because there's a lot of characterisation but no room for any fat at all. So that was hard but it was good."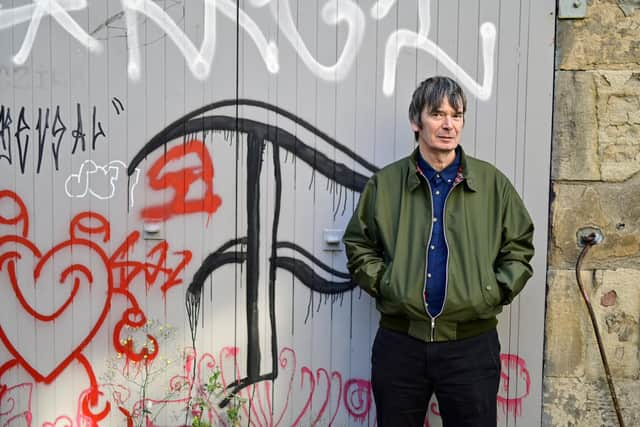 Will there be a print version at some point in the future?
"There is the possibility to bring it out as a print version. But it's an odd length, 50 or 60 pages, quite a skinny book, unless it was part of a longer book of short stories. It feels to me like a film, showing that kind of night time London of huge skyscrapers where nobody lives. I think it would be a really visual thing and a couple of strong performances at the middle that might tempt big name actors," he says referencing the two central characters, detectives Gish and Milton.
In an ideal world, who would he like to play them?
"I don't know. It's kind of young cop, older cop about to retire, the younger cop is still living at home with her mum who's failing, so there's carers involved, then you've got the supporting cast of billionaires and Arabian princesses and Chinese businessmen and one-time well known actresses whose stories we can only touch on in a short story."
And would he have a cameo in it?
"I don't think there would be a cameo for a Scottish, slightly rough sounding novelist, so probably not. Not without subtitles," he says, happy to leave the ebook narration to actor Indira Varma, "a great actor."
The novella is about a crime committed in a high rise, we're sitting in a high rise, but the inspiration for the book came from Rankin's reading around the subject of oligarchs and dirty money hidden away in vast London properties.
"That notion of these big empty glass high rises patrolled by security guards 24/7 but almost nobody living there, I thought was such an interesting location for a murder mystery. Oliver Bullough's Butler to the World and other books about money swilling around London were part of the inspiration. These oligarchs have their own security too and it's a closed environment, a weird existence where they don't want anybody to know they're there or are incredibly paranoid somebody's out to get them."
This time round Rankin has a female detective as the lead character. There's Siobhan in the Rebus novels as precedent, but was it hard to get into the mindset?
"Not really. I wanted a younger cop and I wanted a female. I wanted that male/female thing going on with the older guy who feels he is passing the baton on to her, not that she needs him to, so you've got that Rebus/Siobhan thing a wee bit. She's a really good detective with great emotional intelligence and she's got this slightly fraught home life, having to organise carers for her mum, and is a young woman who cycles everywhere because that's the only way to get around speedily. She's a really different kind of character."
When it comes to writing his crime mysteries, Rankin doesn't have it all mapped out in his head before he starts.
"When I started this as usual I didn't know what was going on. I knew I had a victim lying dead on the floor but had a cast of characters, any one of whom could have killed him. I found out [who it was] by following the detectives. I always reckon if I don't know who did it at the start of a book when I start writing it, probably you won't know who did it when you start reading it."
Surely that's a bit risky, leaving it to unfold as you go?
"Oh it is risky. I've just learned that it always works so I can relax a wee bit. The worst one was one of the Rebus books where the first draft I hadn't quite worked it out then I read through it and when I came to write the second draft filled all the gaps in."
How many drafts does he do for each novel?
"Two or three before I show it to my wife. And it's terrifying, because I print it off on A4 paper, hand it over and she sits at the table with a pen and writes in the margins and I'm going 'oh, she's writing a lot, she's writing a lot', and the more she writes the more work I know I've got ahead. Then she hands it over, I go away, read over her notes, then we sit and talk over what I need to do and why I need to do it. I take on board everything my wife has said because she reads a lot of books, so I trust her judgement. She's been reading my work since book one. Before book one. She still says my unpublished book is my best book."
What can he tell us about this 'best book', written when he was 23 or 24?
"It was called Summer Rites. R-i-t-e-s. I wrote it when I was a student. There's only one copy, just the one manuscript, typed, sitting in the bowels of the National Library of Scotland."
Will it ever be published?
"Not in my lifetime I don't think."
"Eh… it's not very good," he says and laughs. "You know, it's very different. It's a comedy set in a Highland hotel, featuring a schizophrenic librarian and a young boy with super powers."
We'd read that. The follow-up was The Flood, published in 1986 in Edinburgh by Polygon, which he also describes as "very different".
"It's all about Cardenden where I grew up. My aunty didn't like it. There was a bit about a girl shinnin' up a drainpipe and boys looking at her knickers and my aunty went 'on no'. She said 'I wish you hadn't put that in'. He laughs.
So aside from the 24 Rebus novels there's The Flood, a mystery, a spy book, The Watcher, a 'technothriller' West Wind and he toyed with writing horror. Is there any other genre he'd like to write, say a Western or Romance?
"No. I think the sabbatical year is my wife's way of gently easing me into retirement, persuading me that I should be writing fewer books, not more, and start to enjoy life a bit more. So hopefully there will be a lot more travelling in the future."
I discovered when you mention to people that you're interviewing Ian Rankin, the most popular questions are 'will there be another Rebus, when will it be published and would he kill him off?'
"Yeah, I don't think it's a secret that I'll write one more Rebus, because I'm contractually obliged to. But this year's been my sabbatical year. My wife hasn't 'allowed' me in inverted commas to do any writing except that The Rise had to be written in January/February because I didn't get round to it last year. But in fact I'm getting a wee bit itchy. I need to start the new book by January so it can be delivered by June but I think I'm going to start it before that. I've got ideas. I know I'm getting near the starting point when I'm starting to have wee kind of panicky night sweats and you're restless in bed. It's because the book's at the back waiting to come out. And my wife's starting to notice I'm getting a wee bit distracted, sitting at the dinner table not really listening. It's cos the book's starting to take over. So, any minute now."
The last one ended on a cliffhanger with Rebus in court so can he give us a hint as to how it'll work out?
"All that's going to be resolved. Don't worry, all your questions will be answered in the next book."
And the big one, will he kill Rebus off?
"I don't know till I get to the last page of the book. My agent has been on tenterhooks for the last ten books thinking this'll be the last. In fact he was arguing for my next book to be a retrospective back to Rebus as a younger cop, just to delay the inevitable. But I said no. The readers have got questions and I need to clear that up. The next book's got to be set in the present day. And maybe after that I can do a flashback to when he was young and macho. Yeah, Rebus in the 1980s, when he was young and could chase a suspect, or get in a fight without losin'. That would be a different Rebus."
He could revisit the playlist of John Martyn, Jackie Leven, The Rolling Stones, The Who, I say looking round at the rows of vinyl which he alphabetised during lockdown.
"Yeah, all of that. Every crime writer I know is a frustrated rock star. We'd much rather be rock stars than novelists."
Looking at his fingernails, I ask if he plays the guitar, but he demurs.
"No. I usually bite my fingernails down to the quick but I've not done it for a wee while and I'm quite proud of that, but they will break off eventually. No, I've never played the guitar. I bought an acoustic when I was about 13 and never quite learned to play it. Or indeed tune it."
I suggest he could have been doing this during his sabbatical, when he wasn't alpabetising his albums and he takes the head-pecking with good grace.
"I could have done a lot of things in my year off: learned German, taken up hill walking…"
What he did do in his year off was go travelling with his wife, several times to Greece, and Italy, twice to the south of France, to Madrid with their son, St Lucia, and to London a few times.
"Just a week or two here and there, but we've had some fantastic holidays. Places that have surprised me, like Madrid. And in May an old school friend and I did the Fife coastal path. But I got blisters on my feet after day three cos he walks fast.
"Folk say 'you must have your batteries recharged after having a year off' and I go 'aw, I'm absolutely exhausted! Yeah, when you sit and write, that's the calmest and the quietest and most relaxed you'll be. Just sitting in a room and you can ignore the pings of texts and emails and everything else, cos you're writing."
White we wait for the next Rebus book, there's a TV series starring Scottish actor Richard Rankin (no relation), with the screenplay adapted from Rankin's novels by Gregory Burke.
"Gregory comes from the same part of Fife as me, we've got similar backgrounds, he knows the themes I'm interested in and was very hands on, and I trusted him completely, so I thought I don't need to be there. In fact I went along one day to get a walk on cameo but I think I got forgotten about in the general scrum. I was sitting in this room on my own and said 'where has everybody gone?' and somebody said 'oh they've gone to lunch', and I thought I might as well go home, so I did. Never got my cameo," he says, deadpan.
Did he not say, 'excuse me, do you know who I am?'
"No, it's nothing like that. It's a huge undertaking, there's like 60/70 people, lots of extras running about, loads of folk behind the scenes and I just thought 'ach, it's not going to work.'"
When he was on set, did he give Richard Rankin any tips on playing Rebus?
"No, we did a lot of Zoomy type stuff and texted and met a couple of times, but he had his own ideas and the director and Gregory were talking to him about how to play the role. I think he's done a cracking job. I've watched rough cuts and you cannot take your eyes off him. He's got that great magnetism you want in a screen actor.
"Some fans might go, 'oh no no this isn't quite right because it's set in contemporary Edinburgh' and it's Rebus in his forties, whereas they're used to Rebus being about 70 years old. But if you're a fan of the books you'll go oh, that's from that book and that's from that book, because what Gregory's done is taken bits of themes and plots and characters from various books and put them in a blender to make something that works on screen as a single six hour story."
"So it's not just about the whodunnit, it's about Edinburgh and an in-depth look at the characters. Rebus' brother for example, who's alive and kicking, hurray, in this version of events, is a really interesting character, Siobhan's there and Malcolm Fox, and there's that thing about is she on Rebus' side or is she going to have to take Rebus down cos he keeps breaking, er bending," he corrects, "the rules too much. Who is she going to side with? The authorities or the maverick?"
With time running out, it's time to leave the author in his eyrie, but looking back over a writing career that's spanned four decades, would he have done anything different?
"I think I would have got successful a lot earlier. If I could have done it. It was a long haul, it was hard graft and frustrating in that sense that you're never gonna quite make it. So yeah, there were a lot of tough years."
But as he's said before, early success might totally have gone to his head.
"Yeah, it would have been gold plated pinball machines and helicopters."
And then he might have needed Cafferty's penthouse.
THE RISE, by Ian Rankin is published by Amazon Original Stories in Ebook and Audiobook, priced £1.99.
Comments
Want to join the conversation? Please or to comment on this article.