High fashion in the Highlands
In the 1950s glossy magazine editor Frances Farquharson brought pizzazz to sometimes stuffy Balmoral with her unique, daring style, as Caroline Young explains in her new book.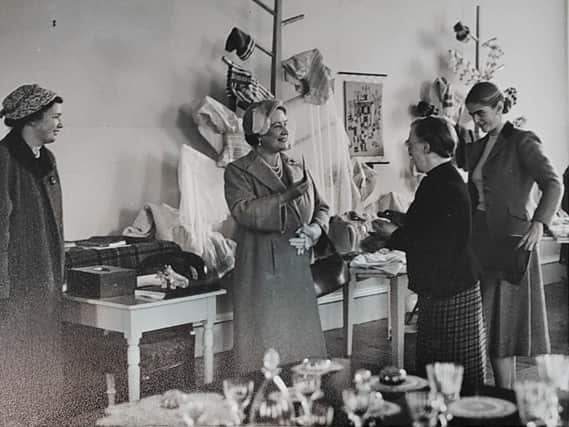 I first came across the name Frances Farquharson one wintery January afternoon, when gazing at a silk tartan harem suit and turban on display at the National Museum of Scotland in Edinburgh. It stood proudly in the costume gallery amongst the 18th-centurypanniers, corseted Victorian gowns and sixties minidresses; a feast of tartan extravagancewith its Farquharson green and blue checks, and the red and yellow stripes cutting through.As part of my research into a book on tartan, I'd been studying the way the fabric had beenadapted and reinterpreted over the centuries, and this unusual suit was a striking example. Itwas the type of design that could be mistaken for a punky Vivienne Westwood or Jean PaulGaultier. But rather than being created and worn by an enfant terrible, Frances Farquharsondesigned it herself, and had it tailored locally for a Ghillies ball at Balmoral Castle in the1950s. She was the elegant, and at times eccentric, American wife of Captain AlwyneFarquharson, Laird of Invercauld, and as a former editor of Harper's Bazaar and writer forVogue, she imported her unique and daring style into the Highlands on her arrival in 1949.In the mid-19th century Queen Victoria, with her affection for Scottish romanticism,sparked a trend for tartan gowns, but no one had quite seen an outfit like Frances' before. Tohave the courage and conviction to appear at Balmoral in something so unconventional, itimmediately piqued my interest in who this curious woman was. Frances was a larger-than-life character who shook up the village of Braemar. But she also had great tragedy in her life,and her story, I found out, was one of sheer determination.As I learnt more about her, the more I loved. Her life was colour. She chose to lift the dreichatmosphere of Invercauld by decorating the walls and windows pink and yellow. She evenpainted the outdoor game larder cherry blossom pink, and I could imagine her standingbeside it in the pristine snow, wrapped in her vibrant tartan cape.In my research I discovered that she'd gone by several different names throughout her life,and she compartmentalised each era as she moved on to the next chapter. She was bornFrances Lovell Oldham in Seattle in 1902, coming of age at a time when women wereearning unprecedented freedom. Frances had harboured a fascination with travelling from ayoung age, and this dream took her from the rainy Pacific Northwest to Europe's thriving,bohemian cities in the Twenties, with a trip partially funding by her burgeoning career as awriter.In Paris she encountered exiled Russian aristocrats who had escaped the revolution with onlytheir titles and their Romanov jewels if they were lucky, and it was through her friendshipwith two sisters from the Lobanov-Rostovsky line that she was introduced to high society.Frances published her dispatches from Europe as a diary in the Seattle Times as she helpedthe princesses in their high-end London and Paris fashion boutiques.She was Mrs James Rodney following her marriage to her first husband, First World Warflying hero and a second cousin of Winston Churchill, in 1928. James Rodney was tragicallykilled in a house fire in 1933, and she damaged her back so severely when she jumped from awindow to escape the flames that it was thought she may never walk again. But she foughtagainst the odds, and after lying in a back brace for a year, recovered enough to be promotedto fashion editor and then editor of Harper's Bazaar.In 1938 she became Mrs Charles Gordon on her second marriage, during which she had adaughter, Marybelle. She navigated the magazine through the challenging years of theSecond World War and used her writing as a rallying call for women. Not only did she delivermorale-boosting messages and practical advice to the women of Britain who were sufferingunder bombing raids and rationing, but actively persuaded the Ministry of Trade, andreluctant manufacturers, that British textile exports to the United States could deliver much-needed dollars to help win the war.During this time she met Captain Alwyne Farquharson of the Royal Scots Guards, who hadfought in the North Africa and Italy campaigns, and after being severely injured whilefighting in Normandy he was recuperating at his family's Newby Hall, Yorkshire. He hadrecently inherited the vast Invercauld estate, which included Braemar Castle, following thedeath of his aunt Myrtle in the Blitz, and he invited Frances north to help him sort through thejumble of boxes and piles of furniture that had left the castle almost inhabitable. Alwyne was17 years younger than Frances, but the age gap was inconsequential, and followingtheir 1949 marriage, Frances moved to Invercauld with her nine-year-old daughter, andimmediately fell in love with the pine-tree forests, heather-covered hills and the 'tremendousmountains'.She was known as 'Madam' around Braemar, or just Francie to her friends and family. Andshe held her own in the exclusive royal circles she found herself in. Not bad for a lawyer'sdaughter from Seattle.Frances threw herself into her role as Highland lady, inviting her famous friends like ElsaSchiaparelli to Invercauld, attending dinners at neighbouring Balmoral, and hosting huntingweekends for paying guests on their estate. With her flamboyant glamour, the tartan capespunctuating every sweeping gesture, she became one of the most recognisable figures in thevillage, and she was determined to turn its fortunes around by introducing a number ofbusinesses selling good-quality locally-made products, and by launching a Highland festivalto rival the one in Edinburgh, and of which the Queen was patron.Returning to that tartan harem suit and turban on display in the museum, it perfectlyencapsulated her sense of fun, her confidence, and her innate affection for Scotland. Hers is aremarkable story, and through the eyes of the Fabulous Frances Farquharson, we canexperience the life of a very modern 20th-century woman.
The Fabulous Frances Farquharson: The Colourful Life of an American in the Highlands, by Caroline Young, is out now from The History Press, £20