Haim hit number one with new album Women in Music Pt III
Californian rockers Este, Danielle and Alana Haim tell @JanetChristie2 why they can't wait to hit the road again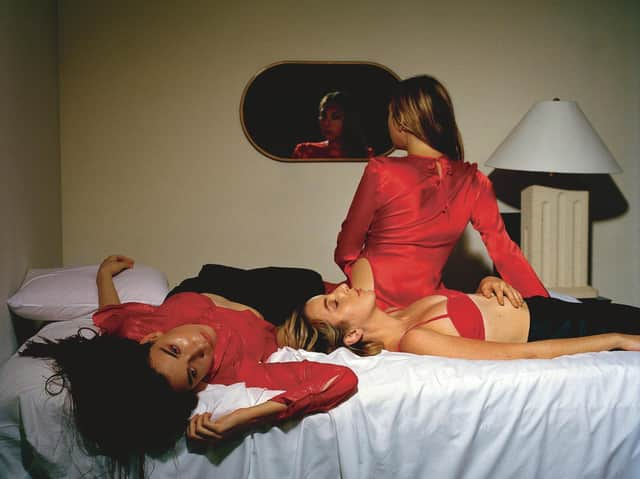 With their album tour cancelled because of Covid-19, Haim are waiting patiently in LA for lockdown to lift
Este, Danielle and Alana Haim: the three sisters, one band, separated in various lockdown locations around Los Angeles but united on the same Zoom call. So far so good, but over the phone it's almost impossible to tell the members of the pop-rock guitar outfit apart. Their voices are incredibly similar for a start – laid back, California sun-drenched drawls – and on top of that they talk in the way siblings do, in sync, knowing what another is going to say before they say it. Throw in that they're all musicians who compose and play together and the effect is a harmonious wave of sound.
Until Este, the 34-year-old eldest sister and bassist takes charge: "We all sound the same, but we'll tell you which of us is speaking when we answer. This is Este," she says. And Danielle 31, (lead vocals, production, guitar) and guitarist Alana, 28, agree, like the sisters in tune that they are, on stage and off, although at the moment, due to Covid, it's definitely off with appearances at Glastonbury and Latitude Festival this summer cancelled.
There's good news in the Haim homes though as their third album, Women in Music Pt III, produced by former Vampire Weekend member Rostam Batmanglij and Ariel Rechtshaid, which was released last month has topped the US and UK charts. It has the same smooth ray of sunshine California-summery-rock sound as previous records, yet this time round the sisters explore personal battles in the lyrics, from Este's Type 1 diabetes to Danielle's depression and Alana's grief over the death of a friend. Then there are relationships… Coupled with an increasing complexity in themes, the music confidently swoops from indie pop rock across genres from country to garage, jazz and R&B, and critics have hailed it as their best album yet. Their legions of fans agree, including Fleetwood Mac's Stevie Nicks, who reckons they could all shine solo as well as in a band – maybe she caught their crowd-pleasing cover of Fleetwood Mac's Oh Well at T in the Park in 2014.
Alana, Danielle and Este take to the Main Stage at T in the Park 2014. Picture: Lisa Ferguson
However, instead of being out on the road they're at home in LA doing their best to wait patiently for lockdown to lift. Not easy since they live for playing live.
Growing up playing in their parents' family band, Rockinhaim, the trio have played music together since they were knee high to a Gibson. They first gigged without their parents as a trio in public in 1999 at the legendary Canter's Jewish deli in LA, where they were paid in matzo ball soup. Their fee went up after they formed Haim (pronounced Hi, I'm) in 2007, supported the likes of Taylor Swift, The Killers and Rihanna and their debut album Days Are Gone went to No 1. After a follow up album, Something to Tell You debuted at No 2 in 2017, it was back to Canter's to pay homage to the place where it all started for their latest album.
Collaborator and film director Paul Thomas Anderson (There Will Be Blood and Boogie Nights) shot the album cover among the sausages and booths of the family diner, then the trio set off on a tour of delis which was cut short when Covid-19 hit. However, they live streamed a gig in Canter's to celebrate the album release and as soon as restrictions are lifted, they'll be wasting no time heading back on the road, hopefully to Scotland, where they've performed some of their own favourite gigs.
How would you describe your latest album?
Danielle performing in Los Angeles in October 2019. (Picture: Rebecca Sapp/Getty Images for The Recording Academy)
Este: Our latest album… Well Women in Music Pt III was a super freeing experience for us I think. It started back in July of last year we didn't have any plan to release a record, it was more a super spontaneous thing that happened where we started working on a song Summer Girl, and it was going to be summer and we had got pretty much 80 per cent of the song finished and we were like, shall we just put it out? And it was a really freeing experience and we thought yeah we'll just put it out, right Danielle?
Este: And our fans responded so well to it, we felt so supported, so we just decided to lead with that same spontaneous emotion for the rest of the album.
What's the feedback so far?
Haim at T in the Park, 2014. Pic: Lisa Ferguson
Danielle: Our fans seem to really, really like it which is always the best feeling as an artist. The main thing is we just can't wait to tour and see our fans and play for them. You know, we have the most fun live. We also thought while we were making this record, we recorded it really thinking about how are we going to play this live, let's make sure we have a good arrangement so when we play it live it really connects – so it's a little bittersweet, especially with what Este said before, the spontaneous thing, we were like we're going to put it out and then tour and that's what this album's going to be this little snapshot of a few months and we just really wanted to tour, so it's a little bittersweet.
Do you know when you're going on tour?
Danielle: No, we don't. Whenever it's safe but we don't know when that's going to be. We ask our team every day 'any update? What can we do?' 'When are we going to be able to tour?' It'll be whenever it's safe.
So that's why we did a live stream gig for Canter's deli because we were in the middle of a Deli Tour – doing shows in delis around America – and were going to do one in London, one in Sydney… And obviously all those plans fell to the wayside with everything happening.
At Canter's deli in LA, where they first played together live without their parents in 1999. The sisters were on a Deli Tour when it was cancelled due to covid-19, but returned to the iconic eatery to livestream a lockdown gig.
You weren't paid in matzo ball soup this time round were you?
Este: No. I wish! That was the deal back in '99, a great deal, you know, truly.
But yeah we ask our team about touring every day: 'What can we do? How's it looking?' And from what I understand, nobody really knows.
What's your favourite track on the album?
Alana: I think my favourite track is Another Try because it's a full page out of my diary when we were writing it. I was kind of going through something with my ex at the time and we all kind of came in and wrote a song about it. It's kind of like a full page out of my diary.
What's it like working with your family?
Este, Alana and Danielle formed Hain in 2007 and have been on the road ever since, until now.
Danielle: Honestly, I just don't know any other way. Well I guess I do kind of because I was a touring musician on projects in other bands, but I've never really had a band with anyone else. We've always written songs together and dreamed up our vision together. I don't really know about making music any other way. It's great.
Tell us about your musical influences.
Este: As a bass player, songwriter, performer? Let's get specific.
Este: As a bass player, James Jamerson and Carol Kaye, Jaco Pastorius and Charles Mingus.
As a songwriter it's no secret that we're very big fans of Joni Mitchell.
And as a performer I think Chaka Khan is one of the most incredible performers I've ever seen live, along with Prince – they're pretty neck and neck.
Any pinch me moments during your career?
Alana: So many. I think the biggest pinch me moment was on our first Glastonbury when we played the Pyramid stage and still to this day I wish I could paint, because it's such a vivid memory. I remember being on stage and like really trying to remember every second of that performance. And it really was, I think, the best moment of my life. I love going to that festival, there's no other festival like Glastonbury. That was a real pinch me moment.
Would you say being called 'a girl band' is an insult?
Danielle: Oooh. Um. I think when we were starting out, to be called 'a girl band' felt uneasy in a way because we would always remember they're not calling a male rock band 'a boy band', but I think now though... what do you guys think?
Alana: Gendering in music doesn't really make sense for me. I just want to be in a band. I don't think it's an insult, but being in a band is so powerful for me, like 'wow I'm in a band'. It's just that other bands, like The Strokes were never called 'a boy band'. They were just 'a band'. So just calling us 'a band' is great.
How has lockdown changed you?
Alana: I think the biggest change is that all three of us were so used to putting out records and touring. I only have two brain switches, touring brain and record brain, and it's just a weird feeling because we put out a record and my body is saying 'why aren't we going on tour?' 'What's happening?' I think the biggest thing is having time – I haven't really had this much time, I've always been travelling and playing shows – and just having time in my house is a new thing. I haven't had time in a house by myself since I was 18. And I'm in lockdown by myself.
Este: A lot of time when we're not touring we're talking about the tour, planning the tour, the lighting and set ups and the dynamic of the song when we play them live. So the kind of the dynamic of the thing we're going through now, just not being able to do that really has been difficult. All we want to do is play live. That's the thing I keep going back to… I'll be looking through Instagram or whatever and seeing people post old videos of us at T in the Park and Glastonbury and feeling really nostalgic and remembering those magical beautiful moments of us performing, and missing it and praying it's going to happen sooner rather than later. But we're patient… The priority is that people stay safe and it's in a safe space – we want to make sure the audience has that.
How will lockdown change your music and your future? Does it make you want to get out there and perform even more live?
Alana: It really is high in the air, we're kind of like everybody else, just waiting to hear what touring is going to look like. We're waiting for someone to figure out how to do touring and being able to play live music. But at this point we're just waking up every day and saying 'can we tour, has someone figured it out yet?' We don't have the answer but we're really hoping there is one soon.
What have you been doing in lockdown, any favourite films, books, obsessions?
Este: We liked That Thing You Do. [The 1996 comedy film starring, written and directed by Tom Hanks, about a one-hit wonder band.] We watched that together... that's a good movie.
Alana: I'm doing a lot of embroidery...
Este: And I started this book Musicophilia by Oliver Sacks. It's about how music affects the brain, about synaesthesia, and it's been really cool to learn how music influences the brain and what our brain does to interpret it. It's cool, I recommend it.
Do you have a message for your Scottish fans from lockdown?
Danielle: Yes, we want to get there as soon as possible. We miss you so much, honestly, we're dying to get back. Because some of the best shows we've ever played were like at The Barrowland. Those shows we still talk about to this day... people were bouncing off the floor and the energy in that room was so incredible...
And we'll be able to get out and have a laugh in a pub. These are the things I think about now, how good it would be to be playing live. And having a pint in a pub.... But we'll get there.
Women in Music Pt III is available on download/streaming, CD, black/coloured vinyl and cassette, limited edition signed copies available whilst stocks last, www.haimtheband.com
A message from the Editor:
Thank you for reading this story on our website. While I have your attention, I also have an important request to make of you.
With the coronavirus lockdown having a major impact on many of our advertisers - and consequently the revenue we receive - we are more reliant than ever on you taking out a digital subscription.
Subscribe to scotsman.com and enjoy unlimited access to Scottish news and information online and on our app. With a digital subscription, you can read more than 5 articles, see fewer ads, enjoy faster load times, and get access to exclusive newsletters and content. Visit https://www.scotsman.com/subscriptions now to sign up.
Our journalism costs money and we rely on advertising, print and digital revenues to help to support them. By supporting us, we are able to support you in providing trusted, fact-checked content for this website.
Hailed as their best yet, Haim's third album, Women In Music Pt III swoops from indie pop rock across genres from country to garage, jazz and R&B. (L-R) Alana, Danielle and Este backstage at the "Chime For Change: The Sound Of Change Live" Concert for global campaign for girls' and women's founded by Gucci, 2013 (Picture: Tim P Whitby/Getty Images for Gucci)
Want to join the conversation? Please or to comment on this article.