Elemental animators blow hot and cold
Stars Leah Lewis and Mamoudou Athie, and director Peter Sohn explain why being part of new Pixar film Elemental meant so much to them
Whether it is crafting an underwater world with talking fish, bringing toys to life or animating fluffy monsters, Pixar has been redefining and pushing the limits of animated films for decades.
Elemental, Pixar's latest film, sees director Peter Sohn and his team of talented animators take on a truly extraordinary feat, creating a world consisting of very human fire, water, air and earth-based characters who interact in the glittering Element City.
The film tells the story of fire element Ember, voiced by Leah Lewis, a second-generation immigrant to Element City who helps her parents Bernie and Cinder run their convenience store, the Fireplace. She hopes to inherit the business, but struggles to control her fiery temper in the face of aggravating customers.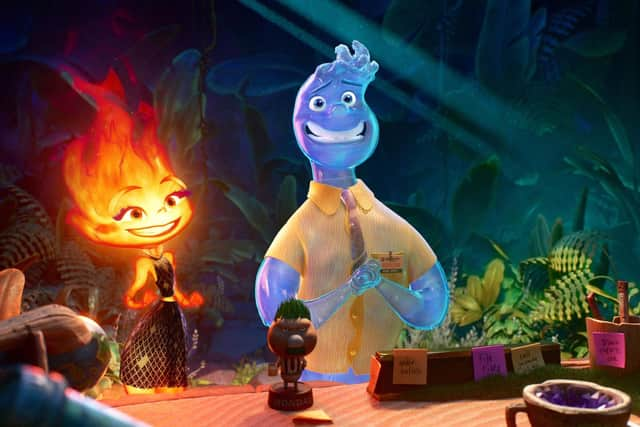 During one difficult day running the store alone, Ember is overwhelmed and retreats to the basement, but her raging temper comes bursting out and she breaks a water pipe, flooding the basement of her father's beloved store. Through the faulty plumbing emerges water element and city inspector Wade (Mamoudou Athie). Ember must team up with water and learn how, maybe, different elements can mix after all.
Elemental's story is a heart-warming tale of opposites attracting and finding common ground in the face of difference, and a powerful allegory of immigration and belonging, inspired by Sohn's own upbringing in New York City.
"The idea of the elements is so diverse, and that totally connected to my upbringing in the city that I grew up in," says the director, 45, who was also at the helm for 2015's The Good Dinosaur.
"But it was also connected to my parents, who were immigrants from another place. But then, this idea of fire and water totally connected to marrying someone that wasn't Korean – I'm Korean and my wife is half-Italian, and it caused a lot of issues with my family. So that all started layering in."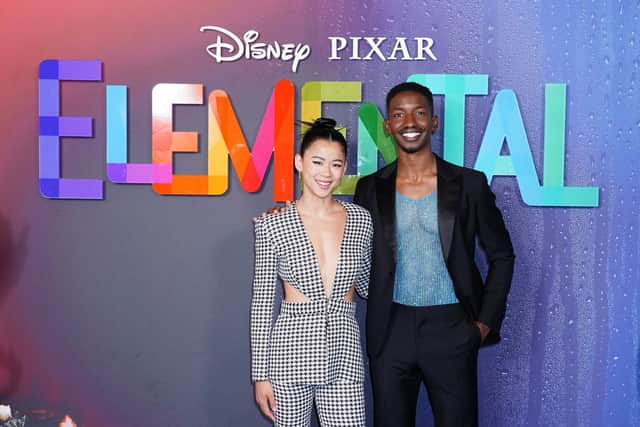 Animating a movie where the characters are all elemental is no mean feat. "It was a daunting task," says Sohn. "Fire is so busy, making that into a character was like – how could you see eyes when something is so busy? Could we even get used to it? Would it turn into a headache?
"And when the effects artists first turned Ember on, essentially, when the fire turned up, she was terrifying. She looked like a character from The Lord Of The Rings. She was really scary. But then the whole challenge was, can we control it? Can we graphically control it? And there was all this new technology to do that.
"And then the same thing with water, like, gosh, I had no idea water could look like jelly so quickly, or look like a ghost by just changing those ingredients. So it was quite a challenge."
For Lewis, 26, who is best known for starring in Netflix's 2020 film The Half Of It, and Athie, of 2022 Netflix horror series Archive 81 and Jurassic World: Dominion, there were a number of reasons they decided to be part of Elemental.
"Well, it starts with Pete Sohn," says Athie of his decision to come on board.
"I mean, Pixar, obviously, is Pixar, it speaks for itself. But when I spoke with Pete, I just felt like I was talking to a kindred spirit, it felt like I was talking with somebody who really wants to make something special, put his heart on the line, and try his fullest to make something as honest and real, and just full as possible.
And when you meet with somebody like that, you just want to go along with the ride.
"And the world of it was exciting, the themes of it – I'm an immigrant myself, I emigrated to America when I was, like, five months old, and I became a citizen while we were making this movie.
"Just everything about it just felt like it was perfect, like everything that I've wanted to do in a movie since I was a kid.
"I couldn't believe that he wanted me to be a part of it. But at the same time, I was like, I'm the only person for this, right?"
Lewis says she completely related. "It's a funny feeling," she says.
"I don't want to get too cocky, but I match this role so much. You know, I felt very similarly about Peter the way Mamoudou did as well. I think when someone comes in with such an honest and vulnerable story, you can't help but be drawn to that, it's very rare that you have someone that's willing to lay it all out on the line, even just in a 30-minute Zoom when you first meet them.
"And you know, I was already a big fan of Pixar, so it didn't take much for me to even just be overly excited and grateful to get an audition.
"I just really specifically related to everything in this story. I think when I look at Ember, I see a character who is this fiery, passionate, young woman who is trying so hard to get it right, and please the people around her, but just doesn't really know exactly how to express that and do that.
"And then she goes on to meet this person who is completely different than her, that opens up her heart, which in turn opens up her parents' heart. And I'm like, that's me. Like, I totally relate to that, and each character in this.
"I mean, that's why Pixar is so amazing. They're so dynamic, that it's like, whether you're a kid, whether you're Peter Sohn, who is a grown adult, or you're me, we all have something to take away from that.
"To be a part of a story that grand is nothing short of a privilege for me."