Winnie the Pooh 50p coin: how to get new AA Milne collection coins - and how much they cost
Each coin will feature the watercolour illustrations of EH Shepard
A new 50p coin depicting beloved children's character Winnie the Pooh is now available in the UK, adding to the growing number of illustrated coins.
The coin forms part of a new AA Milne collection, and there will be a total of nine coins illustrating Winnie and his friends.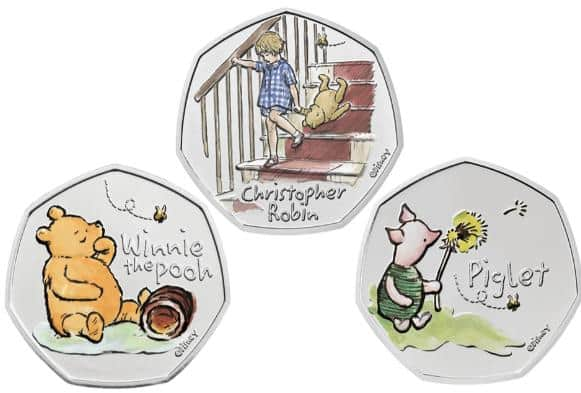 What is the new AA Milne coin collection?
Each coin will feature the watercolour illustrations of EH Shepard, with the first coin in the collection showing Winnie the Pooh with his iconic jar honey.
The collection will also include a Christopher Robin and a Piglet 50p coin, which will both be available before Christmas, the Royal Mint said.
In total, the series will feature nine coins "celebrating the inhabitants of the Hundred Acre Wood," with three released in 2020 and then six more over the following two years.
The Royal Mint website explains, "This brand-new collection of 50p coins is a nostalgic reminder for fans of the 'silly old bear' and his friends, inspired by the classic stories of AA Milne and featuring the original illustrations of EH Shepard.
"This is the first time the world of Winnie the Pooh has been celebrated on coins struck by The Royal Mint, and these official UK coins have been approved by Buckingham Palace."
The limited edition coins are available in a range of finishes, including brilliant uncirculated, silver and gold.
Brilliant uncirculated coins are of a higher standard than circulating and bullion coins, and the machines used to strike these coins are polished and finished by hand.
How can I get the Winnie the Pooh 50p?
Sadly you won't find the Winnie the Pooh 50p coin in your change, as it will only be available to buy via the Royal Mint website.
Prices start from £10 per coin.
Why has the Royal Mint decided to launch an AA Milne coin collection?
Winnie the Pooh now joins the likes of favourite childhood characters Peter Rabbit and Paddington Bear, who are also both depicted on a 50p coin. However, it's the first time an AA Milne character will feature on a coin.
Daniel Thorne, product designer at The Royal Mint, said, "Winnie the Pooh was a huge part of my childhood and forms some of my fondest memories. So I wanted to make sure this series of coins truly encapsulated the spirit of Pooh Bear and all his friends."
Clare Maclennan, director of commemorative coins at The Royal Mint, said, "Over our 1,100-year history we've minted coins to commemorate key moments and figures in Britain's history, including literary icons, like Shakespeare and Wordsworth through to Beatrix Potter's mischievous Peter Rabbit, and we're delighted to now add Milne's loveable Winnie the Pooh to the list.
"We've all grown up with Winnie the Pooh and he remains a cherished character, not only in Britain but across the world. We anticipate the coins being hugely popular, especially in the lead-up to Christmas and look forward to both children and adults alike, enjoying the collection."