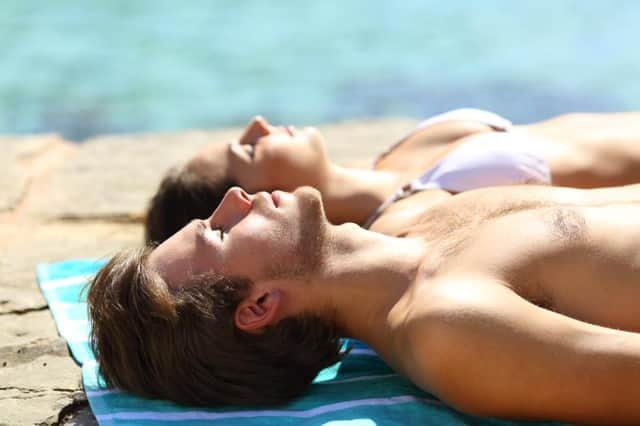 (Photo: Shutterstock)
As temperatures drop and winter's cold embrace slowly envelopes the nation, usually people would be looking to top up their suntan with a trip away to warmer climates.
While that's still doable this year, with the Covid-19 pandemic still raging on around the world, things are a little trickier.
Below is the full list of countries from which passengers do not need to self-isolate on return to the UK, and all the information you need about heading abroad.
Can I go on holiday this winter?
Currently, as long as you can get to a country, you can technically go on holiday there in most cases, subject to that nation's own coronavirus restrictions.
The UK Foreign and Commonwealth Office (FCO) currently advises against all unnecessary international travel, however, and passengers returning from many overseas countries will also need to self-isolate for 14 days when they arrive in the UK.
This applies to UK residents and visitors to the UK.
But as some countries successfully manage to get the virus under control – and government's around the world realise the need to keep the wheels spinning on their lucrative tourism industries – some 'travel corridors' have been set up.
You do not have to self-isolate on arrival to the UK if, during the last 14 days, you have only been somewhere on the travel corridor exempt list, or in the UK.
If your journey involves a transit stop in a country, territory or region not on the travel corridor list, you will need to self-isolate when you arrive in England if new passengers get on or you or other passengers get off the transport you are on and mix with other people, then get on again.
What are the restrictions in other countries?
While the above countries and territories have been deemed safe enough that you will not need to self-isolate on return to the UK, they will still have their own rules and regulation to tackle coronavirus.
This could mean anything from the mandatory wearing of face coverings, to a compulsory two-week isolation period when you arrive in the country.
For example, in Australia, only Australian citizens and returning permanent residents and their immediate family members are permitted to enter Australia without an exemption.
Visitors to Thailand will only be granted entry if they are on a diplomatic or consular mission, hold a work permit or have already been granted permission from the Thai government to work in Thailand, are the spouse, child or parent of a Thai national, or are an international student or the parent/guardian of an international student.
Flights to Barbados take approximately 8.5 hours. Passengers will need to make a stopover in the US at an airport such as Miami, as direct flights from the UK are not available at the time of writing.
From December to May the average temperatures range from 21 to 31 °C.
All persons arriving in Barbados are required to wear face masks at all times whilst on airport grounds. Persons will also have their temperature taken. In moving around Barbados, physical distancing is one metre/three feet.
Wearing a face mask is actively encouraged and some premises will only allow you to enter if you are wearing a face mask. You may also have your temperature taken when entering some premises. Regular washing of hands is encouraged and you can expect to be asked to clean your hands using hand sanitiser on entering a building.
Flights to Cyprus take approximately 4.5 hours. Direct flights from the UK are available at the time of writing.
Cyprus has one of the warmest winters in the Mediterranean part of the European Union, with mild temperatures sometimes exceeding 20 °C during the day.
The use of masks is compulsory in most indoor public spaces including supermarkets, bakeries, shops and malls, hospitals and other locations.
UK tourists are permitted to travel to Cyprus, but they need to provide a negative Covid-19 test result on arrival, obtained within 72 hours before travel.
Flights to Greece take approximately 3.5 hours. Direct flights from the UK are available at the time of writing, though you may have to make changes depending on your end destination.
Despite Greece's warm climate, winters can be wet and cold thanks to much of the nation being coastal.
Greece's current restrictions include the mandatory use of a mask on all public transport, at airports and on aeroplanes, in all public indoor spaces, including medical and healthcare facilities, lifts, staircases and any enclosed venue providing goods or services, and all crowded outdoor spaces, where social distancing cannot be maintained.
There is a nationwide limit of 50 people on the number that can gather for public and social events.
Flights to Madeira take approximately 3.75 hours. Direct flights from the UK are available (there are between 1 – 3 per day), though you will likely need to make a change in a location like Madrid or Portugal.
Madeira is currently in a "state of calamity". The use of a face mask is obligatory in enclosed spaces, such as the airport, shops, supermarkets, restaurants and on public transport, and while outdoors.
You will not be required to use a face mask when driving, exercising, while on the beach or walking the recommended routes in forest and mountain areas.
Flights to Tenerife can take upwards of 6 hours. Flights from the are available at the time of writing, though you will likely need to make a change in a location like Madrid or Portugal.
The island, which lies at the same latitude as central Florida, enjoys a warm tropical climate with an average of 18–24 °C in the winter
The requirement to self-isolate on return to the UK from the Canary Islands was lifted for those arriving on or after 4am on 25 October. You must still self-isolate if returning to the UK from any other part of Spain.
Regional governments to apply entry and exit restrictions in areas with populations of 100,000 or more, and whose Covid-19 incidence rate and ICU capacity are higher than the specified threshold.
These rules shouldn't affect Spain's islands, but you should refer to the regional and local authorities for further information regarding exemptions.
To check the restrictions in the region you're looking to travel to, head to the FCO's website
How do I find a passenger locator form?
Regardless of whether you have returned from a 'safe' country or not, you must show proof of a completed passenger locator form at the UK border.
This applies to people entering the UK from all countries, territories and regions.
It applies to UK residents and visitors.
You can complete it any time in the 48 hour period before you are due to arrive in the UK.
Make sure you leave yourself enough time to complete it. If you do not complete the form before you arrive in the UK, it might take you longer to enter the UK.
The form is an online form. You will need an internet connection and details of your journey to complete it.
Failure to complete the form is a criminal offence.
You can find a passenger locator form here
The full list of countries on the travel corridor exempt list:
British Antarctic Territory
British Indian Ocean Territory
the Canary Islands (will be added to the list 4am Sunday 25 October)
Denmark (will be added to the list 4am Sunday 25 October)
- if you arrive in England from Mykonos before 4am 25 October you will need to self-isolate
Liechtenstein (will be removed from the list 4am Sunday 25 October)
Maldives (will be added to the list 4am Sunday 25 October)
Pitcairn, Henderson, Ducie and Oeno Islands
South Georgia and the South Sandwich Islands
St Helena, Ascension and Tristan da Cunha
St Vincent and the Grenadines