Why northwest Jamaica is ideal for a winter sun escape - Scotland on Sunday Travel
Montego Bay's Grand Palladium Resort and Spa is back, following its £20million renovation.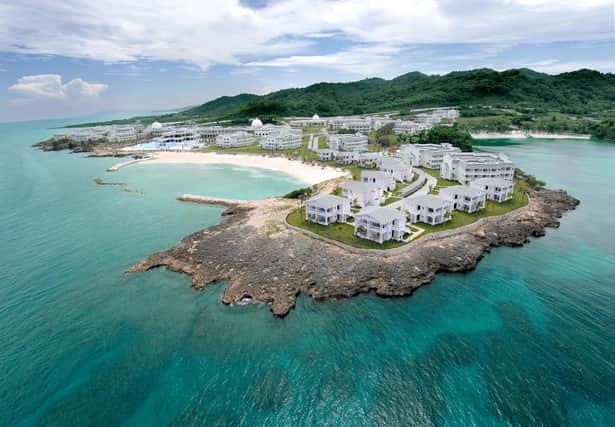 A professional diver balances on his toes on a 35ft high ledge. With his back to the ocean, he takes a sharp breath in and executes a perfect reverse pike dive into the cove of bright turquoise water below.
This picturesque, lifeguarded spot in Negril, northwest Jamaica, is Instagram-famous for cliff jumping – although most people don't attempt the highest spot. I gingerly jump from the five-foot platform before watching the pros – and the brave – from a table at Rick's Cafe, with Negril Lighthouse blinking in the distance.
This part of Jamaica is perhaps best known for its seven-mile beach lined with laidback beach clubs serving cocktails and fresh coconut water straight from the shell. The waters are shallow and as clear as they come, the sand is a perfect pale yellow, and sellers offer up the most random of things as they make their way down the shoreline. Live lobster anyone?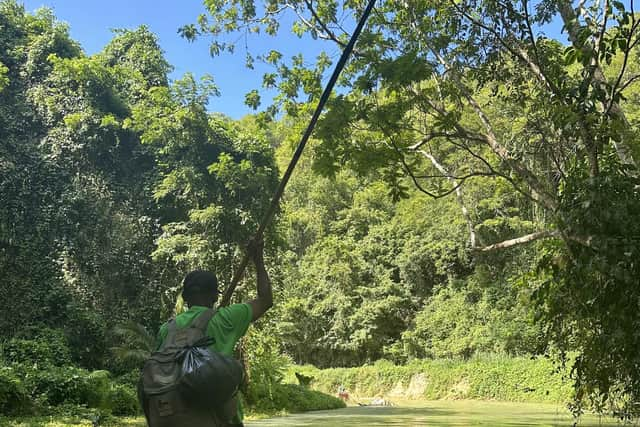 Jamaica's beaches really are the stuff of legends. Further east, at the head of Montego Bay in an area known as 'the Hip Strip', is Doctor's Cave Beach, once owned by Dr Alexander McCatty.
The (then) tiny beach was entered into via a cave and in the early 1920s a British osteopath declared that the waters cured ailments and that a dip here transformed his health – kicking off the area's tourist trade.
In 1932, a hurricane destroyed the cave and blew the beach wide open, and now the Doctor's Cave Bathing Club (£6.43 entry for adults, £3.21 for children) is a picturesque spot to spend an afternoon. We order rum punch (naturally) and wade into the balmy Jamaican sea. The waters here are said to stay between 22 and 28 degrees celsius, and it's really noticeable – I've never swum in sea so warm.
Jamaica is hot and humid year-round, with highs of 31C and lows of 22 over December and January, making it ideal for a winter sun break. (You'll likely see some rain in October and May, but tropical showers clear quickly.)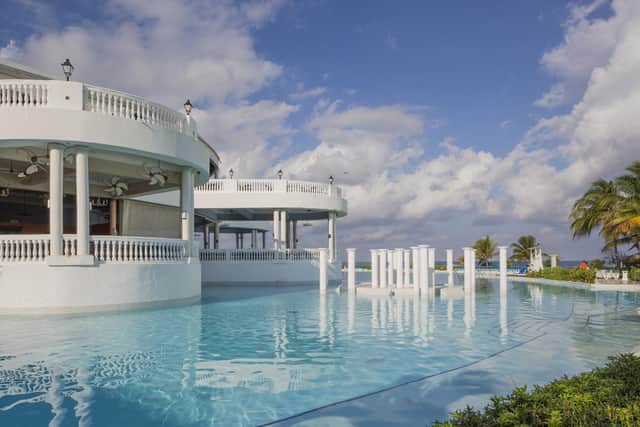 It would be all too easy to never leave the all-inclusive Grand Palladium Resort and Spa, where I'm staying. At Sunset Cove, pale sand wraps a large cove of shallow water making it an epic place to swim.
There's a shack serving up freshly BBQ'd jerk chicken right on the beach- some of the best food in the hotel – and a bar. I spend whole days here, reading under the shade of palm trees and swimming late into the evening.
There are four beaches within the five-star hotel (which shares all facilities with sister hotel Lady Marmalade), including a small, secluded adults' only one hidden behind an over-18s pool and bar.
The pool has a certain amount of majesty too, curving around the grand pillars of the entire main building, boasting a whooping 4,500 square metres of water. It's vying for the title of the country's biggest pool and holiday-makers would be hard-pressed to find a better one. The shallow waters around the edge are dotted with sunken loungers in front of picture-perfect palm trees against the deep blue sky.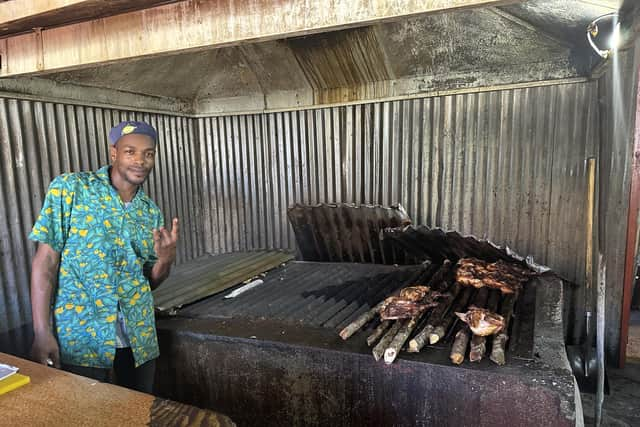 A £20 million renovation of the entire property has turned the 15-year-old hotel from more traditional Jamaican interiors of reds, greens and yellow, to calming whites, neutrals and black accents, matching the grand colonial-style frontage. My room – a junior suite with ocean view – is vast, and the style is sleek and clean. There are 48 new swim-up rooms too, with private plunge pools. An open-air terrace with sweeping 180-degree ocean views is now a sleek bar.
With 10 restaurants – seven of which are a la carte – and a comprehensive activity offering, it's a place for people who prioritise space (it covers 9.5 hectares with 537 rooms) relaxing and evening entertainment that is actually worth staying awake for – think live local music, DJs, a silent disco and some seriously impressive dancers/gymnasts spinning fire on the beach.
The hotel's spa is one of its best features. My masseuse, Tanya, goes to town on the knots in my back before I brave the cold plunge pool (to some curious looks), followed by the hot tub, steam room and lazy river winding through trees.
It wouldn't be a luxury Caribbean trip without a private catamaran tour though. Captain Jamil steers our boat west of Montego Bay, while tunes play and the sun beats down.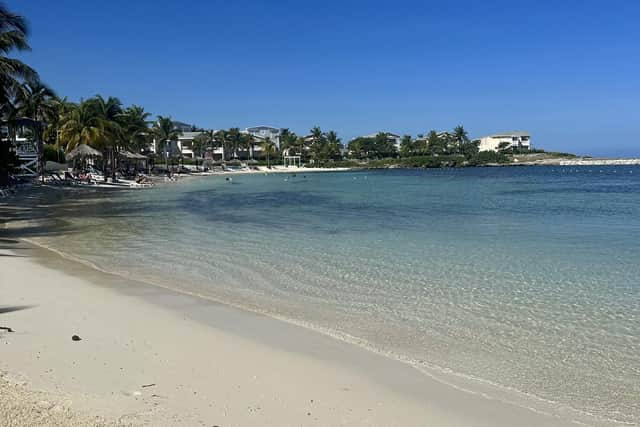 Once you get away from the hotels that line the shores of Montego Bay and out towards Lucea – a small, working village – the coast is beautifully dotted with colourful homes and wooden shack eateries, pretty coves with perfect sand and not a tourist in sight.
Down the coast, the catamaran pulls into Bull's Bay, and I dive into the sparkling turquoise water.
"Rum punch? Red Stripe?" one of the shipmen, Ricky, calls from the boat. It turns out bobbing around using a lifejacket as a float while sipping a cold beer is an excellent way to enjoy this spot. A group of local kids swim over on pieces of long bamboo to say hello, and it feels like we're far from the tourist hotspots and luxury hotels – many of which were once sugar plantations.
In Montego Bay itself, Jamaica's third most populous city, the copper-domed Civil Centre sits on the corner of Sam Sharpe Square, once the site of a colonial courthouse where the enslaved leader of the Baptist War (1831-32) rebellion, Sharpe, was sentenced to death.
The museum gives a comprehensive overview of the country's history of slavery (the majority of which was conducted by the British after the invasion in 1655), the people's liberation movement, as well as the history of Rastafarianism which started in Jamaica in the 1930s before it was adopted by many different groups around the world.
Jerk, with a rich history on this island, is almost a way of life here – along with Bob Marley of course, whose music seems to pump from every radio, suitability soundtracking my trip. And a short drive away (past a huge bronze statue of world-record-holding sprinter Usain Bolt in St John's Square) is Scotchies, where succulent whole chickens (JD$700/£3.65 for a quarter jerk chicken) and huge sides of pork are grilled over wood and smoke, under a corrugated metal covering, and served up in baskets along with rice and peas, yams and festivals – a type of deep-fried bread.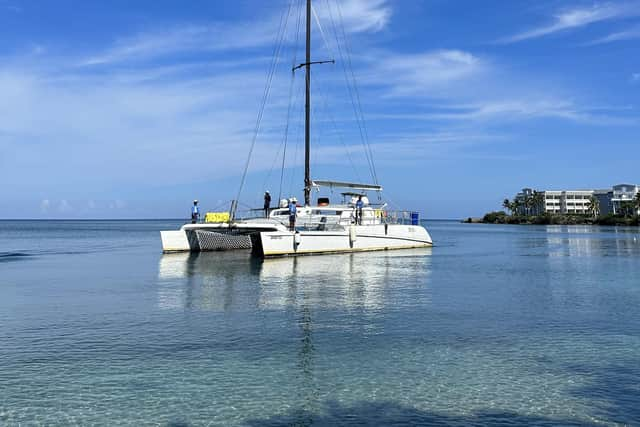 Needing a break from the beating sun, we climb aboard bamboo rafts and wind down the Martha Brae river, shaded by tall trees along the banks, while our 'captain' expertly punts our small raft five kilometres downstream. Apparently Queen Elizabeth II once sat on one of these rafts and floated down the Brae too – I imagine with more cushioning.
Even here, a couple of sellers have set up tiny huts scooping drinks into plastic cups to hand to raft passengers. In Jamaica, it feels like you're never too far from someone calling, "Rum punch?"
Rooms at Grand Palladium Jamaica Resort & Spa (palladiumhotelgroup.com) cost from $215/£175.80 per room per night on an all-inclusive basis.