Valencia is the city that reigns in Spain
With its fabulous architecture, food and friendly vibe, Valencia is the perfect place for a city break, writes Mhairi Clarke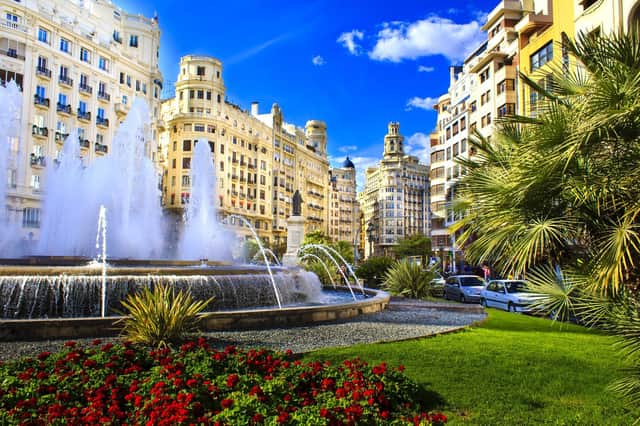 Life. One day, you're wrestling fistfuls of spaghetti bolognese from the hands of a 'terrible twos' toddler and in what seems like a blink of an eye, said toddler is halfway through university, living independently and hopefully, now using a fork.
I promised myself that once I'd got my son through school and off to university (which I did as a single mother), I would spend as much time as possible travelling and immersing myself in the world. So, on a recent trip to Ibiza, rather than coming back home, I went somewhere else.
A 45-minute plane hop from the White Island took me to Valencia, one of Spain's most vibrant cities, one which is often overshadowed by its more famous neighbours, Barcelona and Madrid.
Recently voted as the best coastal destination in Europe, Spain's third largest city which enjoys 300 days of sunshine a year sits on the east coast of Spain, surrounded by 77 miles of beach.
As far as cities by the sea go, 2000-year-old Valencia has the blend of everything you would want from a short break away; beaches, attractions, history, heritage, culture and as it turns out, an extraordinary food and drink scene, with no fewer than 22 Michelin-starred restaurants spread across the region.
Staying at the chic, boutique hotel, Hospes Palau de La Mar (the former nobleman's mansion had views of the sea before the city was developed), I was perfectly placed to explore the must visit attractions and wander a little off the beaten track.
First on my list was Mercat Central, the largest fresh produce market in Europe and one of the most emblematic examples of Art Nouveau architecture in the city, with its wrought iron, ceramic tiles and ornate stained-glass windows.
Brimming with Mediterranean life, the market has more than 1500 stalls with fresh fruit and vegetables, seafood, spices, nuts, cheese and meats. Watch out for those live eels… A top market eatery and must visit is Central Bar, with its tapas, local dishes and gourmet sandwiches by local superchef, Ricard Camarena, whose restaurant was rated 96th in the World's Best Restaurants 2023.
I leave one market and head for another, Mercado de Colón, another jaw-dropping example of Art Nouveau architecture with its brick façade, interior glass walls and finely crafted mosaic features.
I'm here to visit Horchatería Daniel, one of the most iconic places in the city to drink horchata, a cool milky drink made from tiger nut and one of the region's most famous specialities. Horchatería Daniel have been making natural artisan horchata and the accompanying sponge fingers since 1949; the café has welcomed the most famous celebrities of every era, from Salvador Dali to the Valencia FC football stars of today.
Valencia was awarded the accolade of World Design Capital in 2022 for its outstanding architecture and the design of its public buildings and infrastructure.
I spend hours in the old town, immersed in a blend of Roman, Moorish, Gothic, Baroque, Renaissance and Art Nouveau buildings.
I stumble upon the Museum of Ceramics, said to be the jewel in Valencia's architectural crown and marvel at this 17th-century palace's imposing Rococo alabaster entrance. One of the most photographed sights in the city, it's home to 5,000 exhibits dating from prehistoric, Greek and Roman times as well as contemporary pieces, including works by Picasso.
Valencia has a vision of making life better for residents through green initiatives and Turia Gardens is just one example of that and Valencia's ingenuity. A nine-kilometre green oasis and one of the biggest urban parks in Spain, winding its way through the city, Turia Gardens was created after a tragic flood in 1957 which saw almost three quarters of the city under water. The following year, planners, landscapers and architects diverted the river around its western outskirts towards the Mediterranean and transformed the riverbed into a leisure area and a favourite spot in the city to go running, cycling and enjoy events and attractions.
I wander through the gardens, en-route to an intriguing casual eatery, Kiosko La Pérgola, which has been serving a special kind of sandwich for more than 30 years; so much so, it's now viewed as a Valencian institution. The queue snaking round the early 20th century kiosk and restaurant, is an early indicator that this is going to be every bit as good as the word on the street.The Super Bombón is their signature sandwich; a Spanish baguette which nods to a Portuguese Roll, served with pork loin, cheese, garlic, sautéed mushrooms, mayonnaise, salsa verde and chips. Yes, all in the sandwich. I go for the Pucho – chicken, cheese, tomato, mayonnaise, served with a topping of chips. If anyone wants to open a bocadillo café in Scotland, I can guarantee that a filled baguette and chip combo is everything we didn't know we needed. It's sandwich heaven on earth.
Determined to clock up some more steps (after that lunch…), I head to the City of Arts and Sciences, a futuristic complex, designed by world renowned architect Santiago Calatrava and one of many examples of Valencia's commitment to innovation and culture; it's a true symbol of Valencia's modernity, progressive spirit and quiet confidence.
The campus is home to the majestic, 14 storey Palau de les Arts Reina Sofía which has four venues for opera, theatre, music and ballet; Oceanogràfic, Europe's biggest aquarium with 500 different species, Hemisfèric, a digital 3D cinema and the Museu de les Ciències Príncipe Felipe, with its interactive science exhibitions and refreshing philosophy of 'Not touching is prohibited'!
Dinner is at Bar Ricardo, a third-generation tapas bar which has been around since 1947. A modest looking, no-frills restaurant located in a residential neighbourhood, it's clearly one of Valencia's best kept secrets. Tables are all booked, there's space to eat at the bar but within ten minutes, it's full of diners and the place is abuzz with locals enjoying food, wine and lively conversation. I go for the patatas bravas which are tipped to be the best in town followed by the other worldly tarta de queso.
Two days is enough to get a good feel for a city but not quite enough to explore all of Valencia's hidden and more obvious gems. I felt a real sense of connection to the city in my short time there; enough to feel comfortable, at ease, stimulated and rewarded. It's also very relaxed, upbeat and friendly so it's somewhere I'd visit again, and probably again.
A true travel gem, uncovered.