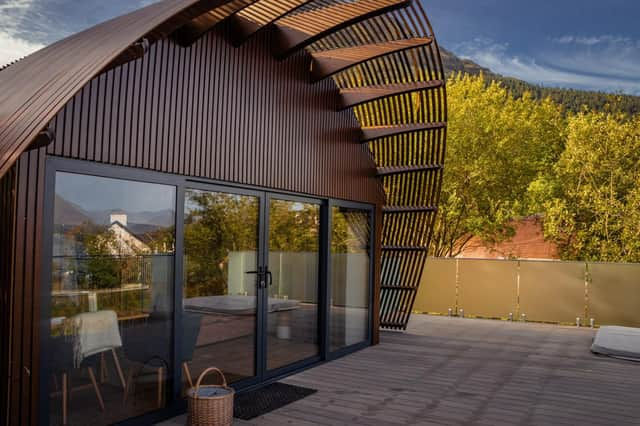 Have you ever seen a hot tub blowing along the A82?
Possibly not, but that's what I was envisioning, after we scrambled into our personal Jacuzzi on the veranda of our SeaBeds Luxury Lookouts with Hot Tubs at Woodlands Glencoe.
While we'd been changing into our swimming costumes, the landscape over Loch Linnhe resembled a painting, with benign-looking mauve clouds above the hills.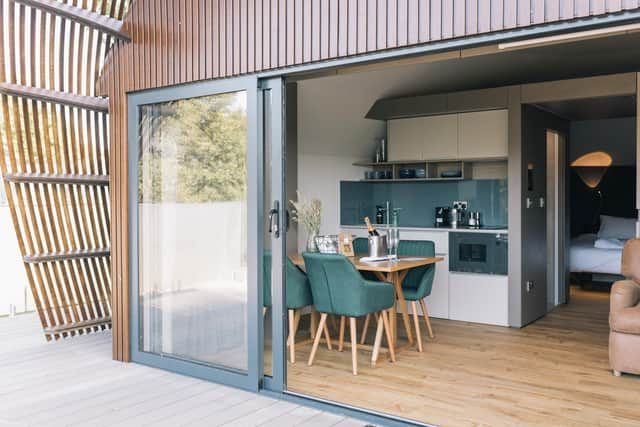 By the time we'd uncorked a bottle of Champagne, it was like the artist had spilled their muddy water all over the view.
We got into the warm water anyway. While doing so, it suddenly turned dark, the birds spun out of the trees, our hair was whipped around and we had to clutch our glasses tightly. The white fluffy dressing gowns and slippers blew off the chairs on the deck.
"Should we get out?" I asked my husband. "Nah!". And, so, extreme white-knuckle hot-tubbing was born, and it's a lot of fun. Maybe we should've attached a sail, for steering.
This is what you get if you holiday in Scotland when it's barely the cusp of spring.
At least we had nowhere else to be, except for our smart lodge, which resembles a giant woodlouse or an upturned boat from the outside, but has the interior of a five-star hotel suite.
There's a smart super-king-sized bedroom, walk-in waterfall shower, WC and a living and kitchen area, with a tiny fridge and combi microwave grill, kettle, toaster, Nespresso machine and two electric hotplates. It also features modern lighting and heating panels and, if White Lotus bingeing is planned, they've also got a groovy projector screen in the living room, as well as a second telly in the boudoir.
To welcome us, on our arrival, we had a golden 'congratulations' sign strung above the bed, and the Egyptian-cotton-clad duvet was strewn with fabric rose petals. There was also a bottle of Prosecco on ice and chocolate fudge cake waiting in the kitchen. I'm not sure what we were celebrating, but any excuse is welcome.
There are a handful of these cabins, perched near the shoreline.
Each of them has daily breakfast delivery included, which comes in the form of a hamper full of yoghurt and granola, croissants, slices of bread and a few other essentials.
Woodlands also owns RiverBeds Luxury Wee Lodges with Hot Tubs. These are tiny 12-metre-square versions that look out onto, unsurprisingly, a burn that runs down to the loch. They resemble human-sized birdhouses, with space inside for a double bed, telly, kitchenette and small shower room.
Although the website for this destination is quite anonymous, the 36-acre estate is a family business, owned by the Youngs. They're all very hands-on, and can be found on site, including in their reception, where you can also use a lounge and well-stocked honesty bar.
The accommodation, designed by an architect in the family, was created as an addition to their Woodlands Golf Course, which was formerly known as Dragon's Tooth Golf Course, named after the incisor-like rock that looms over the green.
To supplement the golf offering, they've also added an activity centre, so you can try e-bikes, archery, segway, laser clay shooting and even whisky tasting.
We stuck with a bit of light rambling, along some of their paths up the hill. We also thought about visiting the Ballachulish Hotel, which is just beside the resort and offers a seafood-focused menu, or the Glencoe Folk Museum, since they were an easy stroll away.
Of course, if you're an outdoorsy person, Lochaber is your oyster, and there are endless hikes and munros to tackle. The people at Woodlands recommend The Devil's Staircase, aka the highest point on the West Highland Way, Bishop's Bay or Ben Nevis, which is just 20 minutes away.
As we were feeling decidedly indoors-y, thanks in part to the dreich weather, we took the 25-minute drive along the edge of Loch Linnhe to Port Appin, and visited the fantastic Pierhouse Hotel and Restaurant for a lunch of Cullen skink and mussels. There are other excellent venues in the vicinity, including Airds Hotel and Restaurant.
However, if you want to stay put, Woodland Glencoe provides a list of nearby restaurants that will deliver to the estate.
We thought about getting some pizza to eat in our hot tub.
After all, you need to keep your energy levels up, when participating in adventure sports.
SeaBeds at Woodlands Glencoe, Ballachulish, Argyll (01855 413 200, www.woodlands.scot) starts from £275 per night.