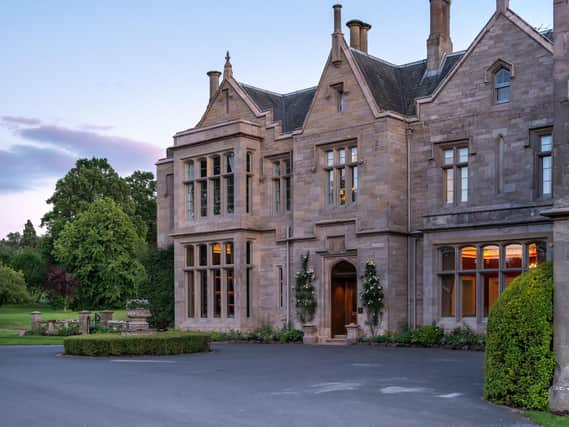 Ask the jovial concierge at Schloss Roxburghe how he's doing, and his reply will most likely be "blessed beyond measure".
We tried it a few times on our trip to this five-star Kelso hotel and it was the stock answer. Very cheery and absolutely infectious, since we felt pretty lucky too.
Who wouldn't, with two nights to spend, at this grand 19th-century house with its 300 acres of land, including 2.5 miles of the River Teviot.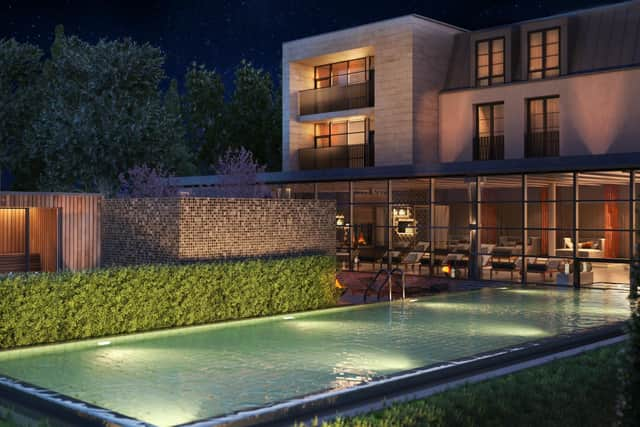 The building was once owned by the Duke of Roxburghe, of nearby Floors Castle, but is now the first Destination by Hyatt venue in Scotland.
Thanks to the new multi-million pound extension, which opened in January 2023, there's now an additional 58 rooms, with the original 20 in the older part of the house.
We'd opted to stay in one of their 12 cottages. Eventually, by May 2024, there will be 61 one or two bedroom versions of these, some of which will have saunas.
On check-in, after I'd caught a glimpse of the gorgeous tartan-carpeted staircase and elaborate Gothic-looking fireplace, I felt a bit sad that we weren't staying in the original space.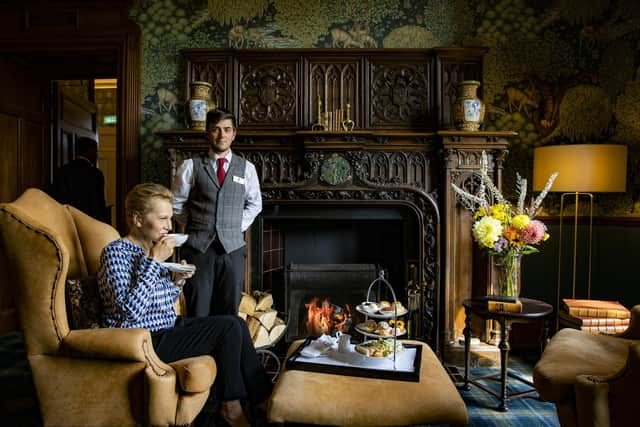 However, our mini modern white-washed house, which is two minutes walk from the hotel, does have a view of their 18 hole championship golf course.
"I think that's one of our professionals playing out there now," said the hotel manager, as he showed us around.
It felt very clean, uncluttered and comfortable, with parquet flooring, chic furniture, bird prints, tellies in all the right places, two bathroom (one en-suite) and a functional kitchen with an island and dining space. The look is more neutral than the hotel bedrooms, some of which boast teal, orange and copper accents.
The cottages are outdoor pursuit-friendly. There are walk-in showers, and plenty of room to dump your clubs or rods.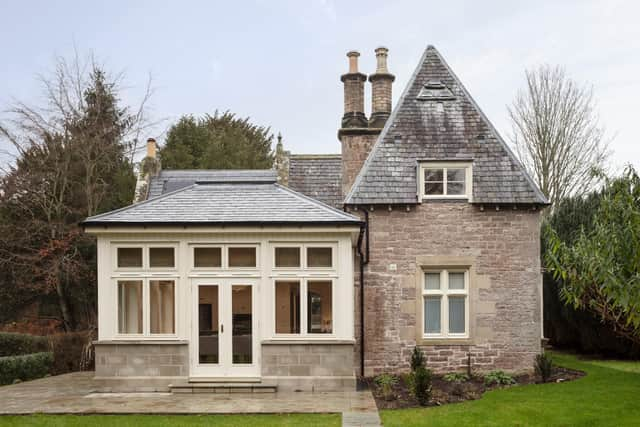 However, we will not be tee-ing off, or indulging in clay pigeon shooting or archery. Instead, we take a stroll, when we admire the deer skipping across the lawn, and the pair of swans in the pond, who are very disinterested in the crumbs we feed them. They're used to the finer things.
There are plenty of other activities to keep us occupied. The Schloss Roxburghe website may feature people dressed in Barbours and wellies, but we left ours at home. (Full disclosure: we don't own any).
Just off the wood-panelled reception area, there's the old library, now Bar 1745, where whisky is the order of the day, and you'll soon be able to visit Sunlaws fine-dining restaurant, which opens on June 26. Beyond these attractions, there's the Drawing Room, where afternoon tea is served and somebody, on our visit, was celebrating a birthday, with numbers on helium balloons.
For dinner, we try their more relaxed offering, Charlie's, which offers its own brand of Scottish bistronomy involving Scotch eggs, venison and sticky toffee pudding. Breakfast is also served in this space, and included for those staying in the cottages.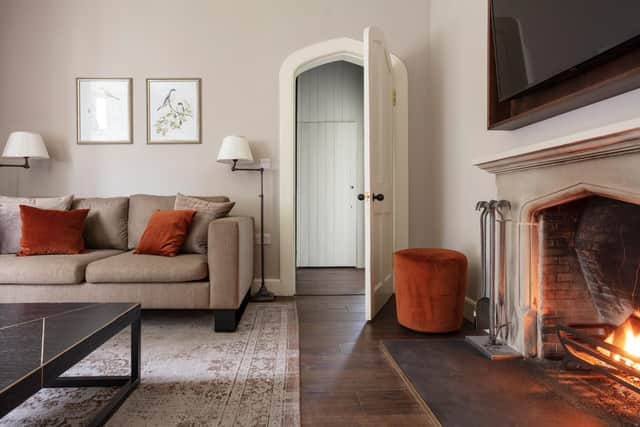 Adjacent to this, there's also a low-key bar area, where, among other things, they serve up fish and chips and burgers. That could induce a lot of drooling, but not only from the humans.
It was very enjoyable to see how canine-friendly Schloss Roxburghe is and how many guests want to take advantage.
We spotted wire-haired dachshunds, a brigade of corgis and cockapoos.
The only space that seemed to be entirely pup-free was their new 1100 square metre Schloss Spa. They say it's the first outdoor one in the Scottish Borders. You have to be brave (and not too body-conscious), to nip across the grass in between the sauna, steam room, Jacuzzi, then back down the stairs into their outdoor pool, which is fringed with shrubbery.
Back indoors, there's also a gym as well as a 600 square metre indoor relaxation area, with dozens of comfy and squashy canopied daybeds that look out to the garden.
I wish I'd brought a book, though you can also have a treatment in one of three rooms, where they offer massages and facials by Aromatherapy Associates. These include a Deep Tissue Golfer's Massage and the intriguing-sounding Forest Therapy, which incorporates massage and a mud mask on your hands and feet.
Blessed beyond measure? Yes indeed.
Schloss Roxburghe, part of Destination by Hyatt, Heiton, Kelso (01573 450 331, www.schlosshotel-roxburghe.com). A two-bedroom cottage starts from £475 per night including breakfast (based on two sharing)