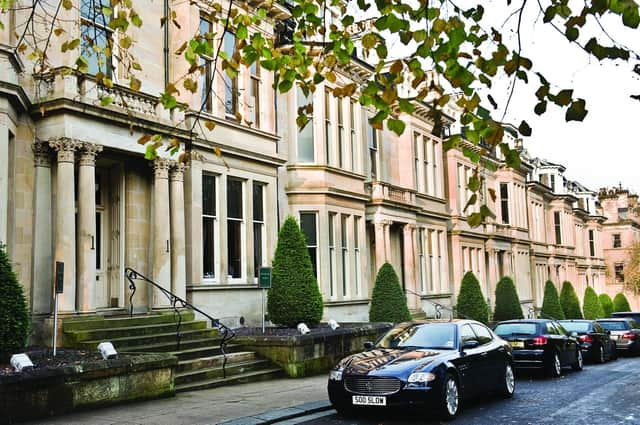 One Devonshire Gardens is a fixture of Glasgow's west end.
It's been around since 1986 and was once the location of Gordon Ramsay's Michelin-starred restaurant, Amaryllis. The property was acquired by Hotel du Vin in 2006 and has expanded over the years, from one townhouse to five, and now has 49 bedrooms.
Still, I've never been. I've always thought about it, but the stars just didn't align.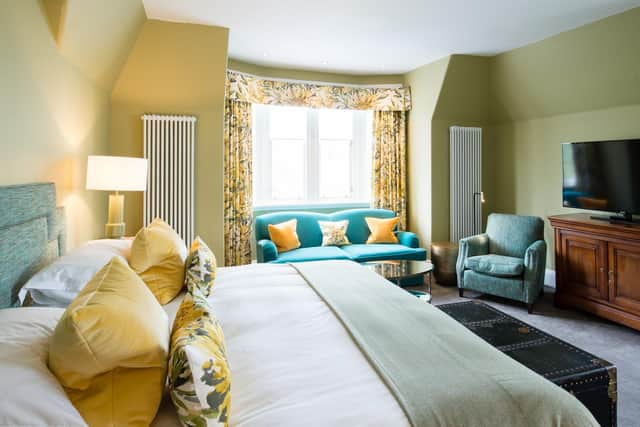 Evidence of that is the fact that we got totally lost, somewhere between our underground station and the four-star hotel.
Despite the bimbling and darkness, at least this was an opportunity to squint at the beautiful buildings in this posh residential part of the city. We spent a bit too long doing that, though Google Maps sorted us out in the end, after my husband opened the app and asked me the address of our destination. The clue is in the name, I told him.
Thankfully, it's the sort of place you want to arrive at on a dreich wintery evening, when you've just clocked out of work for the weekend. The staff are very warm, and gave us our actual key - not a swipe card, how excellently retro.
The concierge led up the staircases, thickly carpeted in a William Morris-esque pattern, of this B-listed Victorian property, which was built in 1908. We passed beautiful stained glass windows, covered in fruits and flowers, as we clambered towards our Junior Suite, the Graham Beck room, which is named after the Champagne house.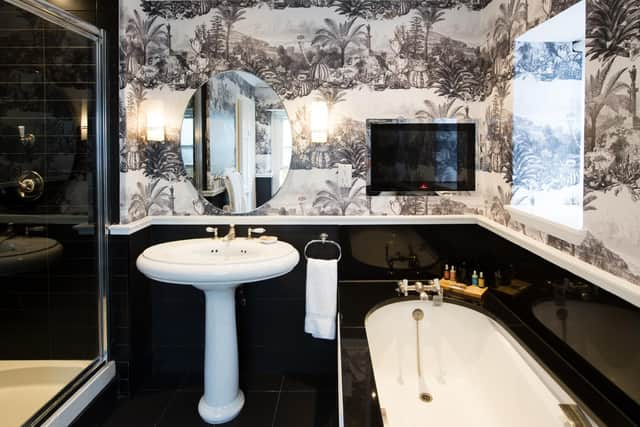 It's been five years since this hotel had its last refurbishment, but the rooms still look fresh.
Ours was huge, with an apple green sofa, Art Deco-style light fittings, and a king size bed with prints of Scottish gentry above the headboard. The bathroom has a walk-in shower, rolltop tub and monochrome plant-inspired wallpaper, covered in cacti, which is presumably a reference to the Glasgow Botanic Gardens, since it's just a short walk away.
There are also plenty of restaurants to visit in that direction.
Since it was getting late, we thought we'd try a reliable pizza place, Paesano, since it's an easy walk in an idiot-proof straight line, along Great Western Road, though we discovered a vast queue outside.
Our second choice was the excellent Eusebi, though it should have been our first, since the combination of cocktail, indoor window seat and Roman sourdough pinsas was almost unbeatable.
Of course, you could stay in the hotel, as it has its own whisky bar and the restaurant, which is spread across a couple of levels. Head here for breakfast, which includes hot options on the a la carte menu. These include the full Scottish shebang, oak smoked salmon and scrambled egg, or avocado on toast.
However, we were satisfied with the continental spread of granola, fruit salads, pastries and smoothies. I consider myself an expert on Bircher's muesli, and they do a very good one here. Although not an essential ingredient, it's all in the nuts. I'm sure Gordon Ramsay would agree.
I almost reached for a second portion, but we were saving ourselves, since we were booked in to try their new Champagne lunch at noon. This is £35, and includes three courses and a (generous) glass of their house fizz, which is Lombard. That seems a very fair price for a feed in this smart dining room.
After amuse bouche of beetroot and horseradish macaron and smoked eel tart, and rosemary and seal salt focaccia, we had starters of Scottish salmon and lobster, braised leek and pear, as well as mushroom parfait on brioche that also featured ingredients including clementine, chestnut, and shiitake.
For mains, I tried the Ayrshire pork belly, which came with a stub of fondant potato, kale, red wine jus and artichoke puree. While, the fillet of coley option includes a mushroom duxelle, roasted cauliflower and truffle jus.
Our winning pudding was the black fig, verjus meringue, hazelnut and clementine ice-cream, with a runner up of manjari chocolate cremeux, praline, Jivara chocolate mousse and a scoop of excellent banana and passionfruit ice-cream.
Cue a rolling back up the carpeted stairs moment.
Except, sadly, we'd already checked out, since this had been a single night escape.
Never mind, I'm glad to have met you at last, One Devonshire Gardens. I won't leave it as long as 37 years next time.
Hotel du Vin at One Devonshire Gardens, 1 Devonshire Gardens, Glasgow (0141 378 0385, www.hotelduvin.com). Rooms start from £159 room only or £187 bed and breakfast, based on a February 2023 stay, or £179 and £207 in March 2023.