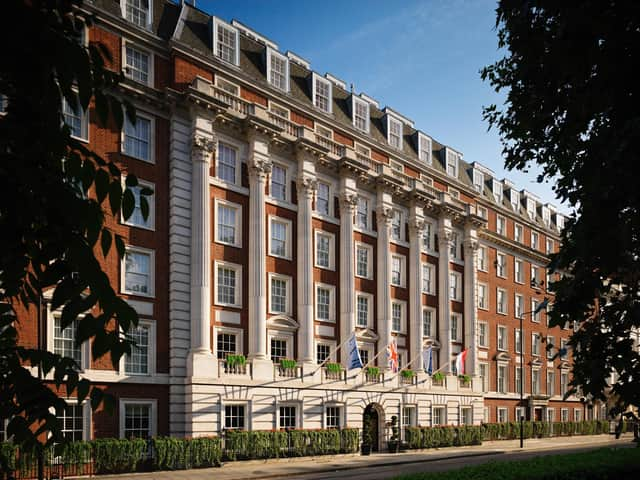 The Biltmore exterior. Pic: Niall Clutton
It's been three years since I last visited London.
Thus, it was time to end the lockdown-enforced hiatus with a trip to Mayfair hotel, The Biltmore.
Despite the excitement, after catching the new Lumo service from Edinburgh Waverley to King's Cross, we checked into our destination late. Not because the train didn't meet its arrival time - on the contrary, it sped here super efficiently.
It's just that there were way too many sensory distractions. Our wheelie suitcases bumped behind us along Bond Street, as we peered in the windows of nearby Hermes and Chanel. Same with the bakeries, cafes and galleries. And when did London get so many bubble tea shops?
However, we didn't just window shop. We also made it into the Fortnum & Mason food hall, just so we could purchase some expensive tea. There was a lot of hanging around Oxford Street too.
At after 5pm, we arrived at our five-star hotel, right opposite Grosvenor Square Gardens, making it one of the few London hotels with a leafy outlook.
This venue opened in 2019, was formerly the Millennium Hotel and is Hilton's luxury LXR Hotels & Resorts collection's first destination in the UK.
Apparently, the former residents of this smart 18th century building, back when it was separated into three townhouses, include Oscar Wilde.
Once you're inside, it gives the first impression you want from a posh hotel. There's a circular foyer and reception, with an organic-looking crystal chandelier, a huge and sculptural floral display, featuring alliums and long grasses, and an Art Deco-ish ceiling motif that resembles a giant chrysanthemum.
Apart from that, it's all new marble and plush salmon pink rugs, with the occasional painting, like a Sir Joshua Reynolds portrait of an aristocratic woman swathed in silvery silk, lace and pearls. She looks like the type who might have lived here back in the day.
The other spaces branch off from the entrance. There's the intimate looking setting of The Pine Bar, where they serve wine, spirits, oysters, caviar and cognac, as well as The Tea Lounge, with its fireplace and well-upholstered seating. For something more substantial, there's Jason Atherton's restaurant, Cafe Biltmore, and they also serve breakfast in this space.
Our King Grand Deluxe has a view out to Grosvenor Square Gardens, rather than the internal courtyard. The room is decorated in a subtle palette, with accents of copper and red, and feels very plush. It's the sort of space you want to be in, when you've been dragging a suitcase through the streets. We quickly take our shoes off.
For business travellers, there's a little desk, and you'll find plenty of wardrobe space, as well as a grey marble-clad bathroom, with Penhaligon's toiletries, double sinks, a bath and a shower. We're intrigued but also a little intimidated by the Japanese TOTO toilet, which is heated and boasts a lot of interesting buttons. I treat it with caution and don't press anything.
For the first night of our weekend visit, we visit the restaurant, which features a covered terrace. It's very low key, and the food has a healthy vibe, unless you go for the buttermilk fried chicken sandwich or pizza. I choose the slightly more virtuous whipped feta with yuzu kosho, kale, cherry and apple salad and roasted almonds, and chicken with Parmesan polenta.
On our second night, we head to Seven Dials Market, which is just a 15 minute walk away from the hotel. This venue is packed with quirky food businesses, serving everything from beef bourguignon burgers to finger doughnuts.
However, there is no competition, as I have already been tipped off about Pick & Cheese.
Along with wine, this restaurant specialises in plates of pre-portioned cheese, teamed with one other ingredient, all of which you grab off a conveyor belt. This could get dangerous, and it does. We go for Lanark Blue with marinated figs, the soft cow's milk cheese, Rollright, and honey-roasted peanuts, and Corra Linn teamed with salted Marcona almonds. Heavenly. Since they've got a few Scottish cheeses on their menu, I beg them to open one nearer me. I will live in hope.
I'm sure I could have had nightmares after all that fromage.
However, I think it might have been my extremely peaceful night in a comfortable bed at The Biltmore that kept them at bay.
The Biltmore Mayfair, LXR Hotels & Resorts, 44 Grosvenor Square, London (020 7629 9400, www.hilton.com). Rooms start from £330 per night.
Rail travel from Edinburgh to London with Lumo starts from £24.90 single, see www.lumo.co.uk