The art of travel: Step into Grayson Perry's Essex fairy tale
If you have visited Smash Hits, the Grayson Perry retrospective in Edinburgh this summer, you will know something of the artist's fantastical imagination. For a more immersive experience, consider staying at A House For Essex, built to celebrate one of Perry's most popular fictional characters, Julie Cope, 'a shopping mall Madonna with a kick-ass spirit'. By Kate Wickers
At the end of an Essex country lane, etched with fruit-laden blackberry brambles, sits an extraordinary house.
Surrounded by wildflowers – common poppies, meadowsweet, cowslips, foxgloves, cornflowers, and daisies among the tangle – it appears as a magical fairy-tale vision against a backdrop of barley fields and horse-riddled meadows.
The container ports of Felixstowe and Harwich, their cranes in hard black silhouettes, loom in the far distance. From front to back, each of the four tiers grow larger, giving the illusion that it could fold in on itself, like a piece of origami. No danger in it blowing away in the wind though: 2,000 gleaming glazed ceramic tiles keep this place anchored and it is topped by a blinging (well, we are in Essex) copper-alloy roof.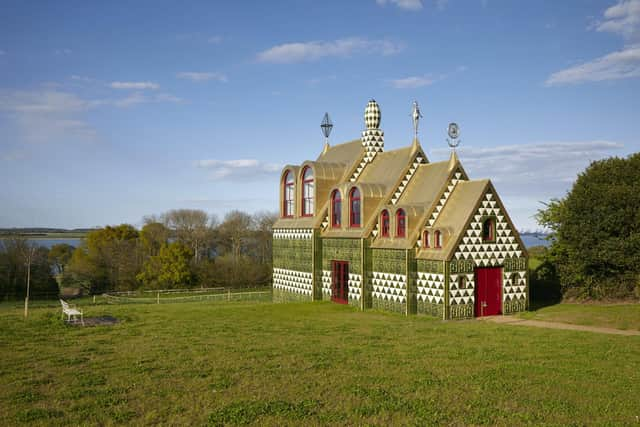 This is A House For Essex, the creative lovechild of Charles Holland of FAT Architect practice and Turner-Prize-winning artist Grayson Perry, who was born in Chelmsford and grew up in the villages of Broomfield and Great Bradfield, completed in 2014.
Previously only available to stay in through a ballot, for the first time ever you can now book online to stay in the UK's most eccentric holiday home.
Owned by Living Architecture, a holiday lets company that has a portfolio of architect designed homes, it sits in Wrabness on the banks of the river Stour that separates Essex from Suffolk.
It was commissioned as an example of how inspirational modern residential architecture could be: finely crafted, joyous, and oozing character.
Described as many things including jewel box, casket, gingerbread house, and Battenburg Cake, it's reminiscent of Norwegian Stave churches, Arts and Crafts houses, and English Baroque chapels.
To me it appears utterly unique, pulling my imagination to new, fantastical, horizons, although its nostalgia-evoking qualities take me by surprise when those glazed green tiles stir unexpected memories of the lav in my grandparents' South Welsh miner's cottage.
"Oh, are you staying in Julie's house? Lucky you! What's it like?", come the endless queries from passing dog walkers/ramblers on the public footpath that runs alongside the house and leads down through a copse of trees to the river.
With its sky-high bulging dormer windows, most of the interior (except for the kitchen, which, although popping with colour, is a calm, practical space) remains a closely guarded secret, but when you're out in the garden (which will be often to gaze back at the house), expect much attention.
Local people refer to it fondly as "Julie's House", referring to Julie Cope, the fictional character that Perry created as an Everywoman of Essex, who he describes as 'a shopping mall Madonna…with a kick-ass spirit'.
You can read the full 3,000-word "Ballad of Julie Cope" (all guests are gifted one), but these are her highlights: after unruly teenage years, she married Dave, moved to Basildon, had two kids, divorced Dave on grounds of infidelity, became a single mum and a social worker, then met Rob, husband number two. Her untimely death was met by being knocked down by a curry-delivery driver on a motorbike. Rob built the house as a mausoleum, like an Essex Taj Mahal, to Julie's memory.
You enter through a large wooden door to a hallway painted red and yellow that leads to a similarly decorated kitchen. Here, I'm confused, feeling like there's nowhere else to go until I notice doorknobs concealed within the clever tiling of the back wall.
It's an Alice in Wonderland moment stepping into the main attraction: a triple-height living room with oak herringbone parquet floor and huge vivid tapestries.
Dotted around the space are Perry's signature yellow pots. All artwork depicts the life and times of Julie, including the centrepiece – a larger-than-life ceramic effigy of Julie standing goddess-like on a balcony that juts out from red panelling etched in shocking pink, like a punk rock cuckoo clock.
Finally, at the rear, I open French doors to a porch with a skull mosaic that marks the spot where Rob heard of Julie's death, taking care to lock them securely again as the artworks are rumoured to be worth over a million.
Upstairs, the story continues with two double bedrooms hung with more gargantuan tapestries that show Julie with either husband number one (unfaithful Dave), or number two, (heart-broken Rob).
The detail on the textiles is exquisite, from the wildflower bouquet that Julie holds, which reflects the house's lovely wild gardens, to the vivid pink weave of Dave's suit and rose buttonhole. The 'Rob waz 'ere' and 'Hello Mum' messages hidden within the pattern on Rob's sweater are fun to search for.
Whichever wall hanging you chose to wake up with, the sheer scale of these looming figures is guaranteed to give your morning a kick start.
When I open the wardrobe door and walk in (now, surely, I'm in Narnia) there's another door to tempt me further, leading to a balcony.
Oh, it's all such clever design as this provides the perfect first-floor vantage for admiring the artwork on the ceilings and high walls and for examining the house's most unusual chandelier: a fast-food delivery motorbike festooned with lights, the very one that careered into Julie to end her life (remember that this is just a story, so it's OK to laugh at the wonderful absurdity).
If you're wondering who PAM on the number plate represents, that's the name of Dave's mistress. No skimping on attention to detail from Perry.
I take country walks that lead me to small row-boat strewn beaches lined with romantically ramshackle, river-licked wooden houses, and I hop on the train (the station is just a five-minute walk from the house) to nearby Mistley (famous for its 17th century witch hunters) to dine at The Mistley Thorn (a coaching inn circa 1723) on moules, frites, and local draught cider for £15.95, but beyond that I stay put.
The best viewpoint for taking pleasure in the landscape and the house is from Julie's raised gravestone (I'll leave it up to you to decide if this is taking things a little far but do remember fairy tales are full of black humour).
Totems of her life – a nappy pin, mix tape, and Essex County badge among them – decorate the exterior ceramic tiles, now highlighted by late afternoon in the Essex sunshine.
Swifts circle the roof tirelessly, seemingly drawn to the oversized statue of a pregnant Julie, ceramic egg, and beacon (blinking on and off by night) that crowns it. Feeling creative, I lie down in the grass to take a picture of the house through the daisies (aiming for the style of artist Andrew Wyeth), not caring if passing ramblers wonder what I'm up to.
Perry described the house as '…a total artwork, a fiction in which you can live…', and, with that in mind, I put on Julie's favourite album, Elton John's Yellow Brick Road, and pour myself a glass of chenin blanc (her favourite wine). My toast at sunset is to Everywoman, Essex-born or not.
Prices from £395 per night with the promotion SMASH20 (for new bookings until 13 November) to mark the opening of Grayson Perry's Smash Hits exhibition at the National Galleries of Scotland. www.living-architecture.co.uk