Staycation holidays set to boom in Scotland post lockdown as new figures reveal surge in self-catering bookings
Staycation holidays look set to boom in Scotland post lockdown as new figures revealed a surge in bookings and demand for self-catering, with all holiday accommodation reopening today.
Data from online booking software company, SuperControl, shows daily booking rates have nearly doubled at times during the week leading up to June 25th compared to the same time last year.
Around 13,500 properties across the UK and Ireland were included in the analysis.
Association of Scotland's Self-Caterers Chief Executive, Fiona Campbell, said: "Scotland's self-caterers, like our colleagues across the UK, are experiencing significantly increased demand as people look to take time to relax and unwind in some beautiful places following a period of heightened stress and strain for all of us.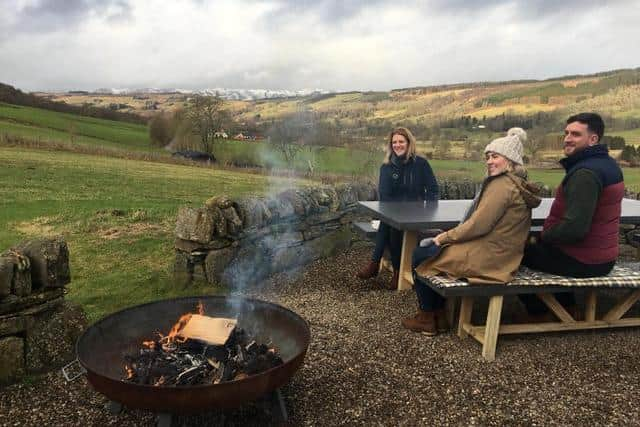 "Much of the interest I've seen personally has come from Scottish guests who want a staycation in their own country.
"Staycations offer respite and a chance to unwind while avoiding the hassle of flying abroad at the moment, so the upswing in demand is entirely understandable.
"With a huge array of properties to choose from in a diverse selection of places across the country, Scotland's £723million self-catering sector is well-placed to provide Scots with the staycation that many of us need at the moment and we look forward to welcoming as many guests as we can."
Graphs published on the SuperControl website show bookings were slightly down in 2020 relative to 2019 from the start of the year, and then started to drop off in mid-March when the coronavirus outbreak hit the UK and the nation entered lockdown.
The website says: "Since early May there has been a steady increase in bookings relative to lockdown levels.
"For the last two weeks the booking rate has been higher than the same weeks in 2019, and the last week has had daily booking values of up to twice the level as the same time last year."
Plots for Scotland show a very similar spike in daily booking rates to those in England, Wales, Ireland and Northern Ireland.
Staycation demand is 'encouraging'
Malcolm Roughead, chief executive of VisitScotland, said: "As the Scottish tourism industry begins to welcome visitors once more, it's encouraging to see this new data indicating a positive demand for staycations, in line with a wider rising trend of domestic tourism in recent years."
Mr Roughead says their marketing efforts are initially focusing on encouraging people to "enjoy what's on their doorstep in a responsible way."
He continued: "Scots have a crucial part to play in getting tourism back on track by taking simple actions such as dining out, visiting an attraction, shopping locally, taking a day trip or booking a staycation.
"Recovery will require our collective efforts and we must act as one to ensure the best possible outcomes for the whole of the visitor economy. However, it is important that we respect that tourism might not look the same as before, and we ask people to follow the recommended guidelines – book in advance, respect local communities, and shop locally. As restrictions lift, we would also urge visitors to 'know before they go' checking online whether attractions and businesses are open and welcoming visitors."
From July 15, all holiday accommodation - including hotels and self-catering accommodation with shared access - is able to reopen as long as establishments follow appropriate guidance, particularly with cleaning protocols.
Fully self-contained holiday accommodation including holiday homes, second homes and self-contained units in caravan and campervan parks were able to reopen earlier in the month.
First Minister Nicola Sturgeon has said that July 15 marks the "highest risk changes" so far since lockdown was lifted in Scotland, with more people set to spend time with other people indoors in places like pubs and restaurants.
Ms Sturgeon stressed that the big risk now is a resurgence of the virus and that successfully suppressing it will mean "all of us sticking to the rules."
The Scottish Government's daily figures show there have been no deaths recorded for seven days with people who tested positive for the virus, with the official death toll remaining at 2,490.
However, the latest weekly figures published today by the National Records of Scotland reveal there have been 4,187 deaths linked to Covid-19 up to Sunday, July 12 - up 13 on the week before.