At star-spangled Stanglwirt going off piste means a smelly sleigh ride, soaking in a rock pool and fine dining by an open fire
Many exclusive Alpine resorts may choose to be discreet about the well-kent faces who opt to stay there but that's not the case at Stanglwirt in the Austrian Tyrol. In a hallway leading to the spa, a gallery of the great and the good beams down from the walls. They are a diverse bunch, including the likes of Prince Albert of Monaco, Pamela Anderson, Buzz Aldrin, Gwyneth Paltrow, Jean-Claude Juncker, Hillary Clinton, Roman Polanski, Heidi Klum and Mohammed Ali.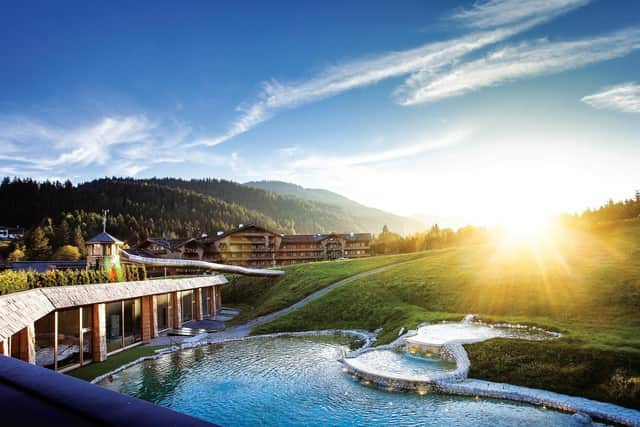 One regular, Arnold Schwarzenegger, who is originally from near here, has become firm friends with our driver, Manfred, who took us to and from Munich Airport. Manfred was able to confirm that each time Arnie leaves he does indeed tell the staff: "I'll be back."
The oldest celebrity shot I could find in the hall of fame was a black and white one of Bing Crosby mid-croon, but Stanglwirt has been running since long before the singer's heyday. It received its "full gastronomic licence" in 1609 but had been catering to silver and copper prospectors since the early 16th century.
The Wilder Kaiser mountain chain nature reserve
Nowadays the draws are much more fun than mining. The hotel is in the shadow of Wilder Kaiser, the rugged mountain chain that forms a 40 square mile nature reserve prized by walkers and famous for its flora and fauna. There is only one chair lift but nearby there is no shortage of skiing to be done.
The legendary Kitzbühel is just up the road. During our stay the hotel was preparing for the annual shindig to mark Hahnenkamm, the notoriously treacherous fixture in the World Cup downhill season. As if the course wasn't tough enough already, I'm told the organisers put water down to make the slope icy.
Ski Welt and the Nine Villages
Even closer is Ski Welt, one of the biggest and most modern ski resorts in the world. Nine villages – Brixen im Thale, Ellmau, Going, Hopfgarten, Itter, Kelchsau, Scheffau, Söll and Westendorf – joined forces to create a unified network of 90 lifts and 284 kilometres of runs, including floodlit night runs. And there is no black run that doesn't also have a red run alongside. My guide Anita casually mentions that they have the steepest run in Austria, but that they choose not to advertise it in order to keep away those who lack in ability what they make up for in enthusiasm.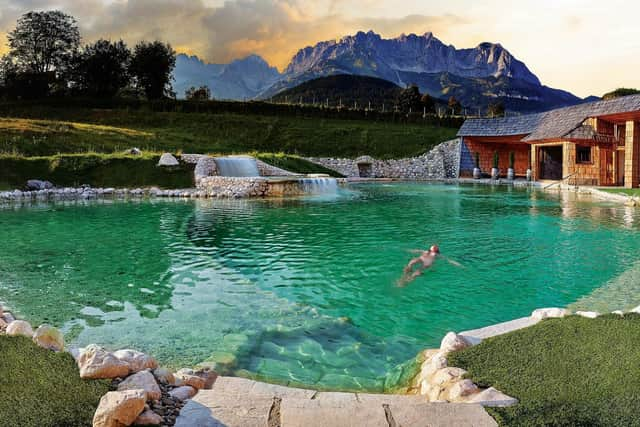 There is a vast array of restaurants and bars to choose from. We enjoyed apple strudel in Austria's highest 360-degree restaurant, the Kaiserlounge, next to a mountaintop chapel, and lunch further down the mountain consisted of a hearty, typically Tyrolean meat, potato and egg dish washed down – of course – with beer.
Thanks to Anita I spent a day exploring this incredible landscape without going up the same lift or down the same run twice. It is a cliché but this really is a paradise for skiers. I ask Anita, who is local and has been skiing since her father set up a run in her garden when she was two years old, whether she can think of a better place to ski. She is well travelled and has skied all over the world but in the end, no. Nowhere even comes close.
Of course, it is not all about the skiing – far from it. Stanglwirt is an ideal place to bring children and our three-year-old loved the kids' club, which shares a building with several rabbits and various bovine creatures. One afternoon my wife and I took her and her baby sister on a beautiful sleigh ride into the village of Going and back. Despite the stunning scenery and the priceless feeling of being transported by genuine horsepower, the highlight for our elder daughter, with a depressing inevitability, was the horses' malodorant flatulence.
But by far her biggest hightlight of the trip were Stanglwirt's Water Worlds, which include a natural swimming lake, a rock pool, a sports pool and a waterfall grotto. The Children's Water World has been created using all-natural materials and consists of swimming pools of different depths. The pool cinema screens classic children's films for youngsters to enjoy as they splash around. The 12-metre-high, 120-metre-long giant water slide has a timing system so children over the age of eight can race against the clock. For younger guests there is a two-and-a-half-metre slide, whirlpools and a waterfall, and our six-month old daughter was delighted with the facilities in the baby splash pool.
Stone from the Kaiser mountains has been used to create this oasis of grottoes, caves and waterfalls and the wellness and spa complex boasts the biggest hotel saltwater pool in Europe, in addition to a wide selection of saunas.
The hotel's extensive fitness equipment caters for an impressive range of activities. There are several indoor and outdoor tennis courts (the hotel hosts an international tennis training camp each year), a private stud for horse enthusiasts, and there is even a boxing ring.
Stanglwirt prides itself on organic local fare and the cosy Stangl Alm dining room is an inviting place to savour the flavour of Tyrolean tradition beside an open fire. We enjoyed the veal under the watchful eyes of cattle from the hotel's own farm. The hotel restaurant offers home-made delicacies from local farmers, daily changing, multi-course menus and the themed buffet evenings.
The resort places its green credentials front and centre, striving to combine "luxury and homeliness, tradition and progressiveness, organic methods and gourmet cuisine". Our suite managed to be both cosy and stylish, with an open fire and a glorious view of the Wilder Kaiser. There is even a pillow menu.
Local pine is used to good effect everywhere to add to the feeling of warmth. A wooden cabinet in the lift houses a communal bottle of peach schnapps chained to the wall, along with a glass. Even the phone on my wooden bedside table was made of wood.
It's not hard to see how the likes of Schwarzenegger are drawn back here time after time and our family break left us all pining to return.
The lead-in price for doubles starts at €100 per person per night including breakfast. Reservations can be made via www.stanglwirt.com, +43(0)5358 2000.