Spring Travel: Meet the man in the driving seat
Stephen Leckie, Chairman of the Scottish Tourism Alliance – and Lord-Lieutenant of Perth and Kinross – gives Kirsty McLuckie a lift with his optimism for the country's tourism prospects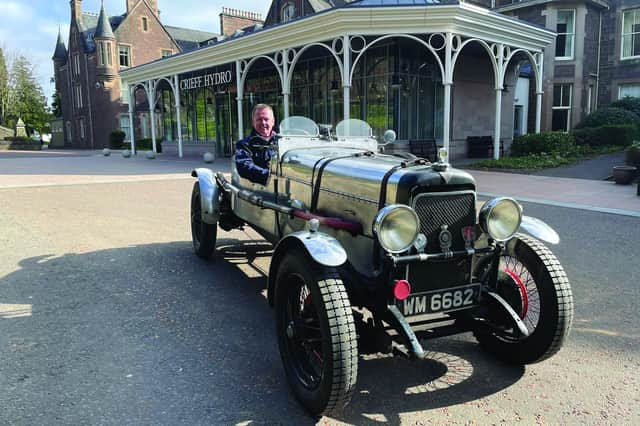 Job title Chairman of the Scottish Tourism Alliance since 2010. The purpose of the alliance is to be the voice of the industry in guiding government policy and to get feedback from all sectors of tourism and hospitality. Members include over 250 trade associations, businesses and destination groups to help us mold a strategy to drive the industry.
We also work with organisations such as Scottish Food and Drink, the Scottish Retail Consortium, UK Hospitality – whoever is connected with tourism.
We strive to make Scotland a better place to visit, but also to live and work.
What other roles do you have?
I became President of the Scottish Chambers of Commerce last year, and was appointed Lord-Lieutenant of Perth and Kinross in 2019.
My day job is chief executive of the Crieff Hydro family of hotels. I'm the fifth generation in the family business and started work at 12, cleaning chalets and working in the coffee shop.
After a degree in business and hospitality at Edinburgh Napier, I worked at hotels in England, and became general manager at a hotel in Hertfordshire when I was 25, before coming back up to take over Crieff Hydro from my father.
What is your typical day like?
I'm a home bird and my friends joke that I get nose bleeds when I leave Crieff but I do like to visit our hotels on the West Coast.
I spend a lot of time on the phone – I don't like texting or emails, I prefer to speak to people because you can sense a lot more.
I have to speak to my hotel team, my fellow board members, chief executives and make various other calls to government executives, politicians, my deputy lieutenants and if you add all these together, plus my own family, I have a list of perhaps 100 people to speak to every week.
What are the greatest challenges you have faced and how have they been weathered?
The pandemic hit at a particularly bad time. On March 4th 2020, Nicola Sturgeon launched the tourism strategy for the next decade in Glasgow, and two and a half weeks later we were shutting down our businesses.
Our hotel business is a microcosm of the industry. We had 1,050 staff on our payroll and many were live-in, who still needed to be fed and watered. The hotels still needed heating and protection from the elements, we needed to communicate with tens of thousands of customers about refunds and reassure them.
It was incredibly scary, but it is just such a situation where you see that businesses rely on the government for support and there is a lot of gratitude for the help we received.
If that was the biggest crisis, we are certainly going through another now. The challenge is that the country may or may not be in a recession, but as far as hospitality is concerned, we definitely are.
The average household does not have the money to go out as every day costs have risen so much. Eating out and weekends away are the first things to go.
Any revenue growth is being eclipsed by costs of energy, produce and wages throughout the industry.
There are only two ways out – to cut costs or increase revenue and we are working our hardest to do both.
​What advice would you give someone wanting to work in the industry?
You are "on stage" all the time, so get chatting to folk and create an impression.
Delegation is important andhaving the right team around you. If you enjoy each other's company, generally speaking something good will happen.
Listening and hearing the various, and sometimes opposing, opinions of clever folk and their ideas is refreshing.
We spend so much of our lives at work, you do need to enjoy it and feel that you are making a contribution, and that your presence is appreciated and respected.
Certainly for volunteer roles, all these folk are giving up their valuable and expensive time and I want people to look forward to a get-together around the table.
​What do you do in your spare time?
I build classic cars and have spent thousands of hours in the garage. It requires a different mindset to my job as I concentrate on one thing, with just the radio on in the background. That gives me a real feeling of time off.
My wife, Fiona, is a director of the company and looks after all the interior design and capital spend, so she is busy as I am, but one of the things we do every day is to walk round The Knock, the hill behind our house. We take our two dogs and that is our "us time".
It is also important to get some exercise, as we go out a lot – every night this week, for example – and I don't have the discipline to drink water if I'm dining with someone who is having a glass of wine. If we're not out for dinner, we are very happy to have boiled eggs at home.
What innovations in the industry do you see making the biggest difference in the future?
We have to look for growth, to the emerging markets, [as well as to] European, Nordic and NorthAmerican visitors, but also where the growth areas are within Scotland – golf tours, ferries, self-catering, agri-tours, sailing and gin distilleries. There are a whole myriad of aspects to visiting Scotland.
We are three years into the 2030 strategy and the biggest changes in it are in IT and transport infrastructure. If there is going to be innovation it will be along the IT and digital lines, to help potential customers understand what is on offer in every part of Scotland. From the Edinburgh Festival to the smallest Northern tourist attraction, it is all about having an online presence.
What role does the government play in tourism?
We are the envy of the world with our publicly-funded Visit Scotland, we are so grateful to John Swinney, in particular, for continuing – against various other financial challenges –to put money towards marketing Scotland.
It has a positive impact, firstly for Scotland on the world stage, butalso for the wider economy.The reality is that tourism is everyone's business.
​Describe a career highlight.
Being Lord-Lieutenant, it was a huge privilege to go to Her Majesty Queen Elizabeth's Service at St Giles'Cathedral in Edinburgh and then to go on to Westminster Hall. My wife and I spent a lot of time there, considering all The Queen had done during her 70 years of tenure.
We were moved to walk around Buckingham Palace Gardens and see the flowers and the people who had come from all parts of the world to show their respect.
And then to go to the funeral at Westminster Abbey and be among every living prime minister, alongside the royal family and world leaders such as President Biden.