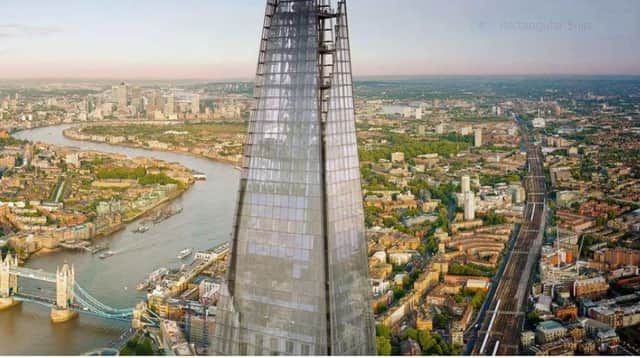 Despite having spent much time in the shadow of London landmark The Shard – Western Europe's tallest building – I had never been inside, so I was delighted at this opportunity to stay at the luxury Shangri-La hotel that occupies 18 floors of the building.
I was also very much looking forward to swimming in the hotel's pool on the 52nd floor, while I am fascinated by some of the building's stats, for example the amount of concrete used in its construction was enough to fill 22 Olympic-sized swimming pools, while the surface area of its glazing is equivalent to almost two-and-a-half times the size of Trafalgar Square.
After a quick direct journey by Tube from King's Cross to London Bridge station right next to The Shard, I head up in the lift to the reception, which has a calming, Asian-style decor in a nod to the Hong Kong-based Shangri-La brand's roots.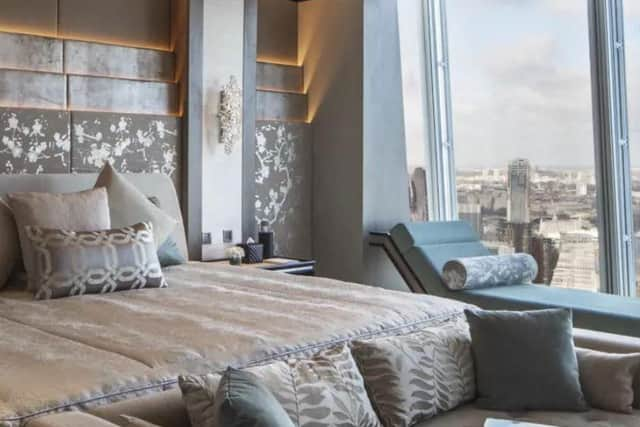 The hotel has more than 200 rooms and suites, each one facing outwards with floor-to-ceiling windows. And the window grabs my attention as soon as I enter the room, with the views so out of this world that I almost press my face up against the glass to admire and take everything in.
I can see the City, Tower Bridge, and practically all of London, it feels like, with the sun pleasingly glinting off the surface of The Thames and the whole vista looking like a moving painting or photograph. Landmarks that seem vast at street level, for example HMS Belfast and the trains coming in and out of London Bridge station now look like toy versions, while there are even in-room binoculars to get a closer look.
My room is rectangle-shaped, with the window running along one entire long side. The main door is in the middle, with the bed, to the right, complete with a headboard decorated with a delicate, ornate floral pattern. In the centre is a table with two chairs, and to the left is a desk followed by the large bathroom in grey marble including, to my delight, a bath by the window. All in all, the room is comfortable rather than clinical or flashy, although a card in the room lets me know that window-cleaners might appear at certain times, while I can see into part of the room next to mine, so I swiftly drop the blind to give us both some privacy.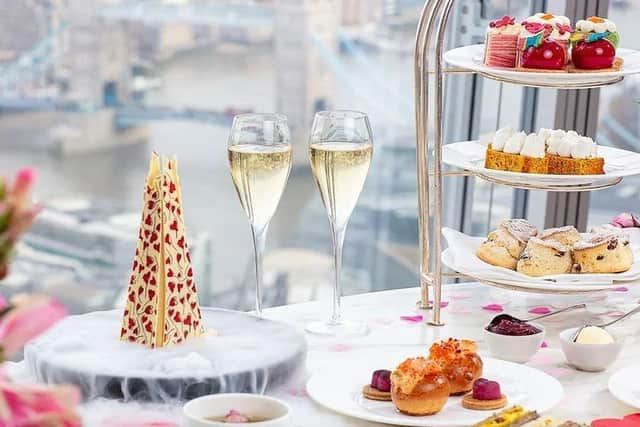 We have afternoon tea in TING, with delectable sandwiches including an egg version lightly scented with truffle, and a patisserie mini version of The Shard served with a dry ice flourish. Later we head even further skywards to GONG, which is billed as the highest hotel bar in Western Europe, with opulent decor and light but delicious dishes including sashimi and mochi as well as excellent cocktails.
Worth getting out of bed for
I'm no early bird but I'm happy to set my alarm to visit the hotel pool at 6am - I have both it and the large sauna with its own excellent view to myself, and feel very zen as I watch the sun rising.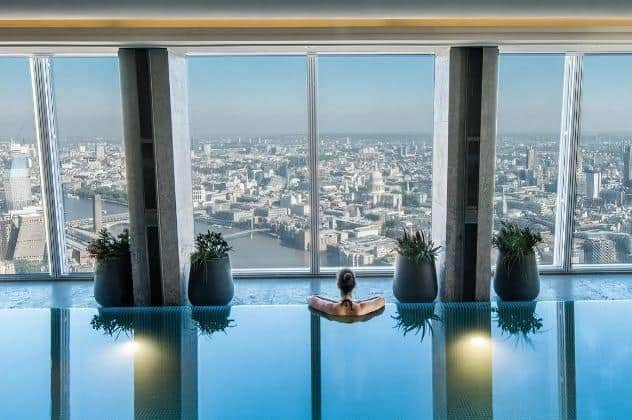 In terms of things to visit, food stall heaven Borough Market is right below the hotel and always worth a perusal, but I make my maiden visit to the Tower of London, which covers a far larger area than I thought and you could spend a good few hours there. It also has a compelling and sometimes surprising history - rightly promising that "myths linger and the real stories still fascinate today" - with famous former inmates including The Krays.
Oh-so boutique, for example the hotel offers a self-guided audio walking guide and map created by Open City, written and narrated by esteemed architect Charles Holland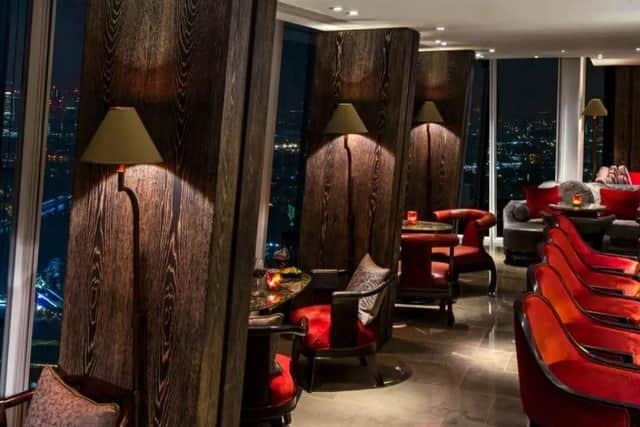 The TV has channels featuring fitness instructors demonstrating varying types of in-room workouts eg yoga.
So high in the clouds you feel like you're in heaven and don't want to come back down to earth.