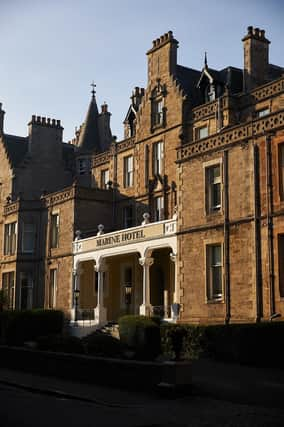 If I had to name three things associated with the town of North Berwick, I'd choose the Bass Rock, the beach and the Marine hotel.
This monolithic 84-bedroom building, with its view out to the 16th hole of the West Links golf course, was built in 1875 and designed by architect Frederick Thomas Pilkington, who was also responsible for the Victorian High Gothic-style Barclay Viewforth Church in Edinburgh.
At the time of its construction, this East Lothian town was considered the Biarritz of the North.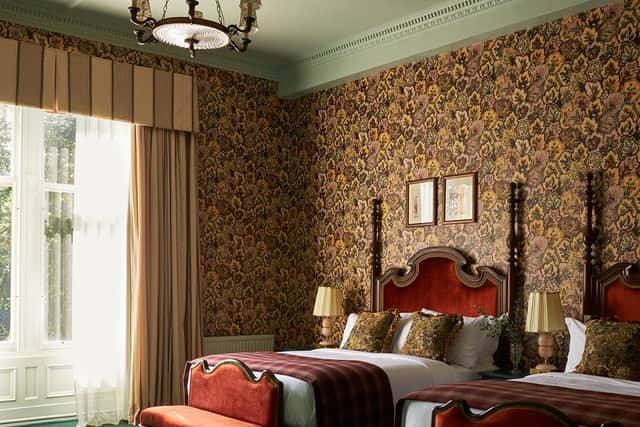 The Victorians probably had a smashing time, when the property opened as a hydropathic institute, offering water treatments. Indeed, I can imagine them, in their stripy woollen swimming costumes, soaking themselves in wet sheets (one of the 'cures').
It soon transformed into a hotel, and has been ever since, with a long spell as a Macdonald Hotels property. The Nashville-based company AJ Capital took it over in 2021, and it's now one of their five-star Marine & Lawn golf hotel properties, which include Marine Troon and Dornoch Station.
Boutique. Starting rates are £189 per room per night including full Scottish breakfast.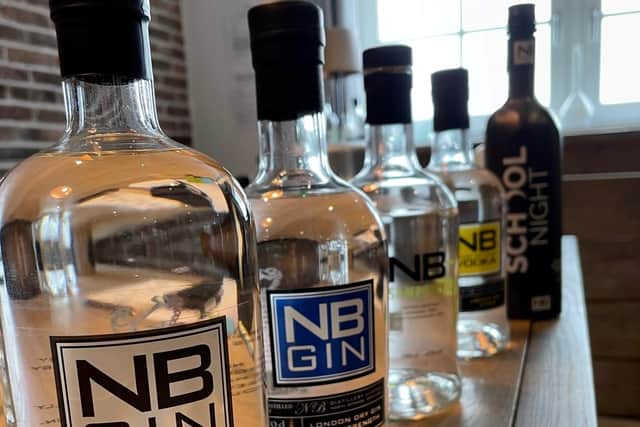 The Victorians weren't shy when it comes to room proportions. We're rattling around our high-ceiling-ed corner Seaview Suite, with a corridor that, at one end, has a massive bathroom, which features walk-in-shower and tub. There's also a large bedroom and a living space that has a desk, complete with monogrammed writing paper, sitting area and telly, and dining table with four chairs. We have a bay window view out to the front and can glimpse the sea out of one pane. Expect tartan, dramatic dark wood pieces of furniture, including what appears to be a throne, tapestry cushions and prints of ships and golfers.
We're not wining tonight, since we're doing a boozy 90-minute tour at NB Distillery, which is a five minute cab ride away. This is part of the hotel's Ginspiration package (from £290pp, including accommodation) and is available from Tuesday to Saturday from 5pm. You're welcomed with a perfect serve of their NB London Dry Gin, tonic, a basil leaf and slice of grapefruit. There's some relaxed chat about the background of this business, which was founded by locals Steve and Viv Muir in 2013, and a tour of their new products, which include the low-alcohol School Night. Then you get to meet the stills, one of which is named Gloria, before there's a quiz, with prizes. The tasting is next, and we sample four. I love the heady NB Navy Strength Gin, but my other half is sold on the NB Samphire Gin. I get why the tour was awarded five-stars from Visit Scotland.
When we return to the hotel, there's a cocktail, Gloria's Ginspiration, in the Bass Rock Bar, as part of the package. I'm very glad it's not a school night. Then we head for dinner (not included) in restaurant The Lawn, where the executive head chef is David Haetzman who presides over a menu that included North Sea halibut, wilted gem, baby onions, pickled samphire and shellfish cream.
Breakfast is also served in this room, and includes a Continental choice, with cheeses, fruit, cereal and pastries, or a menu of hot options, including a bacon muffin.
Worth getting out of bed for
There's golf, of course, and the beach is a putt away. For water cures, there's the downstairs spa, which has an outdoor Jacuzzi, pool, fitness suite, steam room, sauna and tropical showers. They also offer Caudalie treatments. North Berwick has plenty of eating out choices. Bostock is a must-visit for their eponymous cake, and there's Steampunk coffee, or Drift, along at Canty Bay. The Lobster Shack will be reopening in April. You could also visit the Scottish Seabird Centre, or take a boat trip out to Bass Rock.
If you're doing the Ginspiration tour, there will be miniatures and tonics waiting for you in your room. Toiletries are by Floris and there are plenty of tea bags, including chamomile for hangovers, Edinburgh Shortbread House wares and a Nespresso machine.
Beautiful room. Stunning views. Fabulous location.