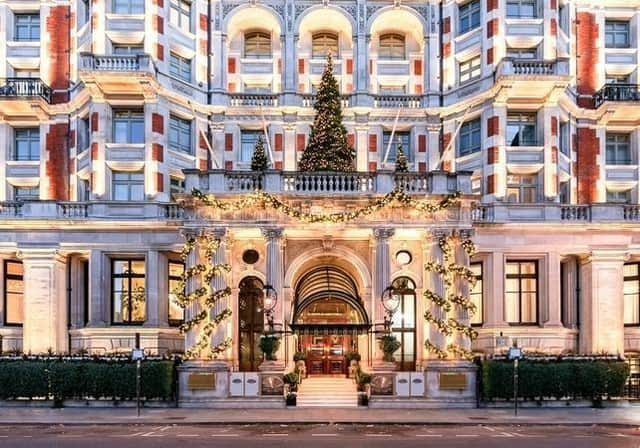 A select few are institutions, venues families have visited for generations, destinations so unbelievably glamorous that staying in them is more notable than the location. The Mandarin Oriental, overlooking London's Hyde Park, is one of those hotels.
With stunning views, a location within sight of a tube stop and luxury shopping options on its doorstep, the Hyde Park location is a travellers dream, albeit a traveller who wants high level luxury and the ability to visit shops where clothes cost more than most people's mortgages.Stepping through its doors, opened for you by polite men who withstand the cold in ways beyond mere mortals, you are met by dazzling marble, smiles everywhere, and a staff who make it their absolute mission to give you a good time.
Boutique in every sense of the world, delivering an experience that feels less like a stay and more of a life event.
The rooms are vast, tasteful, and bathed in natural light from its large open windows. From these, we enjoyed views of people riding horses in the morning from the road to the lush park beyond, because this is London without always feeling like it.
Each of the hotel's rooms and suites was redesigned in the most-extensive multi-million-pound restoration in the hotel's history, by internationally-renowned designer Joyce Wang.
We stayed in the Hyde Park Suite, which looks over Hyde Park, and a room grander than the entirety of Hogwarts. It comes with the things you'd expect like nice sofas, a work space, and multiple televisions, but was also so much more than that.
Now I know the bathroom isn't traditionally the most exciting part of a hotel stay, but this isn't a normal visit. Ours had not just a heated floor, but also, somehow, a heated toilet seat that glows in the dark, no really, saving any need for lights during a late night visit after too many cocktails. The marble bathrooms also feature a shower with sublime water presser, a spacious bath, and most importantly, a rubber duck to join you.
The king sized bed was profoundly comfortable, had chargers on both sides, constantly updated bottles of water, and a ring light by the mirror for influencers or those trying to feel good about themselves.There are also bluetooth speakers, controls for the temperature in every room and a phone with a butler button on it, just in case you forgot how fancy and surreal the hotel is.
Breakfast is served with stunning views of Hyde Park and the even more appealing sight of a pastry buffet. Along with your usual staples it includes fruit so good it tastes like it comes from abroad. You can also order, and I enjoyed a vegan fry up which even writing about is making me hungry.Guests can also enjoy the two-Michelin starred Dinner by Heston Blumenthal, afternoon tea in The Rosebery or cocktails in the Mandarin Bar.We went to The Aubrey, an "eccentric Japanese izakay experience", which does admittedly have decor like stepping back in time. I had several delicious cocktails, thought up by Bar Director Pietro Rizzo, and a sushi-themed brunch with genuinely the best sashimi I fear I'll ever eat. Live DJs perform late into the night on Thursday, Friday and Saturday and at weekend brunch service.
Worth getting out of bed for
Knightsbridge is on your doorstep, with Harrods and Harvey Nichols also just a stone's throw away. Hyde Park is also walkable, perfect for a walk by the Serpentine or a visit to an art gallery.
Check out is noon, so no rush to leave.
There is a gorgeous swimming pool with a waterfall at the end of it, and a gym with a better coffee machine than most coffee shops.
I feel so lucky to have experienced this.
Rooms available from £750, and Suites from £2000.