Rest and relaxation in the Turkish sun at Cook's Club Adakoy, Scotland on Sunday Travel
Finishing my book on a sun lounger while the sea lapped against the shore, I realised just how much I had needed this.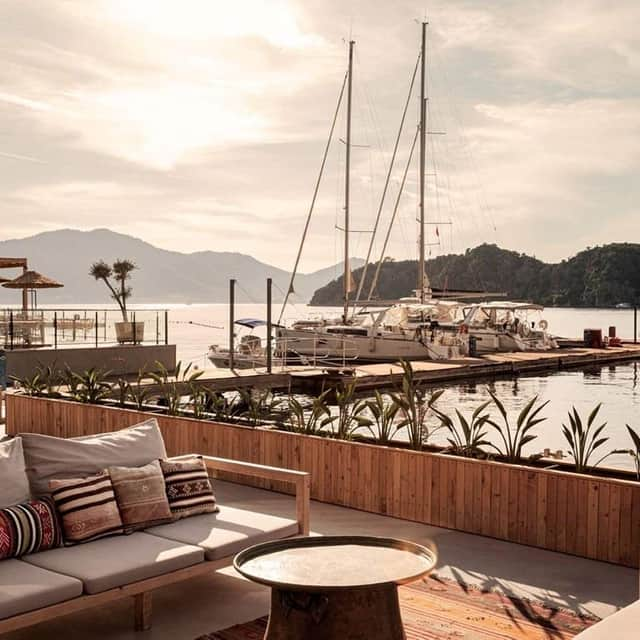 The Cook's Club Adakoy hotel at Marmaris, Turkey enjoys sea views. Pic: Contributed
I've always avoided all-inclusive holidays, thinking they were limiting, repetitive, and forced you to hang out with other British people but after a few gorgeous days in Cook's Club Adakoy, Marmaris, I see the appeal. I spent gorgeous days swimming, drying off with a drink, dressing up for an activity, then repeating the restorative cycle again.
Flying direct from Gatwick to Dalaman, upon landing it's then about a 90-minute drive to the resort, on a picturesque route that winds itself through forests and along the coast. Located on the beachfront and within the Marmaris National Forest, it was hard to feel anything but excitement that this was a real place I could visit.
Heading through reception, I walk past the on-site convenience store, gelateria, and through a boardwalk by the sea so picturesque I feel bad I cannot take pictures that do it justice. The view is punctuated by luscious green islands, swimmers and an array of yachts to the side all with inexplicably British and female names.
The hotel is adorned with palm trees and lush vegetation. Pic: Contributed
There's also an on-site spa, and for early risers, there's yoga by the sea, while the hotel itself has three private beaches, a pool, jacuzzi, gym, beach volleyball, cocktail classes, a tennis court, and co-working space.
Walking to my room past happy loungers enjoying drinks by the clear water, the first thing that strikes me is the sheer volume of pillows on the bed, a comfort so spectacular that upon diving on it I worry over how easy it would be to never leave.
Stepping onto my balcony, I'm struck by the warm thickness of the air, but also the pool and crisp blue sea before me drenched in a sunshine normally reserved for Instagram filters. Before me it's all sun loungers, palm trees and ivy growing up the buildings, making me feel like I'm in an episode of Succession, minus the wealth and self-loathing. My spacious abode also includes air conditioning, thankfully, as well as an ensuite with a walk-in shower. I know water pressure isn't a reason to go on holiday, but when you rent or are used to Airbnbs actual luxury remains a profound delight.
Freshening up, we go for Raki tasting in the evening sun, with a host talking us through the history of Turkey's national drink. Originating during the Ottoman Empire, it's made from twice-distilled grapes and also known as "lion's milk", which makes sense as only a few of us are brave enough to drink more than one.
The rooms are spacious with a walk-in shower. Pic: Contributed
More exciting was a cocktail class the next day (about £30 a guest), where we made four cocktails in an hour with mixed success, followed by dinner by the water, picking from the diverse range of options at the cantina restaurant. With seven stations, there's pizza, falafel, seafood linguine, paella, or even sushi options, as well as an array of salads for the side. There are also more local treats such as Pide, a filled flatbread, Su boregi, a pastry filled with cheese, and of course kofte.
There's also an array of pre-prepared desserts, including a chocolate slice so good I had seconds, which is one of the many joys of an all-inclusive holiday.
You can order as many things as you like, prompting me to go down in a heavy blaze of glory by enjoying three meals on my final night. Eating by the shore is utterly idyllic, and for me the only accompaniment required is the light sound of the waves rather than the on-site DJ.
We also eat at Ali Usta, a seafront restaurant in Marmaris Marina where the owner comes round with an amount of small plates only outnumbered by the volume of different wines. I enjoy fried squid, kisir salad which is bulgur wheat, tomatoes, garlic, parsley and mint, and grilled octopus, all of which draws the attention of adorable and hungry street cats. The highlight is a meze called atom, made up of strained yogurt, dried cayenne peppers, garlic and butter and even better than that sounds.
Marmaris Castle, built in the 17th century to blend in with the city walls which were constructed in 3,000 BC. Pic: Contributed
We had got to the restaurant on a sunset boat trip, which was by far the highlight of the entire holiday. Drinking white wine and snacking on strawberries like Roman gods, we watched the sun fall behind one of the giant hills surrounding the water, filling the sky with a deep orange.
Earlier in the visit we had visited the same area on a water taxi (around £3.90 each way) to explore the local markets, which are full of football shirt replicas, and the more exciting Marmaris Castle. The first city walls in Marmaris were constructed in 3,000 BC, and the castle was built in the 17th century to fit the style. While only small, it's a chance to consume some culture on a trip otherwise focused on drinking and relaxing.
There are activities if you're brave enough to venture out in the 30C heat, or need respite from the lounging. I particularly enjoyed canoeing straight from the hotel to an island opposite then getting out for a swim, before rowing all the way around it. We also hiked around Marmaris national park, which across its 721,590 acres has incredible sea views as well as deep caves to explore. If that's not enough, gorgeous Rhodes is a 50-minute ferry from Marmaris, meaning you can enjoy a day trip or even island hop through the region.
I went to Cook's Club not sure if I'd like it or what to expect, and left wishing I could stay.
A day trip to Marmaris is a popular choic from Cook's Club hotel. Pic: Contributed
Prices at Cook's Club Adakoy, Marmaris, starting from £117 per night for two guests for the 'Feel Free' concept, including breakfast, lunch, dinner and drinks.
Yoga is a popular pastime for guests at Cook's Club, Marmaris. Pic: Contributed
Want to join the conversation? Please or to comment on this article.