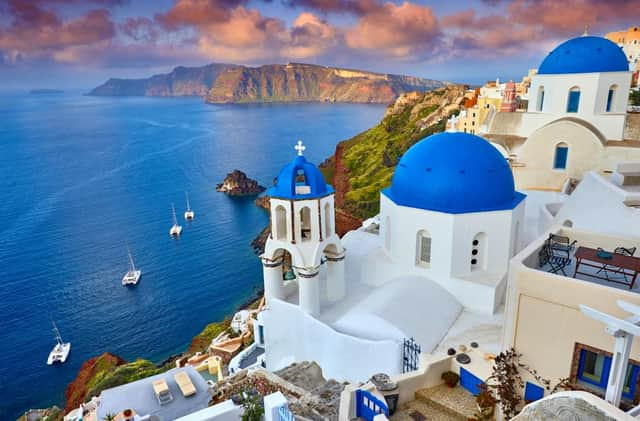 This is what you need to know about the latest travel advice for Greece (Photo: Shutterstock)
Greece is on Scotland's quarantine list, meaning travellers returning from Greece will have to self-isolate for two weeks.
This is everything you need to know.
When did Scotland add Greece to the quarantine list?
The Scottish government announced the removal of Greece from the safe list on 1 September.
The new rules officially came into force in Scotland at 4am on Thursday 3 September.
The Scottish government stated that this is "due to a significant rise in cases of coronavirus being imported into Scotland by people who have been in Greece".
The statement from the Scottish government said: "Evidence of virus importation, especially from the Greek islands, has led to the country being removed from the exemption list on public health grounds.
"It is believed prevalence of Covid-19 in Greece currently remains lower than 20 per 10,000, however, a number of cases of the virus in Scotland can be traced back to travel to Greece."
Justice Secretary Humza Yousaf said: "We continue to closely monitor the situation in all parts of the world and base the decision we make on the scientific evidence available."
Failure to comply with the requirement to quarantine could result in a fine up £480.
What Greek quarantine measures are in place in the rest of the UK?
Following in the steps of Scotland and Wales, England has also announced quarantine measures for those returning from seven islands in Greece.
The rules in England come into force at 4am on Wednesday 9 September and affects those returning from the following islands: Crete, Mykonos, Santorini, Serifos, Tinos and Zakynthos (also known as Zante).
In Wales, those returning from these six Greek islands have to isolate for two weeks: Crete, Mykonos, Zaknythos (or Zante), Lesvos, Paros and Antiparos.
These rules differ from Scotland where the quarantine applies to those returning from any part of Greece.
In Northern Ireland, there are no quarantine measures in place for those returning from Greece.
Am I still allowed to travel to Greece?
Yousaf said: "We are in the midst of a global pandemic and the situation in many countries can change suddenly.
"Therefore, people should think very hard before committing to non-essential travel abroad. With Scotland's relatively low infection rate, importation of new cases from Greece is a significant risk to public health."
Travellers from Scotland are still permitted to travel to Greece, but will have to self isolate for two weeks upon their return.
The FCO states: "The Foreign, Commonwealth & Development Office currently advises British nationals against all but essential international travel."
Greece's Tourism Minister Harry Theoharris said that the move was "a bit harsh".
Theoharris stated that, while every country has the right to protect its citizens, Greece was "well below" the 20 cases per 100,000 threshold that the UK nations use as a guide for imposing quarantine regulations on returning travellers.
He said: "We have put in place a comprehensive set of protocols and measures… We take target measures where we see concentration."
Theoharris added the Greece conducts the fifth most tests in Europe, saying that he feels that Greece has taken "every possible precaution".
What new measures will be in place for visitors?
The PLF form asks detailed questions like how you're travelling (via plane, ferry, train) and details about your transportation (flight number, seat number, date of entry), the duration of your stays in other countries, and the address you're staying at whilst in Greece.
Once you have completed the online form, you will receive a confirmation email that you've completed the form and, in a different email, a QR code.
When you get the QR code, you'll need to have it printed or be able to display it on your mobile phone. You'll need to show it to Greek authorities upon arrival. Some airlines might also ask to see it before they even let you board.
Some UK travellers have been caught out by these forms, either having not filled them in correctly, or not filling them in at all.
Tui, Britain's biggest travel company, said that there have been a "small number" of passengers not being allowed to travel to Greece after turning up at the airport – and the Greece embassy in London acknowledged that it was becoming aware of an increasing number of these incidents.
When arriving in the country, travellers may be directed to a screening area where they will be tested for coronavirus by a trained health team. They will then be directed to self-isolate at the address provided in their PLF form until the results from the test are available.
All passengers travelling to Greece must follow all hygiene protocols in place, like the use of masks and social distancing.
Following lockdown, tourism in Greece won't be back to the way things were before - everywhere from hotels, restaurants, cinemas, flights and more will have to operate under a reduced capacity to allow for social distancing.
For passengers and crews on aircrafts, the use of masks are mandatory. This is also the case on public transport. Tourists will be expected to wear masks in public places. Travellers coming via air will be subjected to spot tests by health officials.
Is Greece experiencing a second wave of cases?
Greece may have to reinstate certain lockdown measures as a spike of coronavirus cases has occurred after the country began welcoming back tourists.
A top infectious disease expert told The Guardian that Greece is "formally" in the midst of a second wave of the pandemic.
The Greek health minister Vasillis Kikilias announced on Monday that the "transmission of the virus is growing dangerously" and that containment measures could be implemented.
On 10 July, fears regarding a second wave began to grow, as the daily number of new cases peaked for the very first time since 21 April, with 60 new confirmed infections.
Greece restarted its tourism industry on 1 July, and since then, the country has seen over 100 new positive cases in the last 10 days from foreign tourists.
Stelios Petsas said, "We knew from the beginning that when we gradually opened the country's gates to the world, we would have imported incidents."
He added that the government is "determined to protect the majority from the frivolous few."
Greek authorities have said that they could impose stricter public and travel restrictions due to the fact that government safety advice is being frequently ignored.
While the government has not revealed which measures might be brought back, it could possibly include the likes of stricter border checks, travel restrictions from high risk countries and more frequent bar and restaurant inspections.
While holidays to Greece haven't been banned, UK holiday goers have been cancelling their holidays out of coronavirus fears.
Has Greece implemented new lockdown measures?
While the country has not reintroduced a general lockdown, a curfew was imposed as cases rose.
Bars and restaurants in popular tourist destinations in the country had to close between midnight and 7am.
Officials are blamed the increase in coronavirus cases on overcrowding in bars, clubs and at social events.
In reaction to this, the Greek government imposed a late-night curfew in popular holiday destinations, including Mykonos, Santorini, Corfu, Crete, Rhodes, Zakynthos and Kos.
The cities of Thessaloniki, Larissa, Volos and Katerini were affected, alongside the Halkidiki peninsula.
This curfew was initially place from Tuesday 11 August until Sunday 23 August, but it appears to be getting extended in some areas, and even introduced in new areas that had not previously been affected.