Future Flight: Cutting emissions is aviation's greatest ever challenge – Civil Aviation Authority chair Sir Stephen Hillier
The UK's airport and airline regulator said its focus on sustainability included greener aircraft and fuels, and streamlining flight paths
Reducing emissions from aviation poses its biggest ever challenge, the industry regulator's Scots-born chair has warned.
The Kilmarnock-born former head of the RAF told The Scotsman for our Future Flight series on aviation development: "Sustainability is the greatest challenge that aviation has ever had."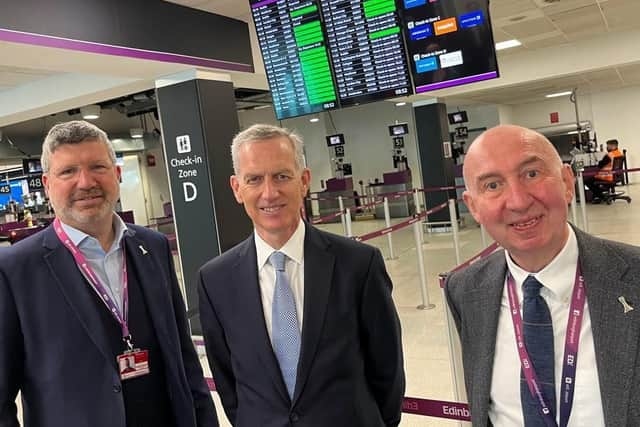 Heading a CAA visit to Scotland this week, he said: "That is a large part of our work and it will only grow. Everyone is talking about it. We are working on all the dimensions.
"We don't want the [aviation] sector to only do what they're told – that we come up with something and they just comply.
"They see this problem in very clear light, and airports and airlines are coming up with initiatives and asking us: How can you help us enable this?"
Sir Stephen admitted progress to date had not been particularly visible, such as airlines replacing older, less fuel-efficient aircraft during the Covid pandemic.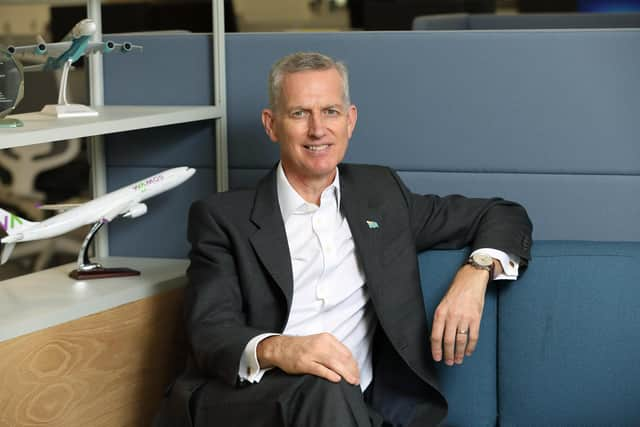 He said there was also a major focus on airspace modernisation to create more direct routes that cut fuel use.
Edinburgh Airport is in the vanguard of the changes being co-ordinated by the UK Government's Airspace Change Organising Group, with the airport's proposals due to be published late this year.
Sir Stephen acknowledged the proportion of greener "sustainable aviation fuel" (Saf) being used remained small, but he said it was increasing and there were "very clear ambitions" internationally for it to rise significantly. The UK's target is 10 per cent by 2030.
Sir Stephen said the CAA also wanted zero-emission propulsion, such as from hydrogen and batteries, to happen "as rapidly as possible" while ensuring safety.
Meantime, he said the regulator's visits to Edinburgh and Glasgow airports this week had also included discussions over the introduction of new technology to ease restrictions on liquids in passengers' hand luggage.
The UK Government has set a deadline for its implementation of June next year, which will also mean passengers no longer having to take containers and large electrical items like laptops out of their bags.
Sir Stephen said: "We are keen to ensure that happens as quickly as possible. It will make things so much easier for consumers in terms of their ease and speed of travel." He said Edinburgh Airport "seemed entirely confident in their implementation".
The airport said it would be introducing a system similar to that pioneered by London City Airport, which enables passengers to carry liquids in containers up to 2 litres compared to 100ml previously.
However, it said work was ongoing and an introduction date had yet to be announced, although it would not be this summer.
AGS Airports, which runs Glasgow and Aberdeen airports, said only that such technology would be introduced ahead of the deadline.
Sir Stephen also echoed the airports' – and airlines' – belief that there would be no repeat of last summer's disruption caused by post-Covid staff shortages. He said: "All the work we are doing at the moment says that those who are planning to travel by air can be confident".
The veteran airman said joining the CAA three years ago had brought him full circle after starting his aviation career as a teenager.
He said: "My father had been in the RAF and what I always wanted to do was be a pilot in the RAF. I joined a local air cadet squadron and my first flying experience was at RAF Lossiemouth [where he later became station commander]."
Sir Stephen's first solo flight in a powered aircraft was just after his 17th birthday, before he had learned to drive, which he described as "quite remarkable". He said he "looked back in wonder at the trust and responsibility" given to him at such a young age.
He said "The CAA private pilot's licence popped through the letterbox and I thought 'wow' – the first authority I'd been given."
Sir Stephen said his father, a ground-based wireless operator who served in the Second World War, had died two years before his son gained his wings. He said: "He would probably have been as surprised as I would have been if you told me when I joined the air force that I'd end up as Chief of the Air Staff.
"So when I left the air force and somebody said you might be interested that the CAA is looking for a new chair, it was almost like completing a full circle of life journey.
"This is an organisation that started my career in aviation and now I'm able to give back to it.
"Family connections were really important – my father offered me that encouragement. Somebody gave me those opportunities and I want to do the same for young people whenever I can."
Meantime, join interim CAA chief executive Paul Smith praised Edinburgh and Glasgow's airports' performance in handling passengers with reduced mobility, such as those in wheelchairs.
Mr Smith said: "Scottish airports were at the better end last year and that has continued into this year. In broad terms, they did relatively well in accessibility."
Comments
 0 comments
Want to join the conversation? Please or to comment on this article.