From wind to wheel: powering Scotland's Net Zero agenda
To reach Net Zero Society by 2045, Scotland will need partners that not only provide clean solutions in energy and mobility, but importantly, who can connect it all together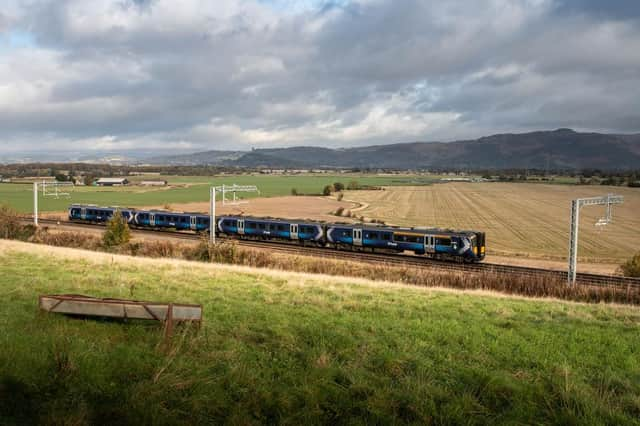 Looking back at COP26, one of the big takeaways was greater collaboration between business and Government to create the solutions to environmental and economic challenges we face. Nowhere is this truer than in Scotland.
With one of the world's most ambitious climate change targets – Net Zero society by 2045 - Scotland must transform itself in just 23 years. Central to this plan is greater renewable generation and decarbonising road and rail.
To achieve systemic change, Scotland will need partners that think at system level and can call upon cross-sector expertise. As principal partner at COP26, not only does Hitachi have both the clean tech to decarbonise, and the solutions to bring it all together. We can cover every part of the journey - from wind to wheel.
Electrification will be the backbone of the energy transition. Three building blocks are stacking up to deliver this carbon-neutral electric future:
- connecting larger volumes of wind, solar and hydro to the grids,
- electrifying transportation, building and industrial sectors; and, where direct electrification is either not efficient or impossible,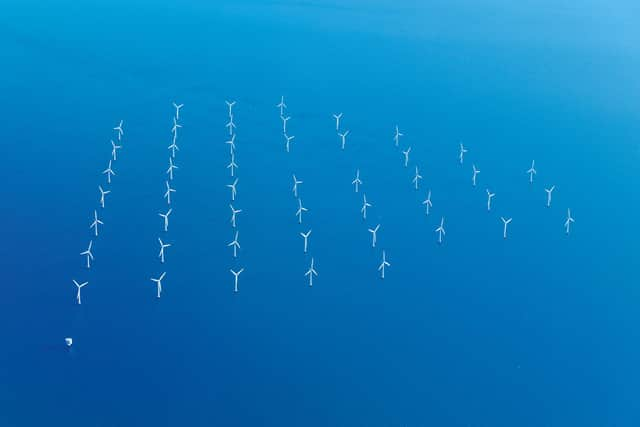 - introducing complementary and sustainable energy carriers.
Fully harnessing and integrating the offshore wind generation potential of the North Sea will be fundamental in Scotland's energy transition, as the recently announced ScotWind leasing round demonstrates. A key enabler of wind power generation is HVDC (high voltage direct current). Originally pioneered by Hitachi Energy, HDVC enables electricity to be transported over long distances, connected to the grid, and transported into people's homes.
HVDC is already playing an important role in accelerating the energy transition and ensuring the resilience and security of the energy system in Scotland. For example, the Caithness-Moray HVDC Link was designed and constructed to accommodate an additional connection with the Shetland Islands. With this project SSEN Transmission, in partnership with Hitachi Energy, undertook a major strengthening of its power network, serving the north of Scotland. The link plays a significant role by enabling efficient transmission and integration of more renewable power into the Scottish grid. A third link, called the Shetland Link, is now also under delivery by Hitachi Energy for SSEN Transmission.
Connecting electricity generated from renewable sources to homes and business is the cornerstone of enabling Scotland to meet its climate change targets. However, in a more decentralised grid, with multiple points, of energy generation, digital technology will be the glue that brings it all together. The modernisation and digitisation of grid infrastructure will therefore be crucial. Hitachi Energy is working on various projects in Scotland trialling technologies which will ultimately enable the integration of renewable clean electricity into the grid, as well as replacing equipment with more environmentally friendly alternatives.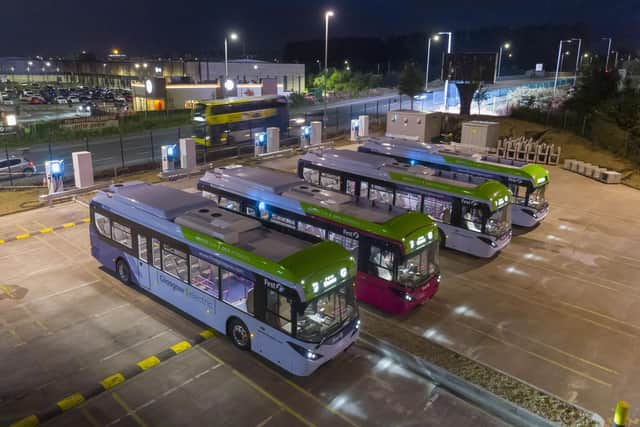 The electrification of transport is another critical pillar in Scotland's ability to reach its net zero targets. Fortunately, Hitachi is already decarbonising Scotland's transport.
We are a partner in First Bus' flagship Caledonia bus depot in Glasgow. The partnership will deliver an 'as-a-service' offering including bus batteries for First Glasgow's electric vehicle (EV) fleet. This 'as-a-service' includes smart charging software to manage EV charging, and a decarbonisation programme that will explore low carbon energy opportunities. The end goal is First Bus eventually generating and using its own electricity. This pioneering bus depot is a vital first step in a model that could be rolled out across Scotland, and beyond.
Hitachi's expertise in resilience and connecting renewable generation can also play a vital role in driving down carbon emissions in rail. Despite rail being already the greenest form of motorised transport, it is also one of National Grid's largest single customer. Therefore, rail must both reduce its energy demand and emissions.
One way Hitachi is doing this is through our 100% electric commuter train on Scotland's Central Belt. This ScotRail fleet is already cutting tailpipe CO2 emissions by over 10,000 tonnes per year. This is the equivalent of taking over 2,200 cars off the road every year. Meanwhile, new Hitachi trains on LUMO's daily Edinburgh to London services are six times greener than taking the same journey on a plane.
But we want to go further. Hitachi has ambitions to expand 100% electric trains to the non-electrified parts of the Scottish network. We can do this with our world leading battery trains. This technology unlocks the benefits of new trains – modern interiors, record reliability, and faster journeys – but for passengers where electrification has not taken place.
The plentiful access to existing high voltage electricity infrastructure, combined with Hitachi's world leading fast charging technology, means battery trains can be deployed across the Scottish network. Battery trains can easily top up their charge at few strategic stations along the journey or recharging on the move under overhead wires. This ensures seamless integration with electricity infrastructure, which crucially offers another major passenger benefit – removing the need to change trains.
The introduction of battery technology can also negate the need to build new electrification infrastructure, easing pressure on future energy demand and reducing Government spending.
Travelling on one of Hitachi's 155 trains in Scotland or First Group buses in Glasgow is already proving the benefits of green mobility. Therefore, buses and trains must be at the heart of Scotland's efforts towards Net Zero 2045.
This ability to connect wind to wheel demonstrates that Hitachi has the skills and expertise to make it an ideal partner to decarbonise at a system level. Similarly, Scotland has clearly set out its ambition to be a global leader in Net Zero. This ambition should be applauded, and not underestimated. We want to work with Scotland to turn this ambition into a reality.