Artists – from painters to weavers, to jewellers and furniture makers – to small-batch food producers, distillers and brewers continue to create unique and heartfelt expressions of island life that reflect beautifully the very being of Orkney.
From the hand cut straw woven backs of the famous Orkney chairs, to the silver jewellery inspired by the ever-changing palette of the sea and the sky to the beach botanicals and sweet Orcadian water that flows through the islands whisky, gin and beer, you'll get a true sense of Orkney as you venture into this creative wonderland.
You simply won't find these things, or the people who care so deeply about making them, anywhere else.
A trip to The Pier Arts Centre in Stromness is a good place to start your creative venture and sets the tone of Orkney's scope and ambition when it comes to expressing itself.
This beautifully renovated historic building sits on the Stromness waterfront flooded with light. It brings together the past and the present, with an eye on the future, through its nationally regarded collection of British fine art.
Stromness, which was home to Orcadian George Mackay Brown, the famous poet, author and dramatist; has a unique collection of shops and galleries, such as The Waterfront Gallery, Artworks of the Earth and The Quernstone all showcasing wonderful island artistry.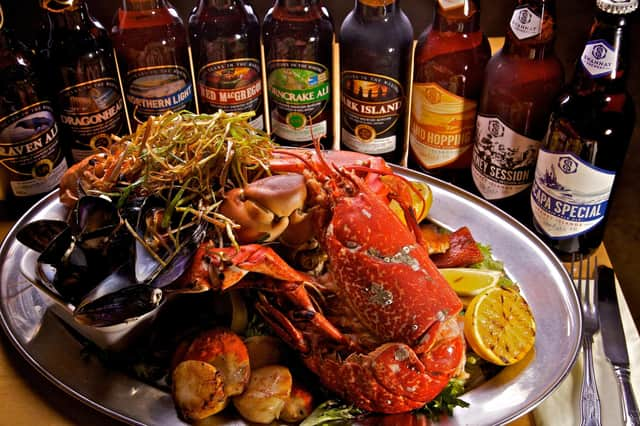 But, venture further beyond the town and into the outlying areas of the mainland to see how island artists truly live and work.
At Birsay, a fascinating area where Vikings, earls and Picts made their power bases, you'll find Orkneyinga Silversmiths' Kevin and Liz Allen, who take inspiration from the landscape, archaeology and wildlife surrounding their hilltop workshop.
It is also at Birsay that makers of a different kind can be found at Barony Mill, where the ancient grains of bere barley, which are being grown on Orkney once again, are being milled into meal and used for breads and whisky making. They have been working in much the same way here since 1873 with the mill, the only one left on the island powered by a water wheel, offering an authentic taste of Orkney. The Mill is currently closed to visitors and due to reopen in May 2021, but is still supplying many producers and outlets with beremeal.
Grain is also the name of the game at Orkney Brewery at Quoyloo, the home of favourites such as Dark Island and Skullsplitter. Although the tasting hall and brewhouse will remain closed to the public during 2020 due to the pandemic, you can still enjoy the beer in pubs and hotels throughout Orkney.
Distilling on the island is buoyant right now, with The Deerness Distillery, The Orkney Gin Company and Orkney Distilling Ltd all producing the finest handcrafted gins. On Lambholm, you can pick up a bottle of J. Gow Rum, which is named after island pirate John Gow. A nip of this and you'll be warmed against the high seas that batter the island shores, and it seems like a perfect drink to channel Orkney's tremendous seafaring history.
Kirkwall boasts a town centre brimming with nearly 300 businesses, some centuries old and some brand new, offering a first class shopping experience. Orkney Cheddar is located a short distance from the town centre and produces a bite so revered that it has protected EU status.
For this and other Orkney treats and delicacies, a trip to the wonderful Kirkness and Gorie deli in Kirkwall is a must. Founded in 1859 this friendly place pulls together the best local produce – and much more – which is served with trademark expertise and good humour.
Kirkwall is full of surprises and you'll find shops full of curios and gifts of the kind you have never seen before, including a range of wonderful cafes, bars and restaurants, top jewellery producers, art galleries and the famous Orkney chairs made by Orkney Handcrafted Furniture and Scapa Crafts. Here you will find Orkney itself woven by hand into every piece.