Edinburgh Airport check-in staff assaulted and abused by 'thuggish' passengers – GMB union
Threat of industrial action ballot unless safety improvements by airline handling agents Swissport
A check-in worker at Scotland's busiest airport had her face pulled onto her desk and a bag thrown at her head amidst a rising tide of violence and abuse of staff by angry passengers, a union has claimed.
The GMB has demanded action to better protect staff employed by handling agents Swissport at Edinburgh Airport because it said the problem had got "significantly worse" since last summer's travel disruption caused by post-pandemic staff shortages across the aviation industry.
It has threatened to hold ballots for industrial action at both the airport and Glasgow Airport, where it said Swissport staff were suffering similar abuse.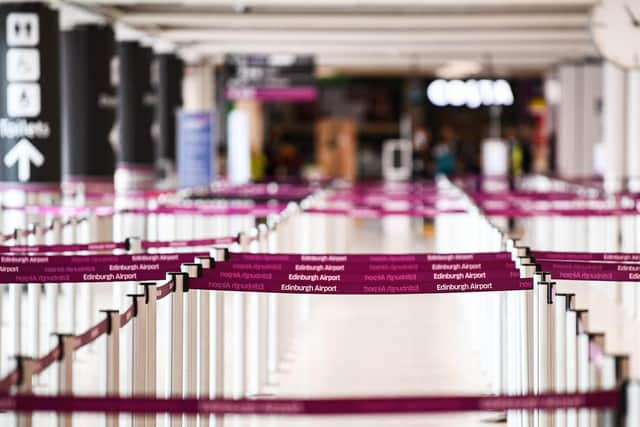 The worker said in one of the many abuse incidents she had suffered, "someone grabbed my lanyard and pulled my face onto my desk. It's horrendous and feels like it's getting worse and worse."
The union said airlines were now more rigorously applying baggage size and weight restrictions, which "seems to be tipping more passengers over the edge".
Swissport, which represents airlines at Edinburgh such as Jet2, Ryanair, Tui and Wizz Air, said it would "not hesitate to take a zero tolerance approach" to anyone who was abusive, violent or threatening towards its staff.
The GMB said more than 60 per cent of the 70 Swissport check-in staff it had surveyed at the airport had suffered violence or verbal abuse from "thuggish" passengers while checking in or boarding aircraft.
They include being grabbed, spat on and shouted at, with 71 per cent of staff polled feeling stressed, mainly because of abuse by passengers. A total of 70 per cent said the situation was getting worse.
The union said it had lodged a collective grievance with Swissport which urged the company to take "effective action" against aggressive passengers.
GMB Scotland organiser Robert Deavy said: "The responsibility for this horrific behaviour is the passengers but it is the responsibility of managers to stop it.
"We have repeatedly raised concern about the behaviour of some passengers but nothing has been done. We would urge Swissport to engage constructively with our members and take steps to protect them. If not, we will ballot them on possible industrial action."
The union has been backed by a cross-party group of seven MSPs and MPs including Scottish Liberal Democrat leader Alex Cole-Hamilton.
In a letter to Swissport and Edinburgh and Glasgow airport chiefs, they said: "Staff are being expected to ruthlessly implement a policy to place additional charges on passengers with baggage too big or too heavy for the cabin.
"They are often given targets on the number of charges they must make per flight. As a result, GMB Scotland's members on the front line of airport services – not management – are on the receiving end of anger and abuse from passengers.
"Some staff say they fear being reprimanded by management for calling out abusive passengers and having them removed from flights due to the impact this will have on plane departure times.
"No one should be punished for ensuring their own personal safety at work and the safety of others on a flight."
A spokesperson for Swissport said: "Our people have the right to work in a safe environment and, whilst we are committed to helping passengers, Swissport will not hesitate to take a zero-tolerance approach to anyone who subjects them to abusive, violent or threatening behaviour.
"We will continue to work with our union partners to address concerns around this issue."
The firm said it was required to adhere to its airlines' policies over baggage that did not meet relevant size and/or weight requirements, including charging any associated fees.
A spokesperson for Edinburgh Airport said: "We have a zero tolerance approach to abuse of any nature towards staff.
"No-one should come to work and be abused, and we work closely with campus partners including Police Scotland, airlines, retailers and handling agents to ensure all staff are aware of the support available and anyone behaving in such a way is dealt with appropriately."
Comments
Want to join the conversation? Please or to comment on this article.