Discover the Falkland Islands, South Georgia and the Antarctic Peninsula
An expedition cruise in the Antarctic summer. Words and Pictures by Lisa Young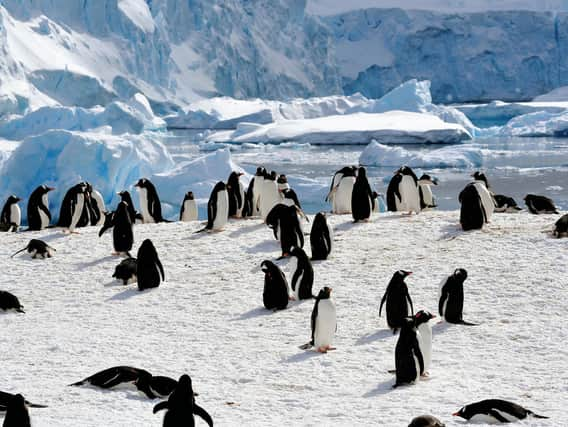 From the ship's deck, I watched vessels returning from their last tour of duty in the unpredictable waters surrounding Antarctica. A group of 69, we were less than most expedition cruise ships with the advantages of faster disembarkation, maximum shore time and quicker lines at the buffet!
We were under way for an 18-day voyage to the Falkland Islands, South Georgia and the Antarctic Peninsula.
Sailing along the calm Beagle Channel to open water, we practised lifeboat drills and met crew on a chilly October evening. Summer in Antarctica, with temperatures between zero and five degrees and 24-hour daylight sees animals return from feeding further north and it's optimum wildlife spotting time.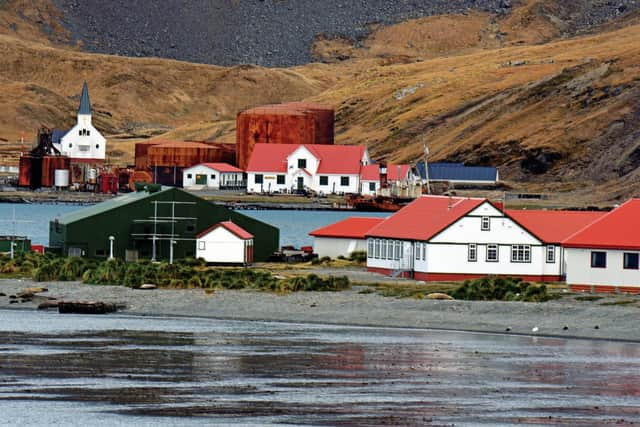 Before my departure I'd spent a few days exploring Buenos Aires, staying at the CasaSur Palermo and Legado Mitico hotels, before flying south to Ushuaia, where I stayed at the Arakur Hotel, overlooking the town.
After two days at sea we boarded Zodiacs – rigid inflatables holding around 10 passengers – and landed at West Point Island, off the West Falkland archipelago, watching a colony of huge black-browed albatrosses socialise with rock hopper penguins and imperial cormorants.
The scenery is fabulous, and there's a tremendous amount of wildlife, with whales, seals, penguins, albatrosses, vultures even, and other birds galore.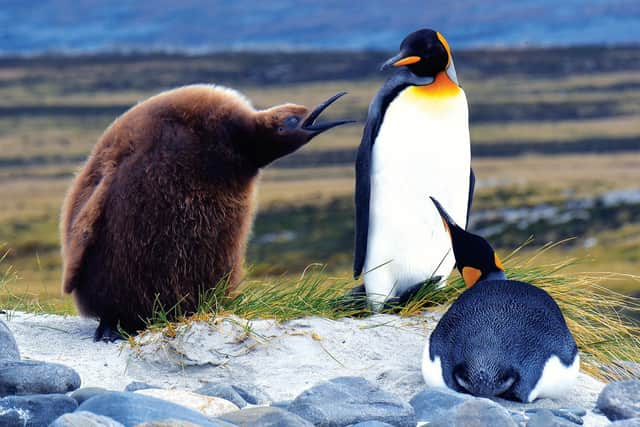 Next stop was Stanley, the Falklands' capital, where we wandered the streets, checking out the pub, the Historical Dockyard Museum, battlefields and the iconic whalebone arch.
At Bluff Cove sheep farm owners Hattie and Kevin Kilmartin took me by Land Rover through deep mud and over boulders to their remote private beach where around 15 adult king penguins and eight fluffy chicks, mixed with gentoo and Magellanic penguins, king chicks waddling about in brown down coats, squawking constantly for food.
Hattie also serves tea and cakes to humans visitors at her Sea Cabbage Café there.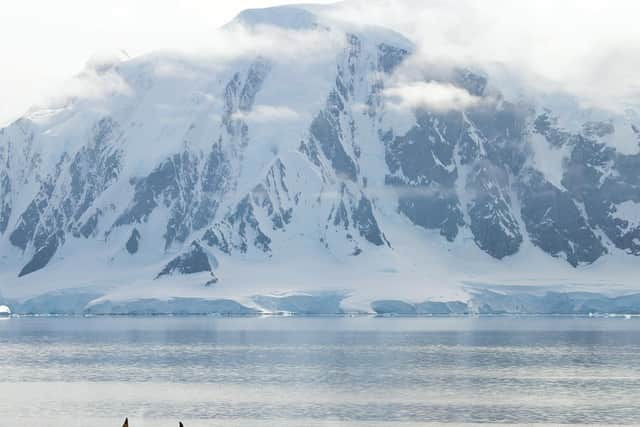 Onwards we sailed two days south-west to South Georgia where most mornings we gathered in the Mud Room (where wet-weather gear for excursions was kept – worth taking your own wellies) then spent a few hours exploring the shore or cruising around glaciers, before lunch back at the ship, and more exploration in the afternoon.
In South Georgia we spent three days exploring bays for wildlife, bad weather bringing often beneficial itinerary changes, and encountered thousands of penguins and seals, many amongst the rusting relics of the whaling industry.
At Grytviken, the largest of the old South Georgia whaling stations, we visited the grave of explorer Ernest Shackleton, buried here in 1922. We hiked three kilometres along a marshy river bed to a waterfall Shackleton had descended on his arduous and successful footslog to seek help for 22 of his crew stranded for a year on Elephant Island when their ship broke up.
At Gold Harbour, a highlight of the trip was a cacophony of deeply scarred, belching elephant seals roaring out visible hot air clouds. Throwing their massive bodies about and clashing, fleshy pink mouths wide open, biting and stabbing with their huge tusks, we had to jump clear to avoid being flattened.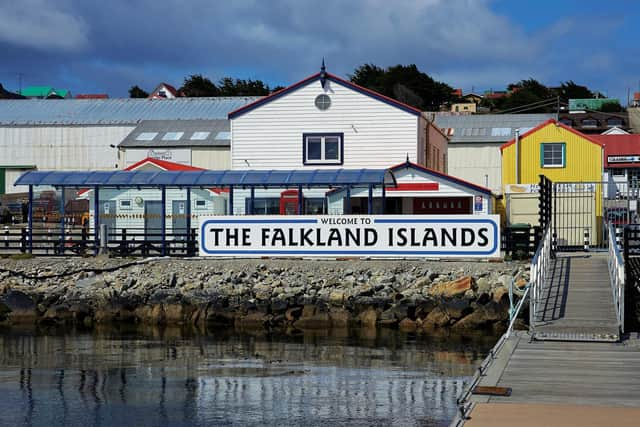 Further south wind and rough seas confined us to living quarters. Apart from socialising, we had presentations from documentary filmmakers, writers, artists, geologists, and historians about the places we were visiting.
It can't be easy to cook and serve in this weather, but staff balanced trays and plates while being thrown around, never dropping a thing. We ate in the dining room, except for a deck barbecue in Antarctica. Breakfast and lunch were hot and cold buffets, with vegetarian option, while our à la carte evening meals were served by our impressive Russian dining staff.
Whale sightings were announced and we ran outside on to the freezing deck, by which time they had gone, and we retreated into the warm ship. Minutes later another sighting and we'd rush out again. This became comical after a while and some gave up, but those who persevered were treated to aquabatic displays of whales breeching.
In the waters of the Antarctic Peninsula a choppy sea calmed as we entered the Gerlache Strait and we woke to a bay filled with towering icebergs, jagged snow-capped mountains and hanging glaciers. Landing at Portal Point, we grabbed walking poles and hiked through deep snow, avoiding hidden gaps in the ice.
Later, at Wilhelmina Bay we dodged massive bergs while penguins, ungainly on land, "porpoised" through the water. I spotted the backs of three sleek-bodied whales, swimming as a unit, rounded heads and beaked faces, suggesting a rare sighting of Arnoux's Beaked Whale, confirmed in the library by comparing my photos with books.
It was minus eight on our last day as Half Moon Bay, with icebergs like fortresses, shimmered in the sunlight, as if studded with diamonds of light from the sea.
Observing the penguins on shore was a joy: constantly stealing stones from each other for nests, bustling up hills on little legs, using claws as crampons and tails for balance, before belly-surfing down again. Without brakes, they often bowl into other penguins, knocking them down like skittles.
Our return voyage took us across the Drake Passage, back to Ushuaia, which despite its reputation for big storms, was tranquil – Drake Lake conditions as seafarers have it.
Approaching the tip of South America as the sun shone and Cape Horn appeared, it felt more like a Caribbean cruise than an Antarctic expedition. Was this confirmation of global warming?
Whether once-in-a-lifetimers or serial Antarctic travellers, each of us took away a unique memory of an adventure into our planet's most remote and pristine location.
Don't be overawed by Antarctica, South Georgia and the Falklands – go there. It's ten-fold more beautiful and spectacular than images in books or on TV and the animal encounters will stay with you for life. It's inspiring and huge, and every day it throws up something unexpected.
Audley Travel: www.audleytravel.com/Antarctica
Package Price: Audley Travel offers tailor-made trips to Antarctica. A 24-day trip from £14,752 per person (based on two sharing) and includes 18 nights on a full board basis and three nights in hotels (one in Ushuaia and two in Buenos Aires). Price also includes scheduled international and domestic flights, in-destination transfers and all excursions (except for sea kayaking which has an additional charge). For more information or to book visit audleytravel.com/Antarctica or call 01993 838615.
Falkland Islands: www.falklandislands.com
South Georgia: www.gov.gs
Ushuaia Arakur Hotel: www.arakur.com
www.casasurhotel.com/palermo/eng/