Affordable, undiscovered and wonderfully rustic – this Italian escape is everything you need - Scotland on Sunday Travel
Spend a weekend in Umbria and discover a rural wonderland you won't want to leave.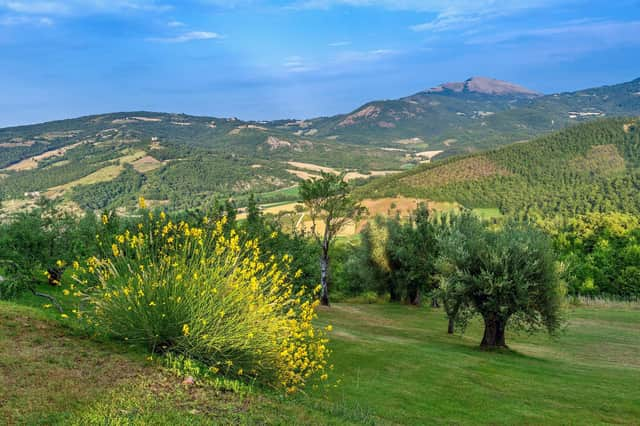 I am standing in the middle of a rustic, old, Italian kitchen, feeling like a total failure. Mara – a nonna who is teaching me how to cook Italian food – is shaking her head and wafting my disc of freshly-made pasta at me, tutting and muttering. She doesn't speak a word of English, but Beatrice, who is translating, reveals I've used too much flour. My pasta is too hard and no longer any use for ravioli – it is only good enough for tagliatelle. The shame is real.
Thankfully, slurping some delicious red wine and licking the spoon from the-best-tiramisu-I-have-ever-tasted-in-my-life soon takes the edge off.
Mara and her co-chefs, Edoardo and Emma, arrive in our three-bedroom cottage in Borgo Bastia Creti, a small, 14th-century resort in Umbria – right in the middle of Italy and close to the Tuscan border.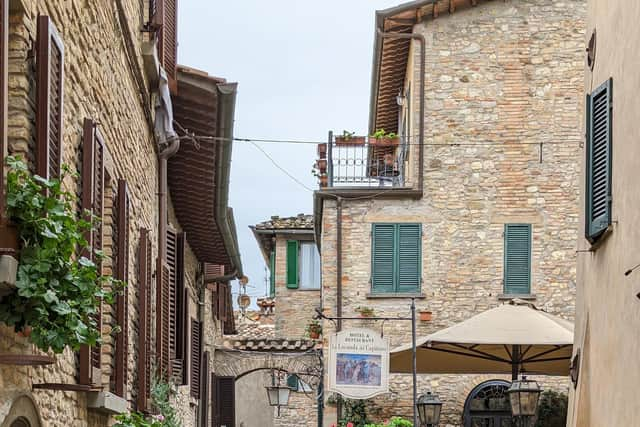 I listen to the crackle of logs sparking in the ginormous fireplace, as Italian chatter gathers speed and volume in the kitchen. Together, we make ricotta and spinach ravioli in a sage, butter and olive oil sauce, tagliatelle in a buttery tomato sauce ("the butter makes it better," Emma says), and proper Italian tiramisu, made with six simple ingredients, no cream, and all about the eggs and lots of whisking – an ingredient often missed out of recipes entirely at home.
After a couple of hours of hard work (making pasta is much more difficult than I thought it would be), we sit down to our feast, supplemented with wine and an additional starter of antipasto, because two courses of pasta and a large, rich dessert apparently isn't enough. Well, we are in Italy.
Organising activities is something they specialise in at this family-run hamlet. Now owned by 30-something twins, Roberto and Veruschka Wirth, who also own Rome's five star luxury hotel, Hassler Roma, this used to be the home of their grandma. If pasta making isn't your thing (€75/£65pp), they can organise dinners (€45/£40pp), yoga €40/£35pp), massage (€90/£78pp), learning Italian (€50/£43pp per hour), wine tasting €50/£43pp), truffle hunting (from €50/£43pp) – pretty much anything you fancy. There are tennis courts, a pool, and boule available, too.
The resort, with only 13 bedrooms, is an hour's drive from the airport, past lush vineyards, pretty shuttered stone buildings and undulating green hills. This part of Italy feels so authentic – rustic, real and undiscovered, although it's certainly starting to garner interest.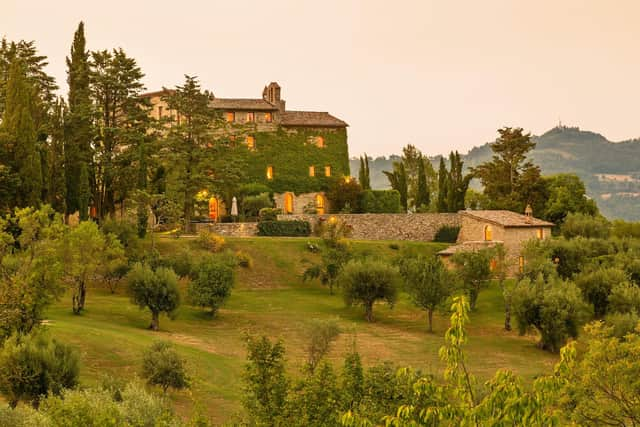 According to Roberto, Antognolla has one of the most beautiful golf courses in Italy and is just over half an hour away. Costello, a 15-minute drive, is known for its historic landmarks and beautiful churches, and swanky hotel brand Six Senses are opening up nearby, too.
Puffs of white cloud hang low in the Umbrian hills as we head into another nearby village, Montone. A 30-minute drive away, only 1,500 people live here, yet it's a celebrity favourite. Stanley Tucci was given the keys of the city at last year's film festival, which takes place every year. And after eating lunch at L'Antica Osteria di Montone, the owner regales us with tales of visits by Cameron Diaz, Dan Levy and Jesse Tyler Ferguson. Rumour has it, Gwyneth Paltrow stays on the Reschio estate, about 30 minutes away.
"Italy is full of places that are still undiscovered," says Roberto, "and people are looking for quieter, more authentic places now."
Hilly, winding lanes lead us down past sand and limestone buildings, ivy clad walls and curved, weathered terracotta roofs. Pink and red geraniums hang from window boxes and wisteria weaves its way around pretty pergolas. The churches in Montone are insanely beautiful, as is the food.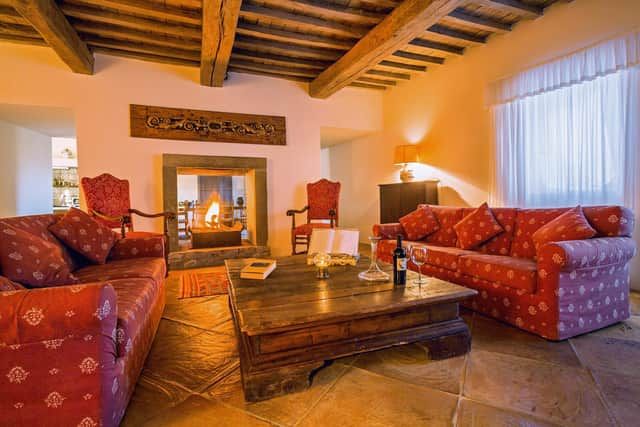 We tuck into a local speciality of brasato di chianina (braised beef, €17/£15) and a salted caramel semifredo (€6/£5), and there are lots of other picture-postcard eateries here, too. La Locanda del Capitano doesn't have a Michelin star, but it is included in the guide with a Bib Gourmand recognition. And there are lots of varieties of truffle here – over 40, in fact. The best is apparently white truffle, served in local dishes, and in season from September to December, so autumn is a great time for foodies to visit.
Back at the Borgi, the food is 'mama style' – scrambled eggs at breakfast, chickpea and pasta stew at dinner and grilled vegetable salads at lunch. "We are simple, but authentic," says site manager, Sonia.
My room is spacious, filled with a huge bed, old wooden furniture, handmade floor tiles and a couple of mismatching rugs. Ancient double wooden doors lead into my en-suite where an enormous wardrobe looks over double basins and a ceramic bath sunk into a tiled surround, with hand-painted hexagonal tiles depicting fish, trees, birds and people. It's not remotely fancy, but it's wonderful.
The lounge continues the theme, with chunky furniture and ornate detailing in every corner – in the beautiful wooden arms of the chairs flanking the fireplace, in the lamp bases – each chipped and worn, and the gold painted plaque above the stone mantlepiece. The ceilings are beamed wooden slats and in the kitchen sits an enormous wooden table seating up to 12. Arched windows look on to Umbrian hills like paintings, and worktops and walls are adorned with battered monochrome tiles.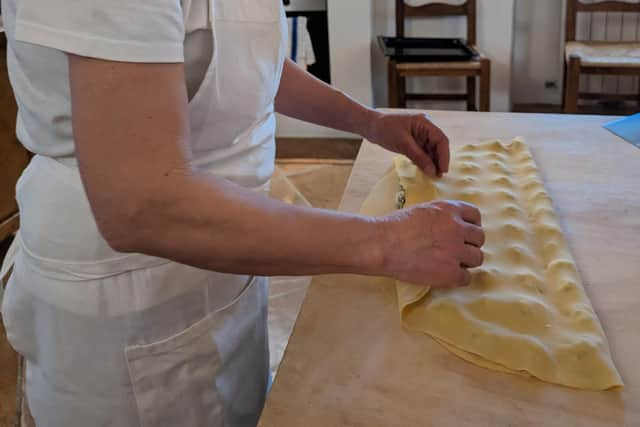 The views are phenomenal, the gardens filled with cypress trees, pomegranates and aromatic bushes. From the panoramic pool, I can see tiny droplets of morning dew on the grass. The light reflects in the rippling water and the only sounds are a chattering magpie, a determined cuckoo, chirping birdsong and nearby cattle lowing. It feels remarkably peaceful as I watch the mist rise from the surface, my body shocked and shivering from the early morning temperature.
It's unseasonably cold and rainy in May, but no matter. Instead of lounging on a sun bed I'm getting my vitamin D alongside some cold water therapy and can't think of anywhere more beautiful to do it.
Afterwards, the church bells chime and it's time to head home. I attempt to focus on the elegantly tall pines and mountainous hills around but the leftover tiramisu is calling my name. Maybe there's time for one last feast before I go.
Borgo Bastia Creti (bastiacreti.it) offers rooms from €280/£243 per night or €1,400/£1,215 per week, based on two adults sharing, excluding breakfast.