A trip to Tuscany's hidden gem
I'd visited Tuscany several times previously, exploring the Renaissance cities of Florence and Siena at the region's heart. I'd loved wandering through the churches and piazzas of hilltop towns like Pienza and Montalcino, too, perched above the rolling landscape of golden fields punctuated by zig-zag lines of dark cypress trees. But for the research for my latest novel, The Cypress Maze, I wanted to explore the less-well-known Val d'Orcia.
In the far south of province of Tuscany, not far from where it meets its neighbours Umbria and Lazio, this largely forgotten valley meanders beneath the distant slopes of a long-extinct volcano named Monte Amiata. The Val d'Orcia – named for the river etched into the valley floor – is a fragile, rural landscape which still retains much of its unspoilt Renaissance character. Signs of habitation have been found here dating back many thousands of years to Etruscan times and the days of the Roman empire. With its native woodlands and dusty clay crenelations known as the "crete senesi", the valley is now designated both a national park and a Unesco World Heritage Site.
One of the real jewels to be found in the region is the estate of La Foce. The ochre-coloured villa is a Tuscan classic, its shutters picked out in dark green to match the groves of tall cypress trees standing guard in the background. To one side of the villa sits the limonaia, an elegant building used to store lemon trees during the winter months to protect them from frosts, with a pool in front of it enclosed by a hedge of plumbago.
The gardens were originally designed by the British architect Cecil Pinsent, whom the estate's owners – the Origos – had employed to restore the villa and its surrounding buildings. And they are sublime. A stone balustrade, interspersed with carved urns from which scarlet geraniums spill, frames spectacular views out across the Val d'Orcia towards Monte Amiata. The formal geometry of clipped box hedges plays with perspectives, and provides a contrast to the romance of an "English" garden, where wisteria cascades from wooden pergolas, underplanted with beds of roses, Japanese anemones and irises. The irises are particularly pertinent as they were planted in remembrance of Iris Origo.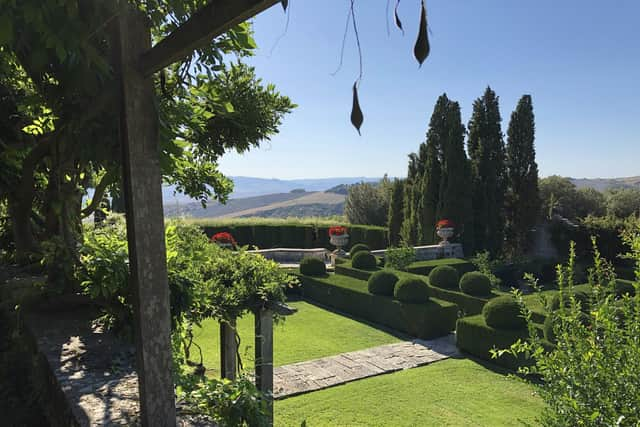 Iris was born in England in 1902. Her mother was the daughter of an Irish peer, and her father was an American diplomat. Tragically, he contracted tuberculosis and died aged 29, but before his death he wrote to his wife that he wanted Iris to grow up in Italy, believing that nationalism makes people unhappy, saying, "Bring her up somewhere where she does not belong, so she cannot have it." So, in a sense, Iris was always an outsider, even though she married an Italian, Antonio Origo, in 1924 and l ived at La Foce for the rest of her life. Perhaps being an outsider gave her a broader and more compassionate outlook, a spirit of empathy and generosity that translated into her offering sanctuary to refugee children and escaped Allied prisoners of war during the war years.
As well as restoring the villa and creating the beautiful gardens at La Foce, the Origos were instrumental in bringing the neglected estate back to life, employing farming techniques best suited to the fragile, desolate lands of the Val d'Orcia. Iris was an accomplished writer and diarist, too. Her eye-witness accounts of the lead up to the Second World War (A Chill in the Air) and the war years at La Foce (War in the Val d'Orcia) make extraordinary reading, describing in matter-of-fact terms the challenges she and Antonio faced as they somehow managed to find ways to support and protect the many people they'd taken under their wing. As the Allied Forces advanced northwards in June 1944 and fighting engulfed the villa, Iris and Antonio led a party of 60, including 28 children and four babes-in-arms, on a terrifying march to seek safety in Montepulciano.
All these ingredients of Iris's character – her generous and nurturing nature, her pragmatism and courage, and her eye for creating beauty in a way that was sympathetic to the fragility of the landscape – found their way into The Cypress Maze.
No corner of Italy was untouched by the country's complex wartime history. Between 1922 and 1945 it saw the rise of Fascism, a civil war, a world war and a brief and ill-fated war against neighbouring Greece. Most of what little food the country was still able to produce was appropriated by the German military and Italy's people faced impoverishment and starvation.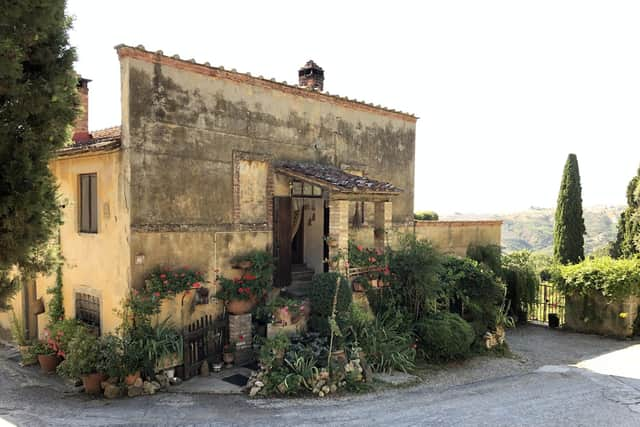 But in rural areas like the Val d'Orcia, the canny locals were well used to making do with whatever they could find and improvised nutritious meals from ingredients such as stale bread, foraged nettles and wild mushrooms, flavoured with the herbs and vegetables they grew in their cottage gardens. This style of Italian cuisine is known as cucina povera, and you'll still find examples of such simple – and simply delicious – dishes on the menu in local restaurants. Look out for pappa al pomodoro (a tomato and bread soup), ribollita (re-cooked stew made from bread and beans), and dishes featuring pici, a robust, hand-rolled form of pasta.
Sandwiched between two of the most renowned names in the winemaking world, (Brunello di Montalcino and Vino Nobile di Montepulciano), the Val d'Orcia acquired its own DOC (Denominazione di Origine Controllata) status in the year 2000. Its well-drained slopes are ideal for cultivating the two main Tuscan varietals, Sangiovese and Trebbiano, and these local wines are the perfect accompaniment to the hearty cuisine.
If, after all that eating and drinking, a little exercise is called for, follow in the footsteps of thousands of pilgrims by walking a stretch of the Via Francigena. This section of the historical route – a road which once ran from Canterbury to Rome – takes you through quintessential Tuscan countryside, walking from one medieval hilltop town to the next.
The Val d'Orcia is worth a detour to visit La Foce, but there's plenty else to see in the area. Everyone stops to snap the cypress zigzag road on a hillside to the west of the estate, an iconic Tuscan view. Monte Amiata is long extinct, but many towns in the area are renowned for hot springs and thermal pools. Steaming streams course through a moonscape at Chianciano Therme, and at Bagni San Filippo you'll find an otherworldly series of mineral-crusted, natural thermal pools in which to soak tired limbs.
And finally, a visit to the beautiful town of Bagno Vignoni is a must, on the road between the neighbouring hilltop villages of Castiglioni and San Quirico d'Orcia. Golden stone walls enclose a vast manmade pool, creating a piazza of serene water. Eat at one of the restaurants here in the evening, enjoying sublime Italian food and wine in a truly magical setting. It's an experience you'll never forget.
The Cypress Maze, by Fiona Valpy, is published by Lake Union, out now, priced £8.99.
Comments
Want to join the conversation? Please or to comment on this article.