A Taste of the Moray Coast in Cullen - Scotland on Sunday Travel Wishlist
If 2020 was the year of the staycation, 2021 will be delivering more nearcations and holistays and some of us can't wait to rediscover exactly what we've been missing right on our doorsteps.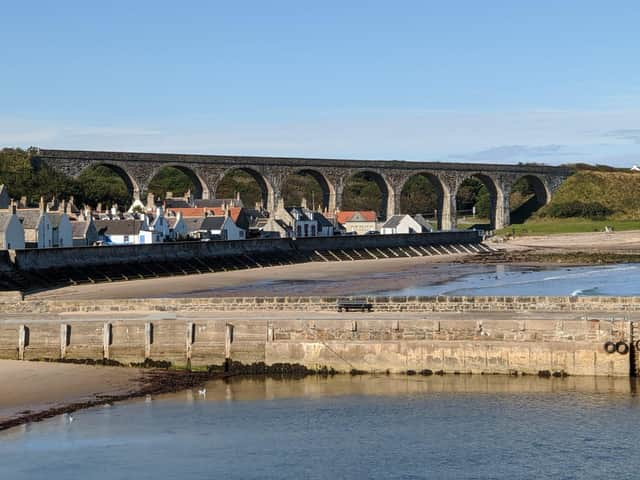 Cullen is an ideal base for exploring the Moray Coast.
When restrictions allow, instead of heading for the mountains and glens of the Highlands or the nearby North Coast 500, why not head for The Moray Coast, with its cliffs, caves, coves and picturesque fishing towns strung along the coast like floats on a fishing net?
The outdoors are never greater than on the north-east shores, with vast skies displaying show-stopping sunrises and sunsets over cliffs and sheltered sandy bays on good days, and elemental wave-churning, land-lashing stormscapes on bad - the kind that make you realise why all the houses are turned gable-end to the sea.
You can even walk it, from Findhorn to Cullen, on the 50-mile Moray Coast Trail, stopping off on the way at the likes of Burghead, Hopeman, Buckie, Portgordon, Findochty, Portknockie, Cullen, detouring to explore beyond: the harbour havens of cottages, cosy bars and cafes that serve up filling and fine food, that will fill your boots until you walk, swim and run it off, ready for more.
The coastal fishing villages have spectacular sunrises and sunsets on a clear day.
We based ourselves in Cullen, my Moray-coast seasoned staycationer friends favouring the village for its location with wide-sandy beach, sheltered harbour, amenities and activities, as well as proximity to other day trip delights. The majestic former railway viaduct separates the waterfront fishing village of Seatown, with its Instagrammable cottages with tiny roof windows for pulling fishing nets in and out, from New Cullen with its quirky shops and cafes.
First we explored Cullen itself: strolling along vast golden sands, even splashing about in the sea, running along the viaduct, watching the Sea School surfers, paddleboarders and kayakers heading out of the sheltered harbour, which is the work of the great Scottish engineer Thomas Telford. We strolled along the coastal path to the quirky pet cemetery where pooches and pusses rest alongside seals and a shark, sampled Cullen's famous ice-cream, fish and chips, stunning sunrises and sunsets, browsed more antiques than you can shake a Queen Anne leg at, and dropped into The Royal Oak hotel for a bowl of their prize-winning Cullen Skink - a creamy bowl of smoky, haddocky delight in a wood-paneled traditional pub restaurant that prides itself on using local produce from land and sea.
Our locally-owned cottage (244 Seatown, https://www.airbnb.co.uk/rooms/22609683) was spotless, deep-cleaned before we arrived during a lifting of lockdown, spacious with three bedrooms (two ensuite), living room, separate shower room and a kitchen so fully equipped that self-catering was a breeze. This was especially appreciated when the ambitious head chef created two versions of fried chicken (a separate gluten-free version for the coeliac) and veggie options. It was also ideal for staying in and taking delivery of a spot-hitting curry from Shahbaz Tandoori Takeaway in Buckie while watching the sun set behind the harbour as local fisherfolk tied up their boats in the harbour.
Food rivalries abound on the Moray coast, with fish and chips, ice-cream and Cullen Skink (smoked haddock, potatoes, onions and milk are traditional, but everyone has their own recipe) being the most fiercely contested so we felt duty bound to compare rival villages Cullen and Portsoy's ice-cream and decided we'd have to go back to try them again (Cranachan flavour next time, or maybe White Chocolate Snickers) as it was too close a call. Ditto the fish and chips, but after The Royal Oak's Cullen Skink I decided I'd found the perfect bowl.
Cullen Skink the hearty fish soup made with smoked haddock, potatoes, onions and milk, is named after the town, and not to be missed.
Further afield we drove a few miles inland to Fordyce with its 16th-century kirkyard and castle in the centre of the village where the gardeners had gone into lockdown overdrive and blooms burst and spilled over every wall and fence. After a walk around the kirkyard with its fascinating graves - 400 years' worth of farmers, spinsters and the recumbent in armour stone effigy of James Ogilvie of Boyne, dated 1510.
The menu outside The Old Kirk Cafe and Bistro with its Portsoy Lobster and Beetroot Courgette and Brie Puff Pastry tart looked tempting, but we hadn't booked, so it was on to Banff and The 'Famous' Spotty Bag Shop, an Aladdin's cave of everything you could ever need and plenty you didn't know you did until you saw it.
Our haul included wet weather walking breeks and jacket, a set of four casters, a pineapple corer and a carrot shaped shopping bag, then it was up the stairs (there's a lift too) to the Bridgeview Restaurant and Coffee Shop for a proper cheese toastie, cakes, and a wealth of healthier homecooked choices, while enjoying the grand views through its massive windows over the harbour and bridge, and Highland League Deveron Vale's Princess Royal Park football stadium (sadly no game that day), before a walk around the Covid times quiet town.
Next day we headed off by car to Pennan, down the hair pin bends from cliff top to shore to find the village famous for its Local Hero red phone box. I missed the group photo in front of the call box by being on a mobile call from work (no problem with reception here then), but caught up for a walk in the sun along the front, past washing flapping in the breeze.
Pennan, the village with the red phone box that features in the 1983 film Local Hero.
On to Portsoy and another walk around a picturesque harbour and headland to Carn Standing's dolphin sculpture, celebrating the pods of bottle-nose dolphins that cruise local waters and along with the seabirds, make this part of the world a wildlife watcher's dream.
Feeling like we hadn't even scratched the surface of this corner of the Moray coast - The Bootleggers Bothy at Burghead was recommended, the Sea School paddle boarding instruction remains to be sampled, the Cullen Skink World championships savoured, and I'd genuinely love to experience the exhilaration of swimming in the North Sea here once more - we left with plans to return as soon as possible. Here's to 2021, the year of the stayagaincation.
(For current prices and bookings at 244 Seatown, See https://www.airbnb.co.uk/rooms/22609683)
Carn Standing's dolphin sculpture, which celebrates the pods of bottle-nose dolphins that cruise local waters, at Portsoy harbour.
Cullen Sea School, http://cullenseaschool.co.uk
https://www.morayways.org.uk/routes/the-moray-coast-trail/
The Royal Oak, Cullen, https://theroyaloakcullen.co.uk/
The Old Kirk Cafe and Bistro, Church Street, Fordyce, Banff AB45 2SL
Shahbaz Tandoori Takeaway, Buckie https://shahbaz-tandoori-takeaway.business.site/
The Spotty Bag Shop and Bridgeview Restaurant and Coffee Shop, Banff, https://www.thespottybagshop.co.uk/
The village of Fordyce, built around the Castle and Old Kirkyard.
The Ice Cream Shop, Seafield Street, Cullen, AB56 4SW
Portsoy Ice Cream, portsoyicecream.co.uk
Bootleggers Bothy Burghead, @BootleggersBothy
A message from the Editor:
Thank you for reading this article. We're more reliant on your support than ever as the shift in consumer habits brought about by coronavirus impacts our advertisers.
If you haven't already, please consider supporting our trusted, fact-checked journalism by taking out a digital subscription.
The stone effigy of James Ogilvie of Boyne in his armour, dated 1510.
A signpost on The Moray Coast, which takes walkers from Findhorn to Cullen along a 50-mile route.
The pet cemetery in Cullen is the resting place for numerous cats, dogs, seals and a shark.
The Famous Spotty Bag Shop in Banff is a treasure trove of discount shopping, from groceries to wetsuits, car maintenance, kitchenware and beyond, beneath the Bridgeview Restaurant and Coffee Shop.
Cullen has its own Sea School, with water sports instruction including sailing, paddleboarding and kayaking.