The new National Robotarium is turning our lives around
The robots are coming! But not like those in a sci-fi movie. These are life-saving, life-changing and innovative creations from the National Robotarium, which had its grand opening in the Capital today.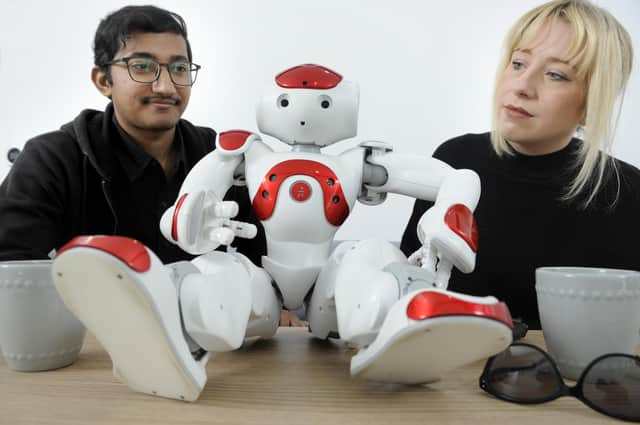 The National Robotarium's newest centre at Heriot-Watt University's Riccarton campus, near Edinburgh, has officially opened its doors – and is continuing to be a global leader in robotic and artificial intelligence (AI) research.
Attendees, including UK Government Minister for Scotland David Duguid, were met by robot receptionist Charlie before catching a glimpse of the cutting-edge facilities there.
Established jointly by Heriot-Watt and the University of Edinburgh, the pioneering centre is the embodiment of successful collaboration.
Through the National Robotarium, the two universities are leading the delivery of the Data-Driven Innovation Initiative (DDI) while advancing robotics and AI research on a global stage.
The DDI is a significant part of the Edinburgh and South East Scotland City Region Deal, a £1.3 billion investment programme funded by the UK and Scottish Governments as well as regional partners.
Supported by £21 million from the UK Government and £1.4m from the Scottish Government, the centre will provide a physical 'test-bed' for robots and AI, and an international space dedicated to industry collaboration.
Specialist facilities situated within an energy-efficient and sustainable building designed by Michael Laird Architects will be used to create innovative solutions to global challenges.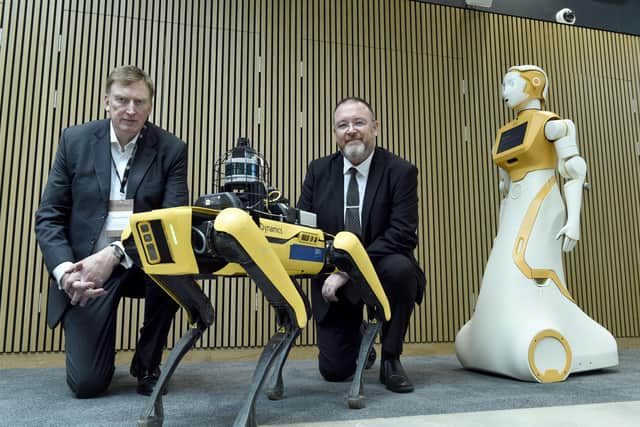 The only such centre of its kind in the world features laser labs, an autonomous systems laboratory and a living lab for trialling technology in a realistic home setting.
"Heriot-Watt University and the University of Edinburgh share a rich legacy of research in data, robotics and artificial intelligence, including the Edinburgh Centre for Robotics and its adjoining Centre for Doctoral Training, which are jointly led by our esteemed scientists," explains Heriot-Watt Principal and Vice-Chancellor Professor Richard A. Williams.
"The creation and development of the National Robotarium is a testament to the potential of our world-leading research, providing a centre of excellence that will connect the robotics community across the UK.
"The National Robotarium is also a hub for innovation and business collaboration, with a number of high-level industry partnerships already in progress."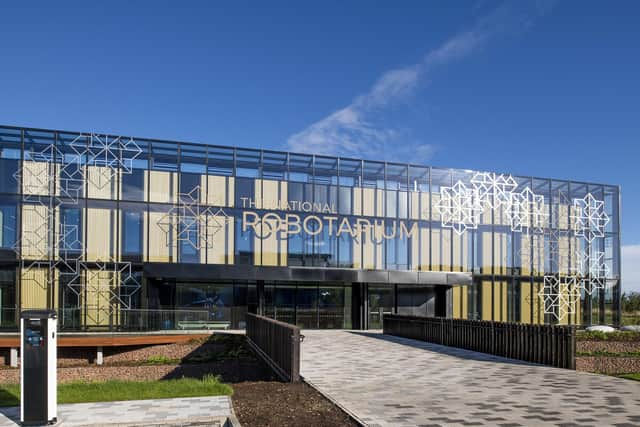 Already the National Robotarium has been instrumental in developing affordable solutions in health and social care.
The Ambient Assisted Living (OpenAAL) lab was launched in 2020 and uses digital twin, Internet of Things (IoT) and Cloud technologies to provide a platform where researchers, industry and care providers, alongside end users of assisted living services, can co-create technology.
Innovation in this area can be crucial to reducing the strains on health and social care services.
Earlier this year, researchers at the centre devised an AI companion for those living with Alzheimer's disease and dementia.
The Agent-based Memory Prosthesis to Encourage Reminiscing project aimed to aid memory recollection, boost confidence and combat depression.
A probe was built to take mechanical measurements of tumours and surrounding tissue, and is linked to software with intelligence algorithms for data collection.
But it is not just in health care the National Robotarium is innovating ground-breaking solutions.
Researchers are also involved in what is considered the world's first autonomous wind farm inspection.
This summer they supported EDF Renewables UK to deploy a remotely operated vehicle to carry out an inspection of its Blyth Offshore Wind Farm, off Northumberland, as part of a project between EDF and Orca Hub.
And to prevent humans entering hazardous situations, the National Robotarium's researchers have kitted out a £60,000 robot entitled Spot – best known for its viral dancing videos – with telexistence technology.
This allows humans to experience an environment without being there, meaning situations such as disaster recovery can be performed more safely.
"Propelled by the joint Data-Driven Innovation initiative, the National Robotarium is the fulfilment of what can be achieved when world-leading institutions share their skills, knowledge and expertise," added Professor Peter Mathieson, Vice-Chancellor and Principal of the University of Edinburgh.
"I believe the facilities will be instrumental in offering innovative solutions to some of the world's most pressing needs. I am pleased that a partnership between the University of Edinburgh and Heriot-Watt University has helped drive this forward."
The National Robotarium is focused on entrepreneurship, job creation and building digital skills in the workforce.
Find out more about how the National Robotarium will support humans and robots working in partnership.