Sennheiser Momentum True Wireless 3 review: high-end noise cancelling buds are a sound investment
Latest generation of noise cancelling earphones off great sound quality and filtering plus a customisable fit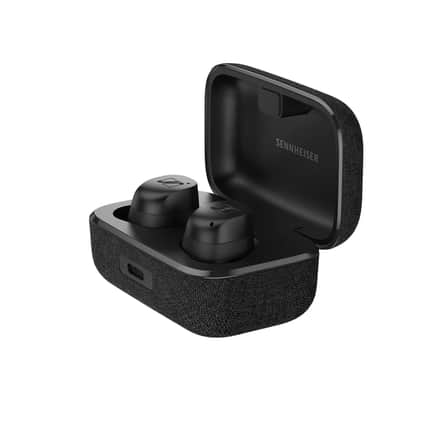 Sennheiser has long been a byword for quality when it comes to personal audio equipment and its Momentum True Wireless 2 earbuds picked up plaudits when they were launched in 2020. Two years later they have been superseded by the Momentum True Wireless 3, designed to build on that success and bring new standards in sound and connectivity as well as a lower price.
Visually, the rectangular charging box isn't the most slimline example but it's still pretty compact and has an appealing fabric finish that stands out among shiny plastic alternatives. The buds themselves also have a squarish design that means they're not the smallest or sleekest ear buds but far from the worst either and their shape and adjustability is really impressive. There's the usual variety of sizes for the in-ear rubber elements but there are also different sized outer 'fins' which can be swapped around to ensure the whole unit fits snugly and securely into your outer ear.
A snug fit is key to getting the most out of the Momentum 3s' latest generation of adaptive  noise cancelling technology. This automatically adjusts the level of noise cancellation as the external sound levels change and offers truly impressive performance. There is still a small amount of noise bleed and some external sounds cut through more than others but overall they do a brilliant job of cutting out background noise.
Most of our testing took place on planes and around airports, where the constant drone of engines and fellow passengers, plus the roar of the air was damped to a barely noticeable level. It's only when you deactivate the system that you realise just how much it blocks out. Obviously, full over-ear units will block even more but for tiny in-ear devices they do a sterling job.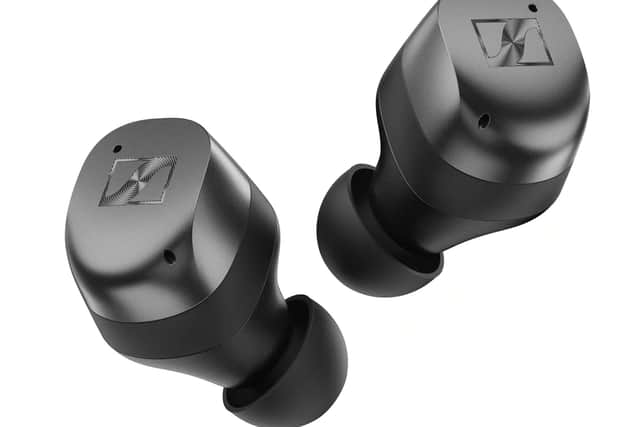 The noise cancelling also allows the Momentum True Wireless 3's impressive sound performance to shine across a variety of sources. Podcast dialogue was crisp and clear while music was played back with plenty of detail, depth and clarity across a range of genres from soothing blues to industrial metal. The buds support the latest aptX Adaptive Bluetooth connectivity for a more stable connection, lower latency and higher quality playback.
They also offer an extensive degree of sound personalisation via the dedicated app. This can not only create a unique user sound profile but also create geofenced "sound zones" that will adjust settings depending on where you are, so you can have different settings for home, public transport and the gym, for example. The app also allows customisation of the simple touch controls which as a default allow you to adjust volume, start and pause playback, accept calls and switch between noise cancelling modes.
Battery life for the earbuds is around seven hours, while the charging case will keep them going for 28 hours before it needs recharging - via USB C or QI wireless pad. A 10-minute charge in the case should be enough to add an hour's playback time.
Priced at £219, the Momentum True Wireless 3 are compete against a wealth of devices from other big hitters such as Bose, Apple and Sony but make a real mark with their smart and effective noise cancelling performance as well as their rich sound playback and breath of personalisation.
Comments
 0 comments
Want to join the conversation? Please or to comment on this article.