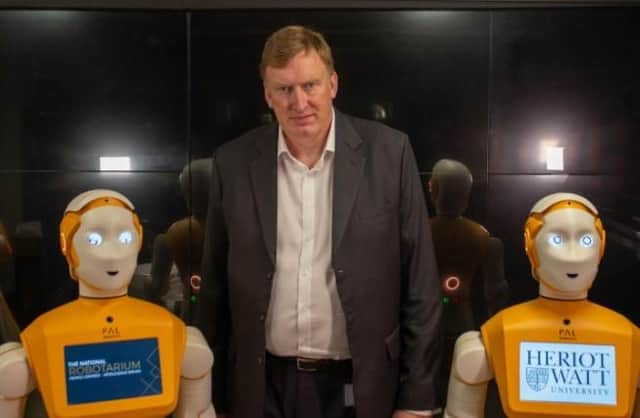 The technology is one of many advances which the National Robotarium already has in development ahead of its new facility opening in Edinburgh next year.
The £22 million facility will create world-class robotic solutions for the home, healthcare, manufacturing, construction, energy, agritech and many more, working with businesses small and large and the public sector, as well as encouraging the general public to get on board with the cutting-edge innovation.
The research facility is part of the Data-Driven Innovation initiative and is supported by £21 million from the UK Government and £1.4 million from the Scottish Government through the £1.3 billion Edinburgh and South East Scotland City Region Deal - a 15 year investment programme jointly funded by both governments and regional partners.
It will be run in partnership by Heriot-Watt University, where the campus is situated, and the University of Edinburgh.
For Stewart Miller, the CEO, basing the UK's new robotics facility in Scotland's capital makes perfect sense as it builds on a rich heritage in the sector. It builds on the reputation of the Edinburgh Centre for Robotics, developing on the work of both universities in areas including marine robotics, beginning with the oil and gas industry and now heavily involved in supporting the transition to renewable energy.
"It is building on that heritage but looking to expand. The heart of the approach is to try and move research into practical applications. Something that is quite well recognised as a hurdle for businesses as they try to innovate and bring new products and services to market is the point where they need some help to connect to the marketplace and also to ensure they mature their technologies correctly."
That means making the technology work, but also keeping it within regulations which are in place to ensure products are safe to use.
Miller adds: "The National Robotarium is there to connect with industry needs so we will be very much market-led in terms of what we get involved in, but it is backed up by the research base and the knowledge and skills that sit across the two universities."
Engineers and technicians will be dedicated to the National Robotarium to augment the research base and Miller expects further collaborations with companies and organisations from across the world when it opens in the spring ofnext year (2022).
"We have identified where the likely growth areas are for robotics and AI and it is quite a diverse range – everything from autonomous vehicles to care in the home."
A big area the National Robotarium is focussed on is health, which can include robots in the home to help vulnerable people. An assisted living laboratory has been created on site, including a living room, bedroom and kitchen with technology installed.
"It consists of sensors around the home to identify activity – whether someone is moving around or they are opening and closing cupboard doors, switching on the TV or kettle, that kind of activity. It helps to understand whether someone who needs assistance at home is able and active."
When artificial intelligence and robotics are added to the sensors a robot could monitor someone's exercises or alert carers that there may be a problem if someone has not moved from the bedroom at their usual time in the morning. In that case carers could remotely send the robot into a room and scan it and relay information back to a health or social worker, or a member of their family.
"The biggest advantage is, where someone might require a home help to come in two or three times a day, robots allow you to have a 24/7 assistant to provide help between visits, making sure you are getting what you need and giving the ability for emergency contact."
And it is not just about sophisticated technology. Scientists at Heriot-Watt are already looking at ways to make robots acceptable to the humans they are helping. For example, if the robot, as many do, looks like a small child it may be unsettling for some people, in which case it might be better to make it appear like a piece of furniture.
The National Robotarium will provide facilities for all types of research and development, including a laboratory where drones can be flown and large industrial robots tested. "It gives a safe environment to have controlled experimentation."
As well as technology of the future, scientists and engineers of the future are an important part of the National Robotarium under its remit as part of the Edinburgh City Deal investment package. Miller says they will "work on talent and skills as well as products and industry".
"Sitting alongside helping industry the National Robotarium is going to be working with schools, further education and professionals who might want to move into robotics to try and build up the pipeline of robotics and AI talent and skills that will be needed by the companies that will grow through the other things that the National Robotarium will be doing."