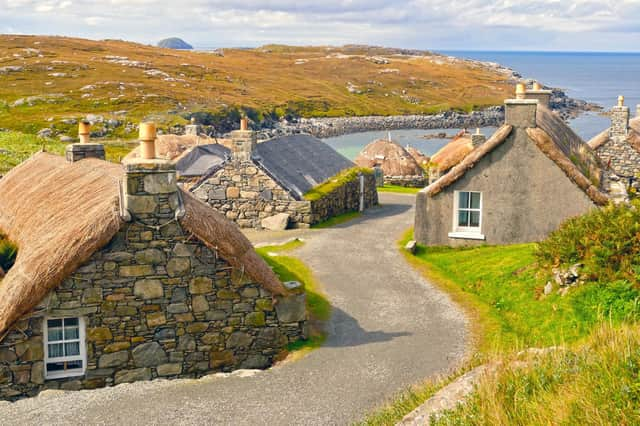 A unique self-catering holiday option on the Atlantic coast of the Isle of Lewis in the Outer Hebrides, the village is an ideal base for exploring the scenery, archaeology and wildlife of the Western Isles.
Close to the Callanish Standing Stones and the remarkably well-preserved Carloway Broch, the village is a living piece of carefully maintained history itself. The crofter's blockhouses date back centuries, and were occupied until 1974, when the last few elderly residents moved to new accommodation that didn't require the annual maintenance of thatch and stonework.
Declared a conservation area shortly therafter. The blackhouses double drystone walls, low profile and insulating thatch make the houses ideally suited for the Hebridean weather. Made from all-natural and all locally sourced materials, these are truly eco-friendly dwellings. The village offers a range of accommodation – from two-star to four; from hostel style to luxuriously appointed family cottages – that should happily cater for everyone.
There is an on-site living museum, but the unique location offers so many opportunities for walks, fishing, cycling, surfing, or simply relaxing, that you'll never be short of things to do and see in and around the village of Gearrannan.