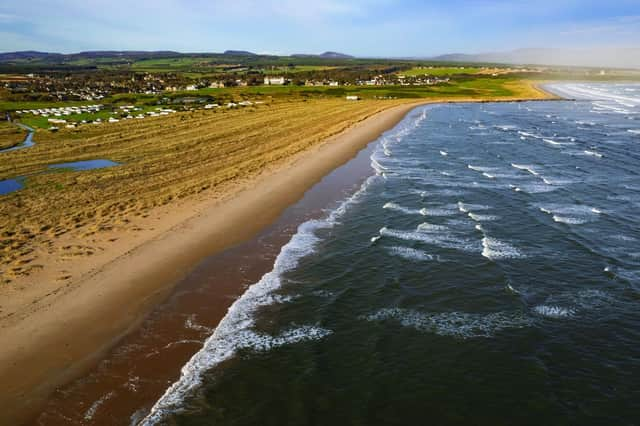 We were on the road from Edinburgh to Caithness View Luxury Farm Lodges near Wick and trying to occupy our little one. We were glad we had tried to explain the aurora borealis when we were lucky enough to see first hand the incredible waves of light, which are caused by an atmospheric phenomenon, during our stay.
For school half-term break in February, we three – with our puppy in tow – were having a couple of nights in Caithness, followed by another two in Dornoch, Sutherland.
Heading up the country, the drive into Sutherland – which covers part of the North Coast 500 route – is stunning. We went from being surrounded by water to driving through hills and tackling hairpin bends. The landscape is dotted by ruined cottages that were left behind to crumble when people were forced out during the Highland Clearances. Derelict crofts gave way to vast wind farms as we continued north onto single track roads.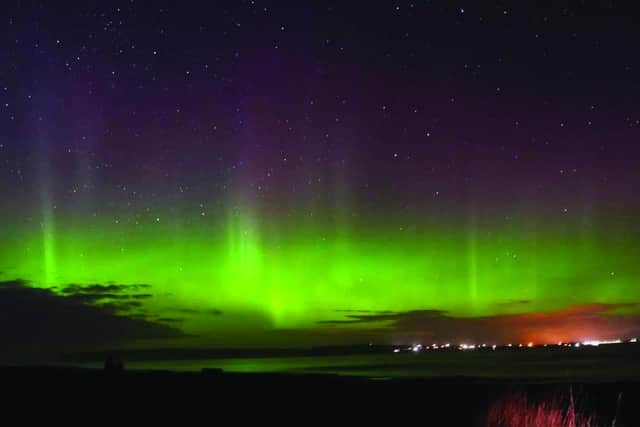 Caithness View Luxury Farm Lodges are situated on a working family farm, Barrock Mains, surrounded by sheep, cattle, open views and big skies, and it's not hard to see why they receive five-star reviews. The towns of Wick and Thurso are both about a 20-minute drive away, John O'Groats can be reached by car in ten minutes and it's about five miles from the NC500 and the beautiful coastline.
Each of its three lodges can sleep up to six people. Under vaulted ceilings our lodge had a shower room, fully-equipped kitchen in an open plan living area with a sofa bed, a double bed and a separate twin bedroom. We were in the Pelicans Lodge with its tasteful decor, warm lighting and amazing views.
After the long journey, we were pleased to sample our welcome pack, including such goodies as biscuits, crisps, juice and wine.
Another bonus is the private barbecue hut with each lodge where you can cook inside under fairy lights in the evening – or, as we did, enjoy bacon and sausages for breakfast. And our son was delighted that one afternoon, Steve, who owns and runs the farm, popped by on his tractor and let him feed our neighbours, the pet sheep Chico and Sylvie.
On our first evening we drove to Wick for dinner at Mackays Hotel which has been run by the same family for more than 60 years and is now overseen by Ellie and Murray Lamont. Rather than going to the restaurant, we ate in the dog-friendly whisky bar.
My husband kicked off with cullen skink, followed by Scrabster-landed haddock and chips, while I enjoyed bread and olives, and pan fried chicken in garlic cream sauce with greens and potatoes, and my son got stuck into a cheeseburger with fries. To finish off we had servings of my old favourite, sticky toffee pudding.
After a lovely night's sleep in our lodge we headed off in the car for a walking tour of the heritage-rich town of Thurso with Angela Williamson who runs Above and Beyond Tours.
We met Angela and her colleague Donald Smith at the Old Harbour for an informative couple of hours wandering around the quaint streets of the UK's most northern mainland town to learn about its Viking past. From the harbour we headed to the ruins of Old St Peter's Church and its graveyard to hear gory tales of how women accused of being witches were once treated. We saw old and new town areas of Thurso and were regaled with stories from its time as a major trading port.
At the end of the tour, we stopped off at Thurso Community Harbour to refuel on macaroni cheese and cakes. The cafe is staffed by volunteers and helps people at risk of isolation or social disadvantage. Customers are invited to give donations for their food rather than paying a set price.
Back in the car, we were off to nearby Dunnet Bay Distillers, famed for its award-winning Rock Rose Gin and Holy Grass Vodka. We were greeted by our cheery tour guide Joanne who handed me a gin and tonic with sprigs of rosemary. Joanne told us the story of the distillery – set up by Claire and Martin Murray – and its range of products.
We saw its two copper stills, "Elizabeth" and "Margaret", which perform their magic on locally collected botanicals. Every bottle that leaves the distillery is hand-filled, individually wax-sealed, batch numbered and signed on-site. We had a chance to sample some Rock Rose Gin varieties and Holy Grass Vodka before stretching our legs at the stunning white, sandy beach at Dunnet Bay.
Then it was off to dinner at the adjacent Northern Sands Hotel. It's on an idyllic site overlooking the bay and serves hearty meals, perfect for a winter's evening. We got stuck into garlic mushrooms and potato wedges, followed by beef madras, with both chips and rice for my hungry husband, with my son and myself opting for a breaded chicken burger and beef burger and fries.
After another restful night – when the northern lights made their appearance – we were ready for our family chocolate-making workshop at nearby CC Chocolatier, owned and run by Mandy Boydell. She has transformed a building into a French-inspired haven, decked out with chandeliers and vintage pieces.
Mandy expertly guided us through the steps of making individual chocolates, with each of us choosing our own flavouring, and also lollipops. Despite being complete novices, with Mandy's expert tuition, our end products were surprisingly edible.
Powered by chocolate, we drove a few hours south to the picturesque town of Dornoch – known for its glorious beach and golf course – for the next stage of our road trip.
We checked into our stylish and spacious three-bedroom townhouse on Argyle Place, managed by Thistle Holiday Lets, right in the centre of town, overlooking the 12th century Dornoch Cathedral. It has everything a family needs from a dedicated parking space to plenty of bathrooms and a well-equipped kitchen in the open-plan style living area on the top floor with large, soft sofas to chill out on.
We were only a few minutes walk from our dinner destination, the Thompson family-owned Dornoch Castle Hotel, who have a well-stocked whisky bar, as well as their own distillery. While my husband opted for steak and chips, I went for butternut squash and sage risotto and my son had fish and chips. The adults then finished up with a Thompson Bros blended scotch whisky apiece.
After a stormy night, we braved the wild weather for a walking tour of Dornoch with local expert Lynne Mahoney, curator of the town's Historylinks Museum.
The Dornoch Heritage Trail takes in a series of landmarks, including the cathedral and graveyard, Mercat Cross and the old train station. Witches featured again – a stone in the garden of a cottage near the town's beach marks the spot where the last execution in Scotland for witchcraft took place in the 18th century.
Next we set off for Clynelish Distillery in Brora, Diageo's "Highland home of Johnnie Walker", which takes its name from the Gaelic for "green pasture". It was recently refurbished as one of the "four corner" distilleries of the famous blended whisky. Its modern, interactive experience differs from any Scotch distillery visits I've previously experienced.
Our guide took us on a Clynelish Flavour Journey Tour, telling us the rich detail of the whisky's history in a multi-media room before we visited the still house and finished in the bar. We took in the dramatic Sutherland scenery while enjoying a selection of Clynelish's rich and waxy drams, including its 14-year old and its distillery edition, as well as the Johnnie Walker gold reserve – all matched with handmade chocolates – and a refreshing highball. The designated driver was given a handy branded pack so they can enjoy their tipple later.
We headed back towards Dornoch, stopping off at the Golspie Inn for dinner. It's right on the NC500, dates back to the early 19th century and has dishes to satisfy any hungry traveller. We opted for pickled beetroot, hummus and flatbread, followed by Cumberland sausage and mash for the other half, chicken burger and chips for me and sausage and chips for our son.
After our final night in Dornoch, we woke up to blue skies and crisp, winter sunshine which made it perfect to explore the gorgeous beach that stretches for miles. It was an ideal finish to our break exploring parts of Scotland we had never seen before.
Rosemary's family trip was organised by Venture North: www.venture-north.co.uk