Sound and light bathing: we try a meditation session with Edinburgh's Hrmny Collective
They pop up at various locations in the capital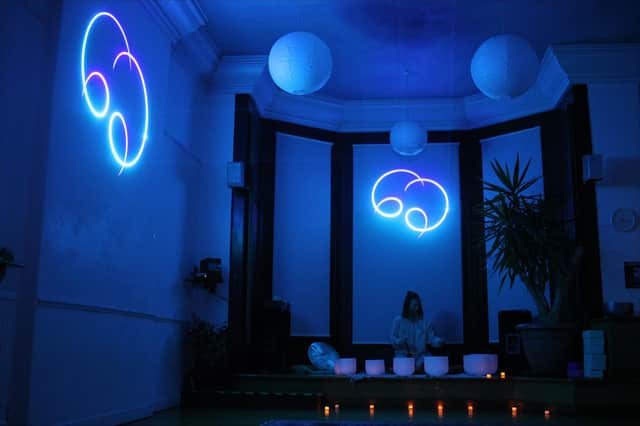 My monkey brain is very annoying.
It gibbers a lot, and rarely shuts up, even when I'm trying to sleep.
Thus, I was very interested in the new light and sound bath events - a collaboration between Hrmny Collective Wellness Events and light artist Flolux. These immersive hour-long sessions are designed to help you meditate and reach deeper levels of relaxation.
They take place at various locations in Edinburgh, including yoga studio Calm on Canning Street and Broughton St Mary's, where they'll hold their next event on March 31.
If you're taking part, they recommend that you wear comfortable clothing, cosy socks and bring a blanket, pillow and your own mat, in case there aren't enough to go round, or, in my case, you need a bit more padding.
We're at the Salisbury Centre and, on arrival, the huge windows are already lit up with a red glow. A couple of participants are waiting outside, and one says, "Someone asked me what I was doing tonight, and I told them I was going for an hour-long nap". Indeed.
The group goes upstairs, and everyone's quick to lie down. Well, it is a Sunday night.
Frances Spencer-Barton from Hrmny Collective gives us a quick introduction to the session, which includes describing the benefits, and what to do if we need the loo (stick your hand up, and they'll guide you out). We should anticipate that the sounds may conjure different emotions.
As we close our eyes, she plays some crystal singing bowls. The noise fills the room, and the laser show from Flolux begins. You can keep your eyes shut, or peep. It includes hypnotic, swirling or rotating 3D-looking shapes on the walls, in bright violet or green. If you keep your eyes closed, you can still see the changing colours through your lids.
The soundscape is designed to increase in crescendo, before becoming calm, then that wave of intensity is repeated. At points, they walk around the participants' mats, holding Tibetan singing bowls, with their grounding hum, near our faces. At one point, I can feel the vibration on my cheek. They also use wind chimes, with their lovely twinkly sound. Strangely, they make me feel ticklish, and I jump when one passes near me.
The hour goes by at the speed of light (and sound) and I can't believe it when Frances says that the session ran over by ten minutes. We feel totally zoned out and walk home in a dwam. After tuning in to this experience, I, ironically, felt that my mind was quieter than it's been in ages.
The next event is on March 31, 8-9pm at Broughton St Mary's, tickets £30
Comments
 0 comments
Want to join the conversation? Please or to comment on this article.