Scott Reid passions: Stepping into a world of adventure in pretty Peebles
The author of The Thirty Nine Steps is celebrated in the Borders town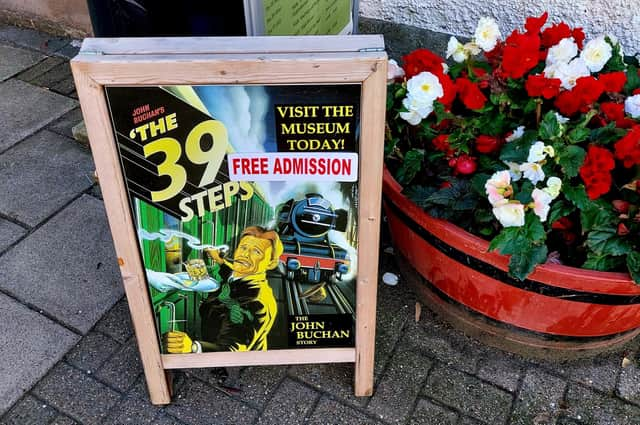 Perfect Peebles. It's the title I would choose if I was in the business of marketing this pretty little Borders town.
Okay, it's maybe not entirely perfect. I'm sure critical locals will be quick to highlight its shortcomings and areas in need of improvement. But, as a reasonably regular visitor to the place, I would single it out as being more perfect than most. There may be one or two empty units on and around its High Street/Eastgate main drag but, in contrast to many of Scotland's crestfallen towns and cities, Peebles positively bustles.
And among its many attractions, slap bang on the main shopping street, sits the John Buchan Story Museum, a fascinating wee place devoted to the famed Scottish novelist, historian and former governor general of Canada. Inevitably, a fair chunk of his story and many of the artefacts on display relate to his classic spy adventure novel The Thirty-Nine Steps.
Published in 1915 and initially serialised, it marked the first in a series of novels featuring its heroic main character Richard Hannay - a sort of early 20th century mix of James Bond and Indiana Jones. Like many youngsters, I was enthralled by Buchan's most famous creation. However, I suspect most people's first encounter with The Thirty-Nine Steps will have been watching one of several film adaptations.
The first two of those, Hitchcock's 1935 black and white classic The 39 Steps and the 1959 colour remake starring Kenneth More, both stray pretty widely from the book, with the poetic licence extending, in both movies, to memorable escape sequences filmed on the Forth Bridge. The Thirty Nine Steps (dropping the hyphen, for whatever reason), released in 1978, sticks much closer to the author's original story, and is set just before the First World War. The "Scottish" bridge escape in this one is a little less dramatic and was, in actual fact, filmed on a viaduct on the Severn Valley Railway.
I will let the reader decide which film wins the day (there have been others) but if in Peebles do drag yourself away from the myriad specialist stores and coffee shops to visit a splendid shrine to one of Scotland's greatest novelists.
Scott Reid is a business journalist at The Scotsman
Comments
 0 comments
Want to join the conversation? Please or to comment on this article.