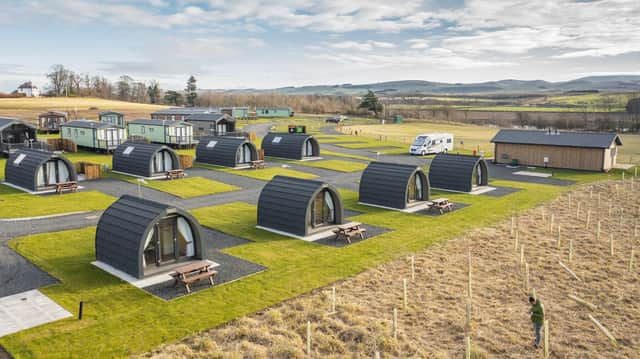 Glamping is one of the big favourites at Coldstream
Whether you are a seasoned camper, a keen glamper, or love the luxury of a spacious static caravan or lodge, this new holiday park could be the ideal location.
Coldstream Holiday Park's first full season is now well under way and proving popular with holiday makers in the Scottish Borders.
Manager Adam Gregg said: "We have had some great feedback from the guests who have stayed with us so far and it's fantastic to see people enjoying themselves on the park and in the local area."
It's proving popular for campers and caravanners
It's a year-round site, closing for just two weeks in February, and can accommodate campers, caravans and motorhomes as well as providing self-catering accommodation in camping pods, glamping pods, statics and lodges.
With the success of phase one, phase two of the park will begin later this year which will add another 24 pitches available to private owners.
Adam added: "We are now selling from plan for next season. It's a fantastic and unique opportunity for those thinking of buying a holiday home to pick the pitch they want. We have some fantastic models available from leading manufacturers like Swift, Pemberton and Willerby"
Find yourself a holiday home to make memories in
Coldstream Caravan Park, as the name suggests, lies just on the edge of this historic border town – famous as the birthplace of the Coldstream Guards.
It lies right on the border, where the Tweed forms a natural boundary between Scotland and England, thus drawing visitors from both countries. It has majestic views southwards over the Tweed to the Cheviot Hills and westwards over the rolling Borders countryside towards Hume Castle and Eildon Hill.
It offers a real chance to get away from it all and relax – whilst being just a 15 minute walk to the centre of Coldstream where you will find shops, restaurants and bars as well as tea rooms and plenty to see and do – such as visit the historic 1513 battle site at Flodden Field, the famous Coldstream Bridge and the Coldstream Museum.
You could wander through the 18th century English garden at the Hirsel Country Estate for a step back in time or play golf at Hirsel's famous course. Fly-fishing is hugely popular on the River Tweed, which boasts some of the finest salmon fishing beats in the country, or you could just sit back and relax on site and enjoy the peace and quiet or get out on two feet or two wheels in the countryside on one of the many walking or cycling routes nearby.
Invest in a dream destination
Coldstream Holiday Park offers several choices for self-catering holidays or camping/caravanning but also has static caravans and lodges for sale which would make a fantastic investment for family holidays for now and the future.
There are brand new static caravans and lodges with hot tubs available for self catering breaks. The four glamping pods available for self-catering holidays have hot tubs too, and come fully fitted with kitchens, showers and toilets. There are scenic caravan, tent and motorhome pitches to choose from, and access to the showers and pot-washing facilities with a laundry facility.
There are plenty of opportunities for holiday-makers looking for a short breaks but the park is also ideal for those looking to make an investment in something longer-term. Static caravans or lodges are a popular choice for those looking to get away often – such as retired or semi-retired people – and those who want to provide a regular holiday spot for family and friends to use as often as possible.
"Some of the finest salmon fishing beats in the country are also located nearby and walkers are spoiled for choice with a wealth of superb walking routes on hand.
If you would like to find out more, call the sales manager Sharon for a friendly chat on 01361 884075 or email [email protected]