Discover Perthshire – you could win a five-night stay
Steeped in history and alive with a modern and vibrant energy, Perth, Scotland's ancient capital is the hub of beautiful Perthshire.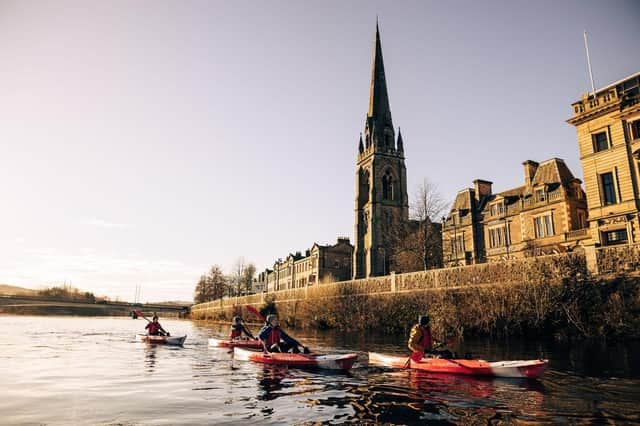 You could win a five-day break in Perth with £1,000 of vouchers to spend on food, drink, activities and shopping.
Whether you like to wander through city streets full of beautiful independent shops or spend your day paddling down the waters of a silvery river, Perth city is brimming over with inspiration for a city break in Scotland.
An ideal choice for escaping with friends, short breaks for the family or romantic getaways with loved ones, you will find adventure, culture, and endless itineraries ready and waiting for you.
Stay a little longer and you'll be perfectly placed to explore the whole area. Whisky distilleries aplenty, and home to an abundance of Munros, lochs and rivers, this glorious haven in the centre of Scotland is full of inspiration for culture vultures, nature lovers and social butterflies.
The Three-Night City Break in Perth
Walking, culture, history, food, drink and biking by the river – there's a lot to squeeze into three nights in Perth.
Take it easy and arrive by train. Perth Railway Station is a well-connected hub for the whole of Scotland. Book into The Parklands Hotel, just a five minute walk away. Overlooking the South Inch park, it is the perfect location from which to explore the city.
Be inspired with a short break this summer
Once checked in, head for Tay Street and enjoy a scenic morning walk along the river; city on one side, and an abundance of wildlife and nature on the other. Look out for the resident beavers, otters, swans and kingfishers.
Arriving at the North Inch, you can enjoy a glorious, circular walk around what is said to be the world's oldest golf course. History buffs can also stop at The Black Watch Castle & Museum – an award-winning attraction housed within a 16th century castle.
The extensive collection of uniforms, weapons, medals, photographs and badges etc. tell the story of The Black Watch, the oldest Highland regiment, which was established during the Jacobite era and went on to attend almost every major global conflict around the world.
Tour over, the café is well worth a visit with delicious food options and great coffee!
Discover stunning Perthshire on a short break
Spend the afternoon soaking up the impressive independent shopping scene. For a small city, Perth punches way above its weight when it comes to quality local businesses. From gift shops to artisan bakers, fashion boutiques to award-winning delis, plus major High Street brands, you'll easily while away a few hours.
A short stroll back to your hotel, and you can round off the afternoon with a drink in their beer garden – listed as one of the best in Scotland, this is grown-up sophistication with a great choice of local ales, gins and award-winning wines.
When it comes to food, Perth will have you spoiled for choice. Whether you want to get down and dirty with Mexican street food or go all out with a tasting menu prepared by an award-winning chef, there is a plethora of places to choose from all within walking distance of the city centre – so that paired wine selection or extra shot of tequila is always an option!
Stay a little longer to explore the beautiful countryside, dramatic history and glorious small businesses that makes Perth unique.
Get up and dust off those late drinks with a sweaty hike up Kinnoull Hill. Walking from the hotel you'll take around an hour to reach the summit, mostly through beautiful woodland park. The reward is worth the effort with unrivalled views of the city, its scenic surrounds, and a view of the winding River Tay greeting you at the top. Be sure to snap Kinnoull Hill Tower, an iconic 19th century folly, for your social channels.
Make your way back into town and grab a bite of lunch in one of the city's multiple cafés before trying your hand at some faster-paced activities.
Just across the river Willowgate Activity Centre offers a fantastic choice of activities including kayaking and paddleboarding, archery and open water swimming. They offer guided tours on the river or hire-by-the-hour fun on their purpose-built lagoon.
Relax at night with dinner out, dinner at the hotel, or a night in one of Perth's busy live music bars. The Twa Tams is legendary for its live music scene; owned by The Mad Ferrets, a popular Scottish folk duo, it has regular open mic nights, and a neverending stream of the area's exceptional local artists.
Head north on the train to Pitlochry for a change of scene and some highland mountain air. Just 30 minutes away, you could be sitting with both feet submerged in the clear, amber-tinged waters of Edradour Burn by lunchtime.
Discover a world of culture, countryside and history with PerthCityandTowns – perfect for a short break with friends and family.
Pitlochry is one of those touristy towns that deserves all the attention it attracts. As we near the end of summer, the lush green surroundings will transform into an explosion of autumn colours highlighting why Big Tree Country has become the area's moniker.
For something entirely different, check into the stunning Saorsa 1875 hotel, the UK's first vegan hotel. Whether you're plant-based, plant-curious, or just a foodie with an appreciation for the unique, this place should immediately be added to your wish list.
Pick up an afternoon matinee at Pitlochry Festival Theatre; a traditional rep theatre that allows you to see six different shows in six days with all performances carried out by one extraordinarily talented cast. The summer season remains in full swing until October 1st.
Wake up early and pull on your walking boots. There is only way to leave Pitlochry and that's via the top of Ben Vrackie. Make sure to fill up in one of the tasty cafes on the way – Escape Route is a favourite amongst the outdoor lovers and has plenty of choice when it comes to snacks for your bag!
One of Scotland's finest hills, Ben Vrackie is a corbett, so just shy of a Munro. It has an excellent path most of the way and should take you 3 to 4 hours to climb and descend.
Once checked out, the train from Pitlochry connects straight to Perth, Stirling, Edinburgh and beyond.
Find your inspiration at PerthCity.co.uk – from the best breakfast in the area, to free family activities, spa breaks, river adventures and afternoon tea by the loch.
Win a City Break in Perth
This amazing prize offers you the chance to spend five days in Perth, with over £1,000 in vouchers to spend while you're there.
The winner will get five nights bed and breakfast at the award-winning Parklands Hotel in Perth City, with a £500 Perth Gift Card to spend at independent shops, restaurants and bars in the area, and a £500 allowance to book culture, leisure and activities of your choice within Perth & Kinross.