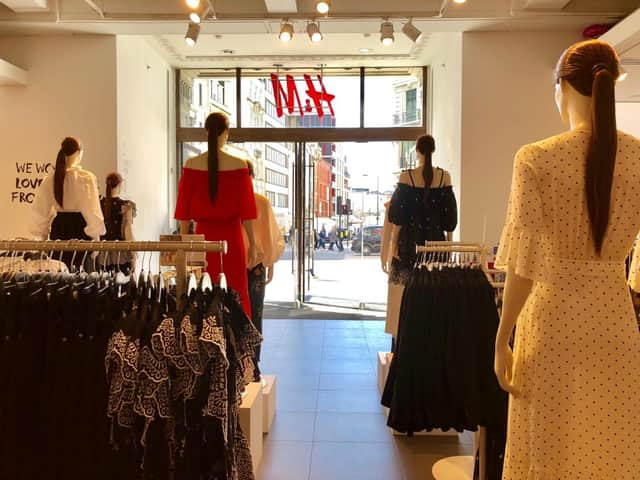 This is what you need to know about stores reopening in Scotland (Photo: Shutterstock)
Some non-essential shops in Scotland were able to welcome back customers from 29 June, and it has now been announced that more non-essential shops will be able to reopen from 13 July.
As stores prepare to welcome back customers, shoppers will also be required to follow new social distancing measures as well.
Here's what you need to know.
When will retail stores open?
From 29 June, outdoor markets were able to reopen, along with all non-essential shops if they have outdoor entrances and exits.
It was then announced in the First Ministers speech on 9 July that non-essential shops inside shopping centres would be able to reopen from 13 July, as long as they had strict physical distancing measures in place.
Shopping centres will be allowed to open fully from 15 July.
With some non essential retailers across Scotland now permitted to reopen, the Scottish Retail Consortium (SRC) trade body, along with trade union Usdaw and the Scottish Government, are encouraging people to follow these five steps for "considerate shopping":
- Maintain social distancing
- Follow instructions inside and outside shops
- Follow hygiene measures
You should also wear a face covering as well when shopping as this will be mandatory from Friday 10 July.
The Scottish government website states: "When you enter enclosed spaces, where physical distancing is more difficult and where there is a risk of close contact with multiple people who are not members of your household, you should wear a face covering.
"Examples include: entering shops or businesses; visits to a care home for the elderly; visits to adult hospitals as an outpatient; and GP surgeries or pharmacies where it is not always possible to maintain a two metre distance from other people."
When the First Minister initially made her speech announcing the reopening of some shops in Scotland, she said: "For those shops that can re-open from 29 June, local authorities and retailers should use this period between now and then to ensure that plans for the responsible use of public spaces are in place – for example, to manage queues, pedestrians and cyclists, ensure that unnecessary street furniture is removed, and that markings and guidance are in place to support strict physical distancing."
Sturgeon added: "Shops must also ensure that appropriate physical distancing and hygiene measures are in place."
What other rules will change phase 3?
As Scotland moves into phase three of lockdown, restrictions will be lifted slowly rather than all at once to minimise the risk of an increase in virus cases.
From July 10, Scots will be required to wear facemasks in shops, and police will be able to issue fines to those who don't comply.
Adults will be able to meet in extended groups of 15 outdoors, from up to four other households, with physical distancing, from 10 July as well.
From 13 July, dental practices and optometrists can reopen, as well as non-essential shops.
From 15 July, indoor hospitality will be able to reopen, as well as holiday accommodation, as long as relevant guidance is followed. 15 July will also see the likes of hairdressers, barbers, museums, galleries and cinemas to reopen as well as places of worship.
The 22 July will see beauty salons and tailors reopen and a phased return for universities and colleges with a blended model of remote learning and limited on campus learning implemented.